Rise of the Resistance is one of the newest rides at Disney's Hollywood Studios and one of the most impressive rides. It mixes animatronics, videos, simulators, and cast members to give a complete experience.
Disney has attempted to whisk you away to another world upon entering Galaxy's Edge mini-park within Hollywood Studios and this theming continues both while you are in queue and on the ride.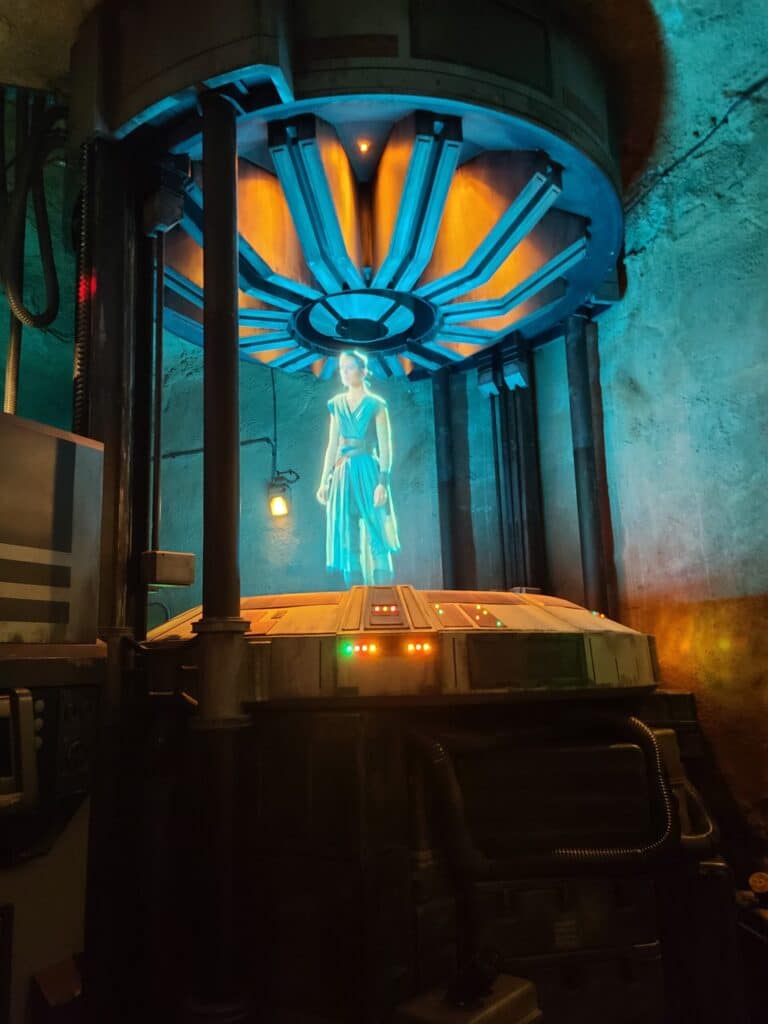 Transporter to the Resistance Base
During the ride sequence, you play the role of a resistance recruit. First Rey and BB8 greet you in a room to set the stage for your adventure. The resistance will guide you to the rebel base.
After you leave this room, you walk outside where your transport awaits. You enter the transporter where you stand and hold on to rails. Your transporter departs for the resistance base, and falls into enemy hands via a tractor beam from a First Order destroyer.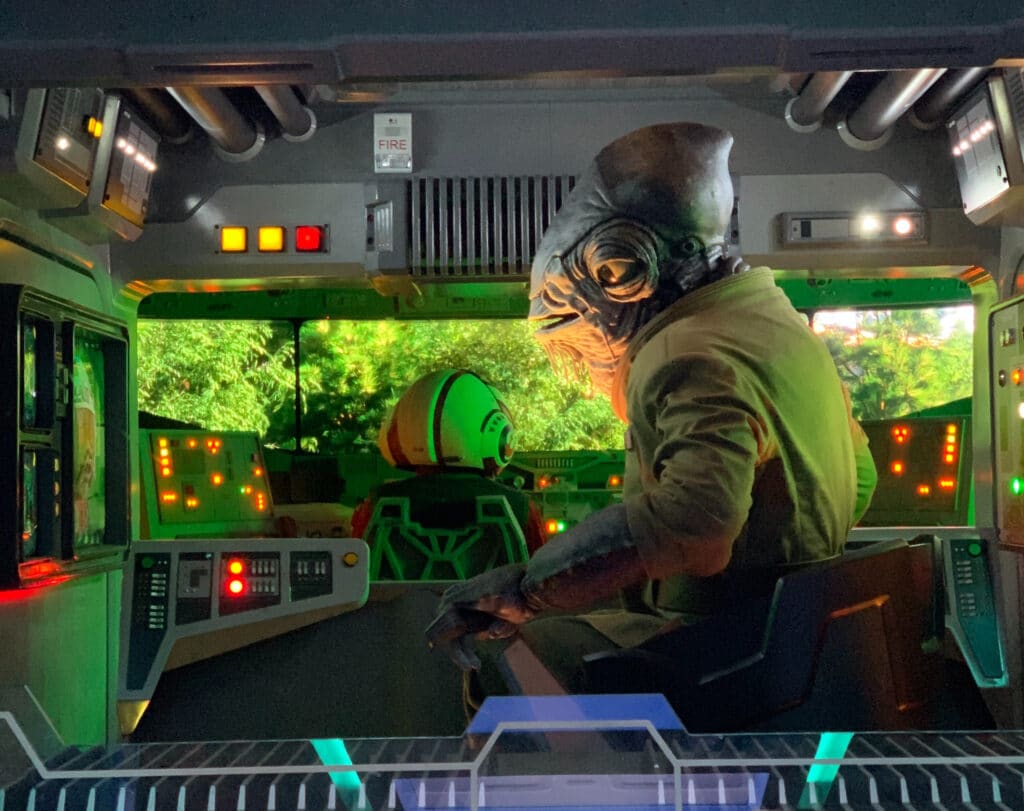 Aboard First Order Destroyer
When you exit the transporter, you will exit into a large room with storm troopers which appears to be a docking bay on the destroyer. You really feel like you are in a Star Wars movie at this point. Cast members playing First Order conscripts direct you into the next room where you line up for placement in detention blocks.
From there you are placed in a cell where Kylo Ren comes by to interrogate you to find the location of the first order. After learning that resistance fighters have boarded the destroyer, he leaves to track them down and you are broken out of the cell via the side by resistance fighters.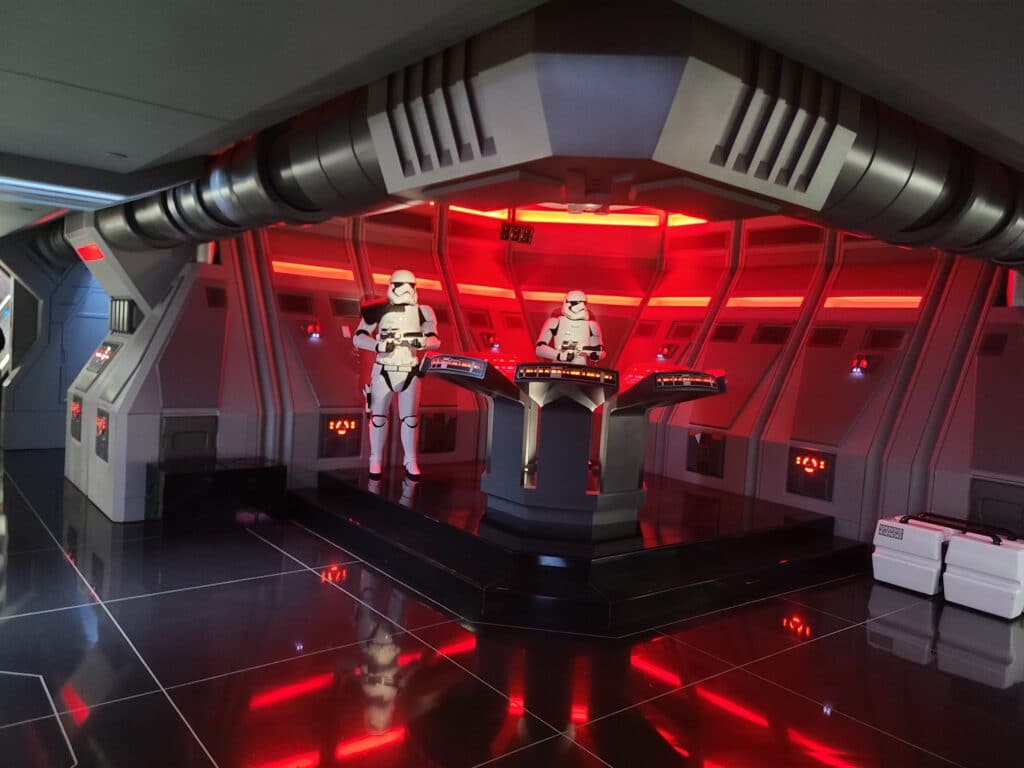 The resistance fighters helping you escape assist you in getting into a trackless ride vehicle. This vehicle will take you through multiple rooms where you will see Kylo Ren, two large AT-AT walkers, Finn. During this sequence there is fighting going on both outside and inside the ship. The ride culminates when your ride vehicle goes on to an escape pod where it drops away from the ship and crash lands at the resistance base.
Overall, this is an impressive ride that features multiple action sequences and experiences. It is immersive and at first glance is surreal. Rise of the Resistance is a very long experience as well taking almost 20 minutes.
General Information
Area of the Park: Galaxy's Edge
Age Range Appeal: Kids, Tweens, Teens, Adults
Queue Description: The line for Rise of the Resistance is always among Disney's longest, but it keeps you moving has lots to look at and there are opportunities where the cast members ask you questions. There are even places where you can catch a quick seat.
Queue Length: After rope drop the standby queue often stays between 60-120 minutes throughout the day. You can purchase individual Lightning Lanes for this ride, usually for $15/person to avoid this. This is a good one to either rope drop or pay up for.
Ride Height Requirements: 40in (102cm) or taller
Scary Factor: Medium – There are some intense sequences and motion that could startle younger kids, but for those most part these could be worked through.
Official URL: https://disneyworld.disney.go.com/attractions/hollywood-studios/star-wars-rise-of-the-resistance/
Star Wars: Rise of the Resistance Videos