Looking for tips and tricks on how to Avoid Motion Sickness at Disney World? If you or someone in your family is prone to motion sickness, this is for you!
Both my daughter and my son have gone through a phase between the ages of 3 and 7 where they get motion sickness quite easily. In addition, I tend to get sick on Disney's simulator rides.
Here's my family's tips and tricks for avoiding motion sickness at Disney World.
First of all, let's talk about the rides that you might want to avoid and then let's talk about tricks to help cope with nausea.
Rides To Avoid At Disney World – Motion Sickness
We could go crazy and list every single thrill ride that jolts and jerks you, but that doesn't seem to be a problem for most people. Some would even say a ride like Dumbo that circles round and round could make you motion sick….I don't agree.
That's not good information for the average person.
Motion sickness affect people very differently and what bothers me may not bother you (and vice versa). However, over the years, I've notice that most motion sickness is brought on by intense spinning or simulators.
For me, the biggest culprits for inducing motion sickness are the Simulator rides. This would include: Mission: Space, Avatar Flight of Passage, Star Tours, Rise of the Resistance, and Millennium Falcon Smugglers Run.
Then of course, we have those silly Spinning Teacups over at the Mad Tea Party to address!
Mission: SPACE
Epcot's Mission: SPACE allows you to experience what it's like to be an astronaut. You go onboard space shuttle simulator and launch into outer space. Unfortunately, this ride routinely gives guests at Disney nausea.
Avatar Flight of Passage – Motion Sickness
This ride is absolutely beautiful….
On Avatar Flight of Passage You feel like you are flying through the sky riding a Banshee. The ride is super smooth and there's 4-D effects like scents and mists of water. It's an amazing experience.
But unfortunately for me, it made me nauseous for 30-40 minutes afterwards. I only found relief after sitting down and eating a frozen lemonade.
Everyone else in my party absolutely loved it, but I personally don't think I will be riding it again any time soon.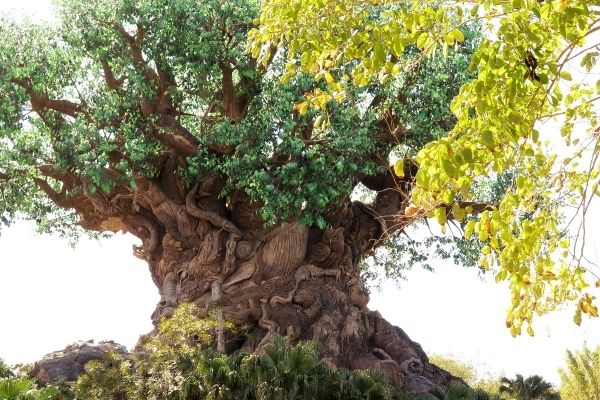 Star Tours: The Adventure Continues – Motion Sickness
For me personally, Star Tours – The Adventure Continues does present a problem with motion sickness. The entire ride is a motion simulator. It's an older ride, so the simulator is not smooth. In fact, it's rather jerky in motion.
This ride is not "the worst" for causing motion sickness, so I continue to ride it with my family. I love the queue and my family really enjoys this one, so I try not to skip it.
I do recommend taking precautions like wearing Sea-Bands, and have ginger candy to eat afterwards just in case! (I'll link to those at the end of this article!)
Star Wars: Rise of the Resistance Ride Motion Sickness
Rise of the Resistance is not typically known to give people motion sickness.
It does have a simulator but it is only for a short time. Rise of the Resistance is a combination of four elements: a trackless dark ride, walk-through, motion simulator, and drop ride system.
It's an amazing experience that puts riders in the middle of a fight between the Resistance and the First Order.
I'd give it a go if you think you can endure a short motion simulator in the middle of an almost 18 minute ride experience.
Millennium Falcon Ride Motion Sickness
If you are prone to Motion sickness, there's a slight chance that Millennium Falcon Smugglers Run will give you troubles.
This ride is a motion simulator, but unlike it's older predecessors it is smoother and less likely to cause nausea.
Many people find that because you look away from the screen to focus on tasks, it is less likely to make you nauseous. In general, it's a smoother ride than Star Tours.
I wouldn't count Smuggler's Run out, but I'd proceed with caution.
Spinning Teacups at Mad Tea Party – Nausea
Will the spinning teacups at the Mad Tea Party make you sick? I think that really depends on how you ride the ride….and whether the risk is worth it to you.
I personally ride the teacups with my young children, with the agreement that we are not going to spin the cup. Most little kids won't even notice that they aren't spinning, but just riding the ride.
There's a cute little animal that pops out of the teapot in the center that most kids adore (in addition to all the other action to watch) that I have gotten away with "not spinning" the teacup and just riding for a few years!
However, I would say that if the risk of motion sickness is great for you, this ride isn't really an "experience." What you see is what you get.
That said, you aren't missing much by watching from the sidelines either.
How to Cope with Nausea
One of the best ways to cope with Nausea is to be prepared. If you are reading this article, you or someone in your traveling party deals with nausea.
Be prepared by having these items with you at the park.
Disclosure: As an Amazon Associate I earn from qualifying purchases at no additional cost to you.
Ginger Candy
Ginger candy is a great way to calm nausea quickly. I love these Ginger Candies by UpSpring. Anytime I am experiencing nausea, these give me that settling feeling.
It is a hard candy with a pleasant ginger taste. And best of all, they aren't too sticky/chewy like some ginger candy can be.
I love these and I buy them over and over to have them on hand when I need them.
SeaBands – motion sickness wrist band
Sea-Bands are my other go-to when I have motion sickness. My son and I both put on our Sea-Bands when we start feeling nauseous in the car. They instantly give us some relief from our motion sickness.
What are Sea-Bands? They are little cuffs you put around your wrists. They have a little plastic knob sewn into the wristband that puts pressure on an acupressure point called the P6, or Nei-Kuan, which is proven to relieve nausea.
I absolutely believe in them! Many times as soon as I put them on, I feel instant relief.
They do have a child size version and an adult size version. I didn't know about the child size, so my 6 year old has been using the adult version and doing great with them, so we never got the kid sized one.
Motion Ease
This Motion Eaze Motion Sickness Relief had such rave reviews on Amazon that I had to pick a bottle up! I plan to use it the next time we have a need. All you have to do is dap a bit of this oil blend behind each ear and it helps relieve nausea.
Super simple and perfect for little ones who don't want to put something in their mouth.
I'm sure going to try it!
Dramamine
Dramamine is the option we choose for our son when we are traveling. This is a chewable pill that prevents nausea, but unfortunately it can make some kids feel drowsy.
I completely recommend this for traveling, but I wouldn't recommend it for use in the Disney World parks. (Because who wants a drowsy kid at Disney?)
However, if you are looking for relief to and from Orlando, this is a valid option. And of course, if the other options didn't do anything to help, this is nice to have as a last resort.
Lollipops
Long before I knew about any of the above options, and my son was 3 and turning green every time we drove anywhere, we used lollipops for nausea. It seemed that just having something in his mouth helped. So, we always pack lollipops any time we travel.
We love Dum Dum Lollipops because of the great flavors.
This does not rank as the best option for nausea, but if you are desperate, it could give a bit of relief.
To Sum it Up:
So in summary, buy the ginger candy, Sea-Bands, lollipops, and other motion sickness coping methods. Have them in your park bag, ready to go. Avoid Mission: SPACE and make an educated decision about the rest!
Have a great time on your vacation at Walt Disney World!
For More information on planning your Disney Vacation, be sure to check out The Disney Ride Height Requirements here.
You can find amazing beaches near Disney World here.