The Many Adventures of Winnie the Pooh is storybook adventure through one of Pooh's classic tales.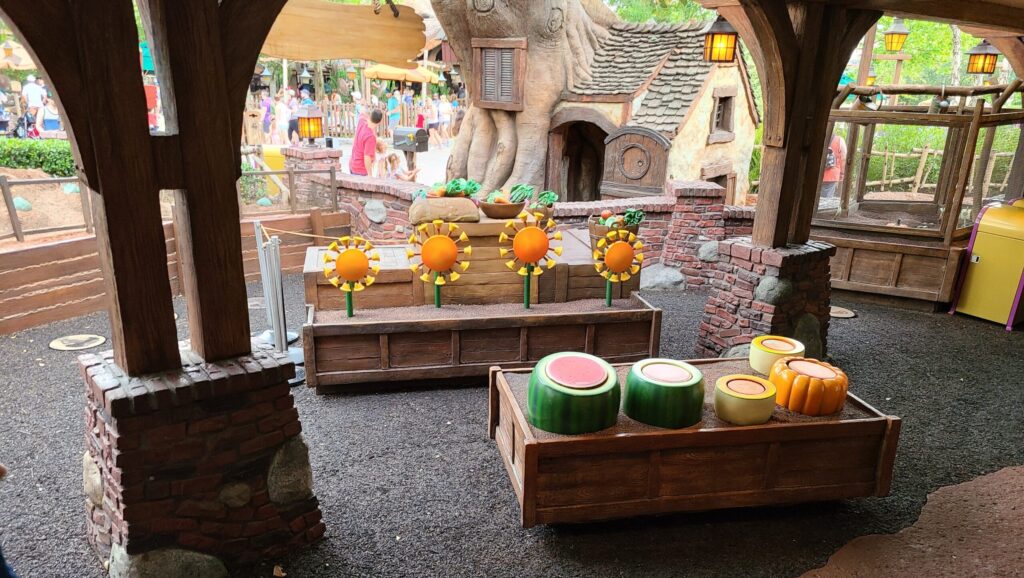 The queue for Winnie the Pooh give the kids a chance to play. There are drums, things to spin and slide, a playhouse to run in and out of and a wall of "honey" to play with.
The ride itself takes you through a storm in the hundred-acre wood. Pooh falls into a deep sleep and you get to go inside his head for his dream. The ride concludes as you might expect with Pooh eating all the honey he can from a jar.
You will see all your favorite characters from Winnie the Pooh including Pooh, Tigger, and Piglet as you navigate the hundred acre wood.
General Information
Theme Park: Magic Kingdom
Area of the Park: Fantasyland
Age Range Appeal: Preschoolers, Kids, Tweens, Teens, Adults
Queue Description: There are lots of activities for kids to engage in including things that spin, drums to beat on, things to jump on, a little house to run and out of, and a wall of honey that you can manipulate on a touch screen.
Queue Length: Usually about 15-45 minutes. The queue entry for this is very close to the popular Seven Dwarves Mine Train rollercoaster so when that ride line gets long, so does this one.
Ride Height Requirements: Any Height
Scary Factor: None.
Official URL: https://disneyworld.disney.go.com/attractions/magic-kingdom/many-adventures-of-winnie-the-pooh/
The Many Adventures of Winnie the Pooh Video