If you love animals, you are going to love the Disney Animal Kingdom Safari ride. Kilimanjaro Safaris magically takes you on what feels like a real African Safari in this amazing experience.
Kilimanjaro Safaris allows guests to explore the Harambe Wildlife Reserve in an open air vehicle.  Disney's wildlife reserve is 110 acres with over 30 species of real animals.  You'll drive through wide-open plains, forests, and wetlands. 
Each ride vehicle has an expert guide, who shares tons of interesting facts about the creatures you are seeing. The bumpy ride is about 20 minutes long, making it the longest ride in the Disney parks.
Kilimanjaro Safaris is a very engaging ride as you never know what animals you'll get to see up close and what they will be doing as you pass by.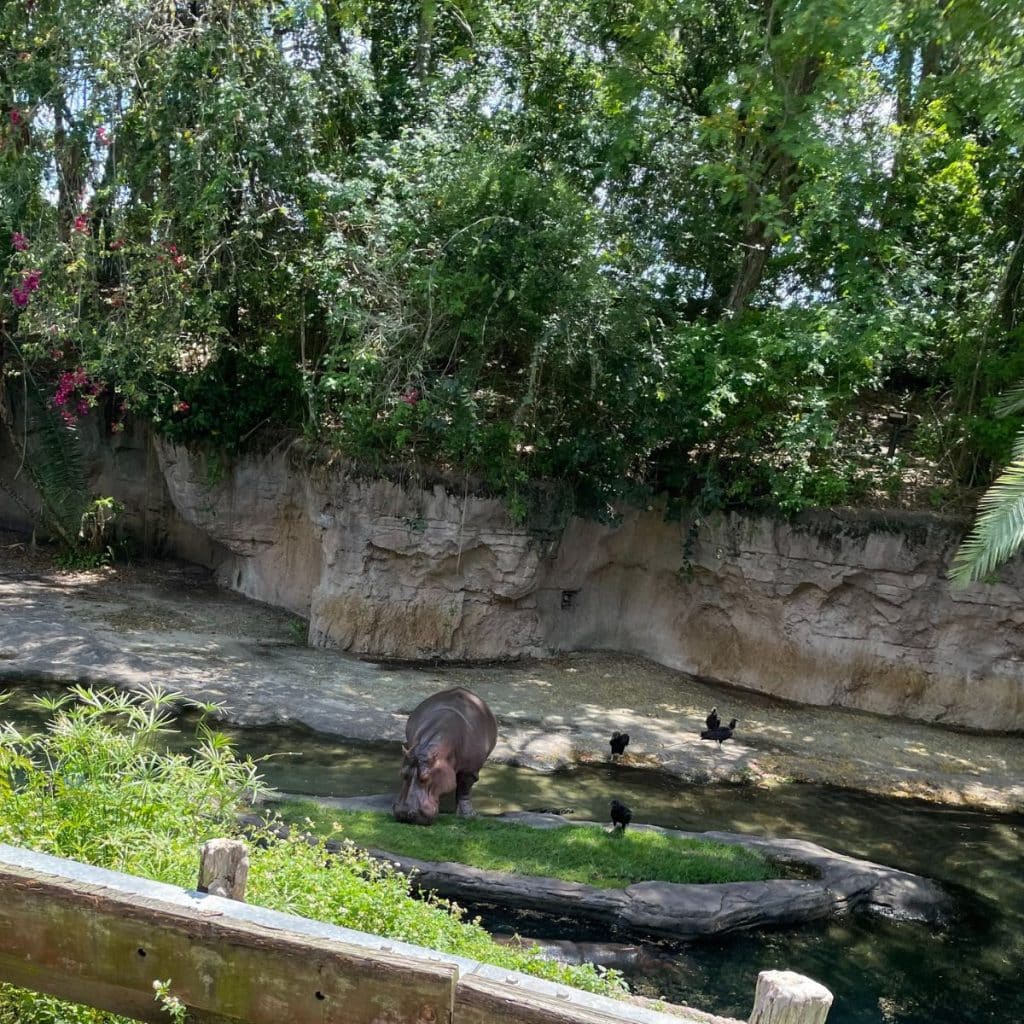 Disney provides salt licks along the path to attract animals to points where you can see them.  You'll also pass by watering hole areas as well as great views of a lot of animals on the African savanna.  
Kilimanjaro Safaris is the closest thing to a real African safari. We've ridden this ride many MANY times and it's always different.
Different cast member tour guides share different bits of information, the animals are always on the move, so sometimes you get a great view of an animal up close, sometimes there's new baby animals to see, and sometimes you get to see your favorite animal eat lunch, etc.
Regardless, you can count on getting a unique experience every time you ride!
When Should you Ride Disney Kilimanjaro Safaris?
Kilimanjaro Safaris is the main attraction of the Africa section at Animal Kingdom, so the lines can get long at times.
The best time to ride, in my opinion is late morning or late afternoon.
It's a bit tricky because the safari doesn't always open right away, so you can't count on rope dropping this one first thing in the morning.
You also want to avoid riding it in the heat of the day because many times the animals are hidden because they are wanting to cool off.
The best thing to do is to get in line right before it opens (Which varies day to day) OR ride it around late afternoon when the lines have gotten shorter.
Many people leave this Disney park early to park hop to another one, which eases up some of those long lines!
Ideally, if you have Lightning Lanes, I would schedule a ride around 10:30 am as the lines are likely long, but the animals are active – you can skip that long line with your lightning lane passes.
If you don't have that Lightning Lane access – save this ride for late afternoon.
What animals are on the safari ride at Animal Kingdom?
Here's a list of the animals you will see on Kilimanjaro Safaris.
You'll see:
Addax
Antelope
African Wild Dogs
Ankole Cattle
Black Rhino
Bongo
Bontebok
Cheetah
Common Eland
Elephant
Flamingo
Giraffe
Hippopotamus
Kudu
Lion
Mandrill
Nigerian Dwarf Goat
Nile Crocodiles
Nyala
Okapi
Ostrich
Pink-Backed Pelican
Saddle-Billed Stork
Scimitar Oryx
Spotted Hyena
Springbok
Warthog
Waterbuck
White Rhinos
Wildebeest
Zebra
This list does change from time to time, but in general, you can expect to see a LOT of different animals on this amazing ride.
How bumpy is safari ride at Animal Kingdom?
The ride vehicles for Kilimanjaro Safaris are open-sided safari vehicles. Your tour guide drives his/her big custom made safari truck over fairly rough terrain.
The safari driver does their best to avoid potholes, but the path is pretty rough and bumpy.
Disney advises that guests need to be in good health, no high blood pressure, heart, back or neck problems.
They also say that expectant mothers should not ride as there can be unexpected jolts on the ride.
In addition, Disney warns that this could cause motion sickness.   For what it's worth, my son and I are prone to motion sickness and neither one of us have ever had a problem on this ride.  
Has the Animal Kingdom Safari Ride Changed over the years?
Kilimanjaro Safaris has definitely changed over the years. If you remember riding it many years ago, you might remember a Poacher storyline.
Over time, Disney dropped that storyline in favor of not scaring child with imaginary poachers and instead, giving you more information about the amazing animals on this ride.
General Information
Theme Park: Disney's Animal Kingdom Theme Park
Area of the Park: Africa
Age Range Appeal: all ages – Kids, Tweens, Teens, Adults
Queue Description:  The standby queue for the Disney Animal Kingdom Safari Ride is fairly simple. It can get very hot as it is outdoors. Lines can get long mid-morning and mid-day.  
Queue Length: This ride often opens up later in the morning, not always at rope drop. Lines tend to grow mid-morning to mid afternoon. Then lines tend to drop as early as 3:30pm.
Ride Height Requirements: No heigh requirement but kids under age 7 must be with a person age 14 years or older.
Pregnant mothers and those with health conditions are advised not to ride due to the bumpy nature of the ride.
Scary Factor: Low – it's a slow ride, but there are unexpected bumps and jolts as you ride along on the rough terrain.
Official URL: https://disneyworld.disney.go.com/attractions/animal-kingdom/kilimanjaro-safaris/
Kilimanjaro Safaris Video
More Animal Kingdom Information
Want to learn more about Disney's Animal Kingdom? Be sure to check out our other articles.
You can find all the best rides at Animal Kingdom here. We outline all the details on the must-do rides and of course, the one ride you should avoid.
Eating gluten free? You can find all the best Gluten Free Dining Options at Animal Kingdom here.
You'll want to learn all about Avatar Flight of Passage here. This is such an incredible ride in the World of Pandora section of Animal Kingdom.
Be sure to check out our handy list of Disney's Ride Height Requirements. Find out before you go, which rides your kids are able to ride.
Learn all about the Best Souvenirs at Disney World here. So many cool ideas for a memento of your amazing Disney vacation.
If you are in the thick of starting to plan your trip, be sure to read Best Day of the Week to visit Disney World.
And of course, don't forget to grab our free printable Disney World Packing List. Everything you need to remember to pack for the perfect Disney vacation!
Be sure to pin the image below to save this Disney Animal Kingdom Safari Ride info for later!