Travel the world as a you listen to a chorus of children remind us that we are all in this together.
The queue for this is generally short and is just a basic line. We are generally past It's a Small World attraction multiple times during a trip because of its convenient location so we try to just watch for when the queue is empty. Additionally, if you have Genie+, you can sometimes snag a lightning lane for this late in the day and avoid even a 15 minute wait.
The ride moves people through efficiently and you will soon begin your journey around the world where you will be greeted by merry children singing "It's a small world after all" on repeat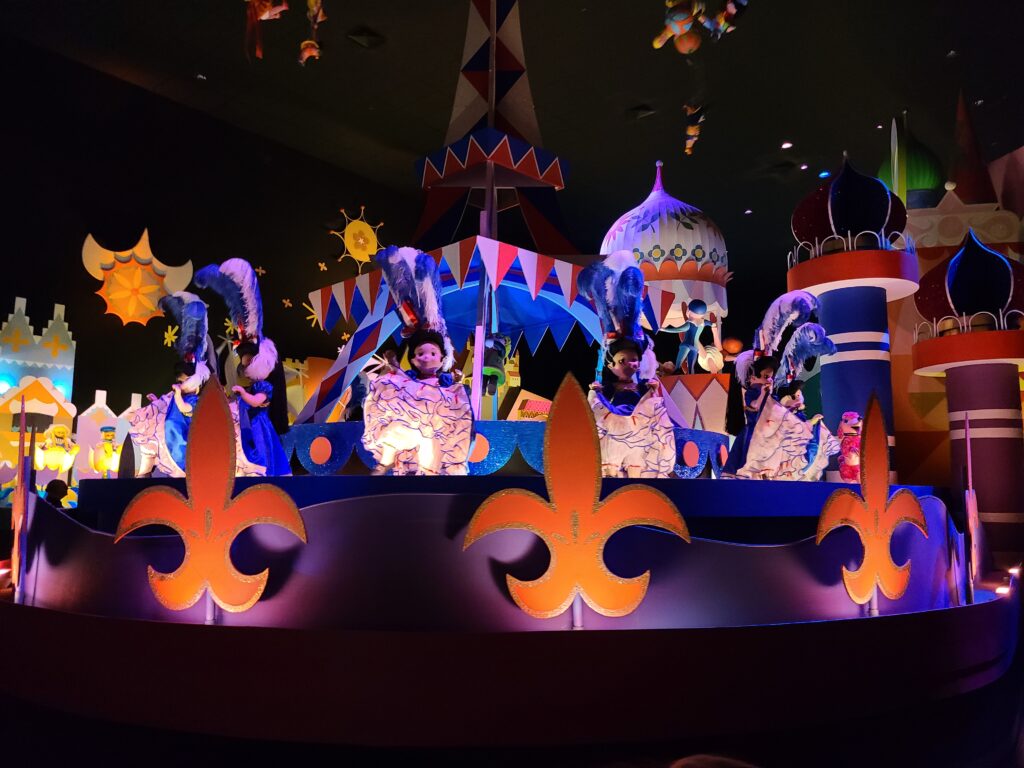 The hundred's of animatronic children, and few animals too, are dressed in bright colors from their native lands. Many of the scenes feature basic tropes so don't expect to learn a lot about the countries you visit.
In any case there is a lot to look at as your boat navigates on a track and each room brings more joy.
Be sure to watch for your name at the end – a neat addition using your Magic Band to identify your party – as the ride says good bye and hopes to see you again on your next visit.
General Information
Theme Park: Magic Kingdom
Area of the Park: Fantasyland
Age Range Appeal: Preschoolers, Kids, Tweens, Teens, Adults
Queue Description: The queue is just a basic line, but is usually short.
Queue Length: Usually about 10-25 minutes. This queue is usually short and you can often pick up this ride sometime throughout your visit as a walk-on.
Ride Height Requirements: Any Height
Scary Factor: None – unless singing animatronic children creep you out
Official URL: https://disneyworld.disney.go.com/attractions/magic-kingdom/its-a-small-world/
It's a Small World Video