Getting ready for your Disney Vacation? Here's the Ultimate Disney Packing List (with a free printable!)
Whether it's your first trip or your 20th trip, packing for Disney can leave you scrambling. There's a lot to remember!
I've put together a list of the most important items you'll need on your Disney trip, plus a few recommendations/optional items as well!
As a bonus, there's a free printable Ultimate Disney World packing list you can access at the end of the article.
Alright! Let's dive in!
*** Disclaimer: As an Amazon Associate I earn from qualifying purchases, at no additional cost to you.
1) Lightweight Backpack
First up, if you are going to the Disney parks with kids, a park bag is a necessity. This will allow you to bring along snacks, ponchos, phone chargers, etc.
You'll want something that is comfortable and has support, but can be easily stowed on rides.
String backpacks can cut into your arms and you'll be miserable by the end of the day. We recommend this hiking backpack as your day bag.
2) Ponchos
It really depends on what time of year you go to Disney, but in general, you are going to want to bring ponchos.
Florida weather can change very quickly in a short time frame. If you visit in the summer, you'll likely see rain almost every day. But it's no big deal because the rain showers rarely last very long.
Our family likes to bring our own ponchos, because it is way cheaper and we are prepared for rain. You can definitely buy a poncho in the park, but you can count on it being super expensive.
This is the big pack of ponchos we recommend. They are lightweight, so you aren't carrying around something heavy all day and they are inexpensive, so we don't feel bad if we want to throw them away if they get wet.
3) Cross Body Bag
If you don't have kids, you might rather wear a crossbody bag instead of a backpack.
Or if you have a big family, you might like to disperse the weight of items by having other people carry bags as well.
I have 4 kids, so I have my oldest daughter carry her own bag. This works great for having money, snack, phone, a drink, etc.
By having others in your group carry their own crossbody bags, this will help out the backpack bearer too.
In general, I recommend lightweight bags with lots of zippers. This one by Vera Bradley is very similar to what I use.
4) Portable Phone Charger
Since you'll need to use the My Disney Experience App for wait times, Genie+, mobile ordering and more, you'll want to make sure you bring a portable phone charger.
You'll be taking pictures, using the App for wait times and mobile ordering. This can seriously drain your phone battery quickly.
This portable phone charger is great for giving your phone a quick recharge. And of course, don't forget your phone cord!
5) Small Soft-Sided Cooler
Food and Drinks at Disney are expensive. Our family always packs a small collapsible cooler. We just pack one drink per person as drinks can be heavy to carry around. This gets us through the morning and then we buy a drink at lunch.
Florida is usually pretty hot, so your drink won't stay cold very long without a cooler. We use a lightweight cooler that is big enough to hold a few drinks.
Just remember that Disney does not allow dry ice or loose ice in your coolers.
Normally our family is all about reusable water bottles, but not at Disney.
We like to be able to toss our water bottles in the trash after we finish so that we don't have to carry the extra weight/bulk in our bag all day. Plus, you don't have to worry about losing your expensive water bottle either.
6) Snacks
Did you know you can bring your own food into Disney World theme parks?
Our family loves to pack a small snack. It's super handy to be able to grab a snack out of your bag in a long line. This helps kids refresh and regroup, and neutralize any hangry feelings.
And of course it helps the line waiting time to pass more quickly.
We typically pack granola bars (no chocolate as it will melt), dried fruit, string cheese, jerky, trail mix, fresh fruit, fruit snacks or chips.
And a shout out to Lay's Stax. I like the way the Lay's container keeps the chips from getting crushed in our park bag.
You can definitely find snacks at the parks, but you will save some serious cash if you pack your own.
7) Breakfast
Our family likes to have access to quick breakfast items in our hotel room. If you plan to get to the parks early for rope-drop, I recommend this!
We buy cereal, milk, granola bars, etc. We also make sure to bring our own bowls, spoons, and cups.
My kids usually eat breakfast while I finish getting myself ready. They usually do cereal. Then I eat my breakfast (a protein bar) as we wait in line to enter the park.
Be sure to check with your hotel to see what amenities you have in your room or at your resort. Most Disney budget hotels have a small mini fridge and coffee maker. You won't usually find a microwave.
8) Sunscreen
Sunscreen is a must in Florida! Nothing will ruin your vacation faster than a bad sunburn. The Florida heat can be brutal.
I recommend getting a large family size sunscreen with a pump for easy application in the hotel.
We also buy a mini sunscreen container to carry in our park bag, in case one of us starts looking pink and needs to reapply sunscreen in the parks.
9) Sunglasses
You'll enjoy that beautiful Florida Sunshine much more if you wear sunglasses.
I recommend bringing 2 pairs of sunglasses for yourself. A full day of wearing sunglasses can start to rub your ears. It can make a huge difference to have a different pair to wear the next day!
10) Ziploc Bag
Ziploc bags have always been a must on my Disney packing list.
They are perfect for splitting snacks up when you are on the go.
We also use them for keeping our phones dry on water rides. (Some of those rides are soakers!)
I like to bring an assortment of Ziploc sandwich bags and gallon size Ziploc bags so we have what we need.
11) Band-Aids
Band-Aids are another must-have item in your bag! They are perfect for when your get a small scratch or blister.
It's nice to not have to go all the way across the park to the First Aid Station just to get a Band-Aid. Just pack a few!
12) Mole Skin
This Dr. Scholl's Mole Skin is a lifesaver for blisters. If your shoes happen to rub your foot wrong, you can use this to cover your blisters to make your shoe more comfortable.
I usually pack it as a "better safe than sorry" item. But I'll admit that I had my feet covered in this on my last trip.
Apparently, since I hadn't worn my sandals all winter long, it was as though they were new again and they killed my feet on the first day.
Thank goodness for Mole Skin! Also, make sure to pack scissors to cut it to size.
13) Travel Size Umbrellas
Bring at least two small umbrellas if you have a family.
In general, we don't bring our umbrellas into the parks every day. However, if rain is in the forecast for a whole day, it's nice to have them. Ponchos are great, but combined with an umbrella – you'll stay much more comfortable.
14) Anti-bacterial Wipes
I like to keep some anti-bacterial wipes in my bag for situations where I can't wipe my hands off easily.
It comes in handy for us as an allergy family. And of course, it can help keep your family healthier during the trip. I prefer the antibacterial wipes – but if hand sanitizer is your go-to, do it!
15) Swimwear
Packing a swimsuit is always smart. It gives you options. We don't tend to swim when we are on Disney vacations because we spend so much time in the parks. However, we always pack them in case we decide to take a little break from the parks in the afternoon.
You might like to plan an "off day" in middle of your vacation, when you don't go to the parks. Instead you might enjoy the hotel pool, a local beach, or you can go to a Disney water park.
Having a "non park day" on your vacation can help you relax, take a break from all the walking and enjoy your Disney vacation a little more.
So, don't forget all your pool essentials – bathing suit, swimsuit cover ups, sun block, swim diapers for the baby, and more!
16) Extra Clothing
We always pack extra outfits, socks and underwear for everyone. It may come in handy if you get soaked unexpectedly by the rain or on a water ride.
It's so nice to have extra clothes back at the hotel. That way you can transition to your evening plans without worrying about using up your clean clothes.
In addition, if you plan on dining in a fancy restaurant be sure to check the dress code. Most Disney restaurants are fine with casual wear, but there are some fine dining restaurants at the Disney resorts that do require nicer clothing. You can find a list of the fine dining restaurants with dress codes here.
17) Comfortable Socks
There's a LOT of walking at Disney World. Nice high quality socks can make a huge difference in the amount of blisters you might get. An ounce of prevention goes a long way! (I use Adidas socks and they are worth every penny.)
18) Extras of Necessities
Doesn't it seem like you always lose a contact lens or something important at the worst time!? To avoid inconveniences like that, we try to pack a few extras. This applies to things like diapers for the kids, wipes, and feminine hygiene products.
19) Nail Clippers
Pack a pair of nail clippers to avoid those annoying hangnails. We just keep these back at the hotel.
20) Hats
Wearing a hat is another smart way to keep the sun off your head and keep cool. It can protect you from getting a sunburn on your head.
Choose a hat that fits you well so that it doesn't fly off on a ride. Or bring a hat that can be tucked into your bag when you get on a fast ride.
21) Medicine Bag
Our family packs vitamins, headache medicine, ibuprofen, antacids, prescriptions, etc. in a medicine bag. We like to be prepared so that we don't have to waste time tracking down what we want. We leave this in our hotel room.
22) Weather Appropriate Clothing
It's smart to look up Orlando's weather the week before you visit to get a feel for what the temperatures might be like when you are there.
Winter time in Florida can be chilly, so you might need a coat, gloves and hat. Summer can be really hot, so you'll want shorts and t-shirts.
23) Ear Plugs and Sleep App
Sometimes you get really unlucky with your hotel room and get placed across from a noisy pool or next to a noisy neighbor.
To help get a good night's rest, I recommend bringing ear plugs and/or installing a sleep app on your phone to make ambient noise.
24) Comfortable Shoes
Again, there's a LOT of walking at Disney World. You must have comfortable shoes!
Make sure to wear sneakers that you have broken in (for at least a few months) as well as a pair of sandals that you have worn regularly for several weeks before your trip. It's nice to be able to swap out shoes to keep your feet comfortable.
You can find our Disney World shoe recommendations here.
25) Trash Bags
Trash bags come in handy for dirty laundry. I like to have a few with me to place my dirty laundry in before I repack it into my suitcase.
Make sure everything is 100% dry to avoid problems due to moisture!
26) Autograph Book
If you plan to meet some Disney characters, you might like to bring an autograph book and pen. There's really cute Autograph Book options here that you can order from Amazon.
Young kids love meeting their favorite characters! It just might be the best part of the trip for them!
27) Magic Bands
If you decided to purchase MagicBands – don't forget to pack them! MagicBands are a convenient way to tap in for your Genie+ Lightning Lanes, open your Disney hotel room and more. They aren't necessary, but they sure are convenient.
28) Disney Apparel
It's time to pack all things Disney! So, pack those Mickey Mouse shirts, Frozen themed tees, and WALL-E t-shirts! Wearing your favorite Disney Characters is cool at Disney!
29) Mickey Ears
If you own Mickey Mouse Ears – now is the time to wear them! It's classic Disney attire! There's nothing more picture perfect than wearing your Mickey Mouse ears in front of Cinderella's Castle.
30) Motion Sickness Remedies
If you or someone in your family is prone to motion sickness, you'll want to bring some items with you to help with nausea.
My go-to item is SeaBands. They are little bracelets that you can wear on your wrists to help keep you from nausea.
Be sure to check out all my tips on Avoiding Motion Sickness at Disney here.
Free Printable Disney Packing List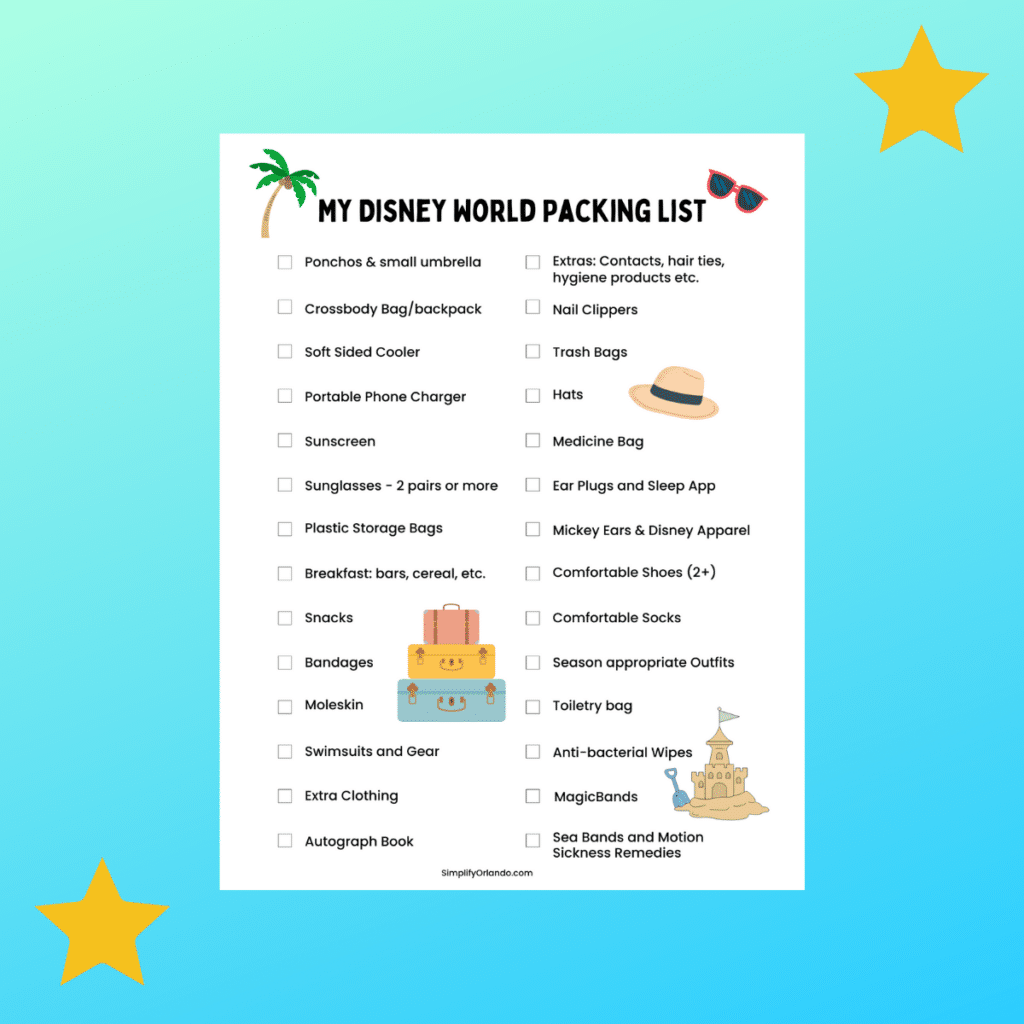 Ready to download the free packing list for Disney? We've included everything on this list and essential items!
Here's your free printable ultimate packing list: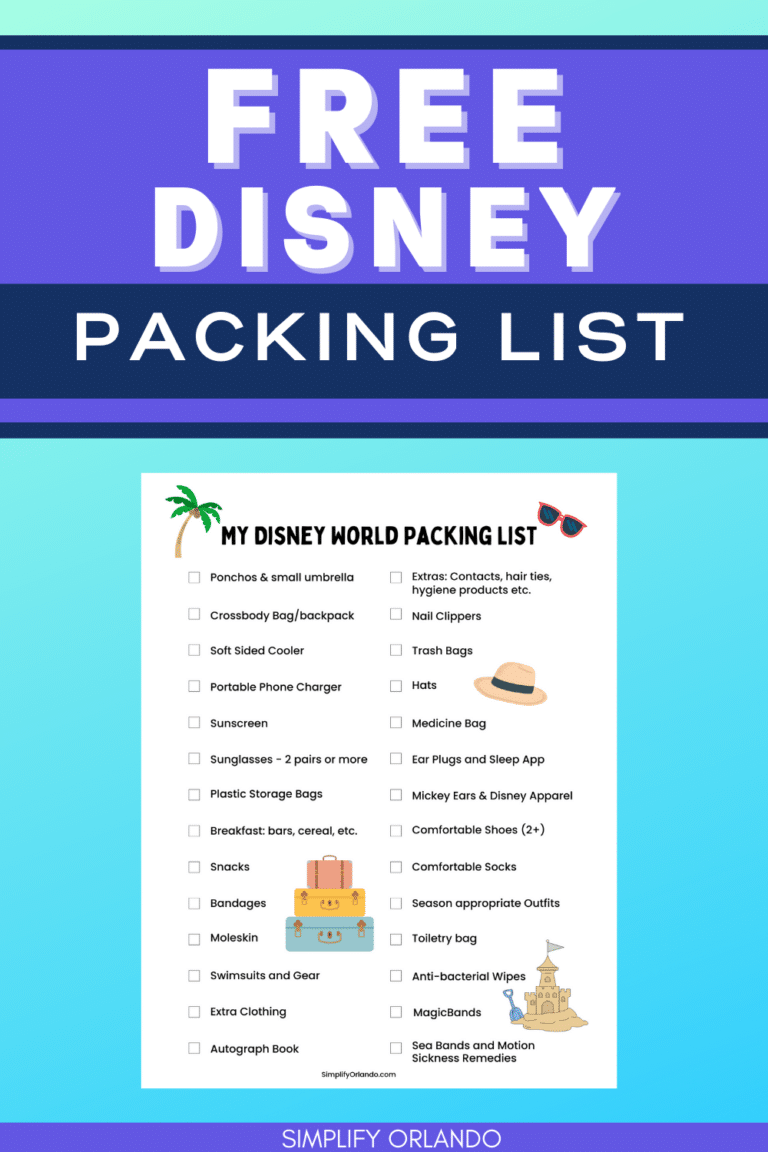 Do Not Pack:
Here's a few items you'll want to be aware of and NOT pack.
1) Prohibited Items – There's a few items Disney does not allow in the park. You'll want to take note of the most updated information on the Disney website. No wagons are allowed. Strollers and backpacks have to be within the size restrictions. Don't bring pepper spray, pocket knives, whistles, noise makers, selfie sticks, drones, and shoes with wheels. These are just a few of the items not allowed – be sure to check the full list before your trip!
2) New Shoes – Always bring comfortable shoes you have already broken in. As we discussed up above, you'll walk a LOT. New shoes will give you blisters before the first day is over.
3) Loose Ice or Dry Ice – Disney doesn't allow loose ice in your collapsible cooler. Consider reusable ice packs.
4) No Pool Noodles – You can't bring swim noodles or flotation toys to the Disney Water parks. Only Coast Guard approved flotation devices are allowed.
More Disney Planning Tips
Looking for more Walt Disney World resort information?
If you're planning your first trip to the most magical place – you can find Best Disney World Tips for First Timers here.
Want to learn about something specific like Blizzard Beach, the best Disney World Hotel, or find the best roller coaster rides? Find amazing information on YouTube with the Best Disney Vloggers.
Have small children? Here's the Best Rides for Toddlers at Magic Kingdom.
Planning a trip to Animal Kingdom? Here's the best rides at Animal Kingdom and 1 to skip!
You can find the Ultimate List of Magic Kingdom tips here. All of our best tips so that you have the most magical vacation possible.
We truly hope you have the best Disney World Vacation! If you'd like to save this article for later, Pin the image below to save this to your Disney World trip board on Pinterest.