Mission: SPACE is a space simulator based on the premise of training to fly a space shuttle.
You can choose one of two experiences upon entering. The Orange experience is a quite intense ride. It has G-Forces of up to 2.5G and is not for those who experience motion sickness. If you need something a bit more tame, the Green version is for you. While you still get some of the experience, you won't have to visit the vomit room afterwards.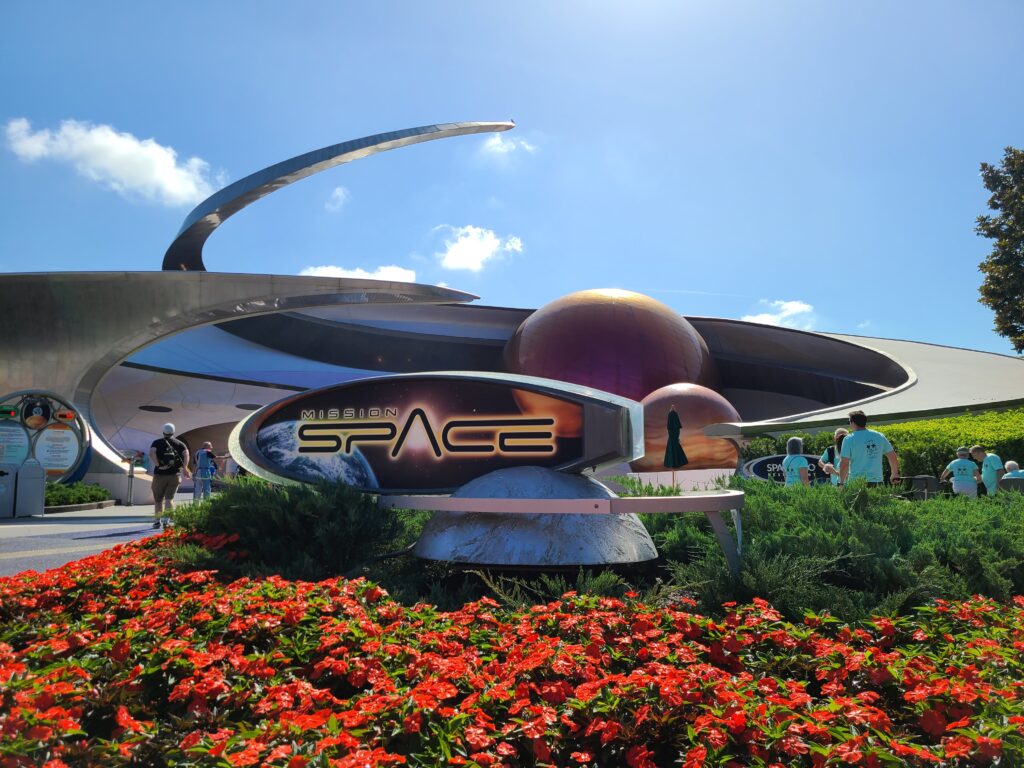 The queue for Mission: SPACE is designed to feel like you are entering a space center. The line cuts back forth past spaceships, walls of astronaut pictures, and even a control room where attendants stop and wave to you.
Then, when you arrive you will be filtered into a boarding group where both safety information for the ride and some entertainment are included. After this you will enter a handful of "pods" to begin your experience.
If you chose the Orange experience, you will blast off and head to Mars where at some point you will take the controls and experience a very rough landing. There is quite a bit of spinning on this version.
If you chose the Green experience, while you will experience some movement, your ride will be much simpler. You will take off and land at the International Space Training Center.
You are strapped in pretty well and rightfully so as the ride is a bit a rough. This is a fun ride and younger audiences will like it even though it does feel a bit dated at this point.
General Information
Theme Park: Epcot
Area of the Park: Future World
Age Range Appeal: Kids, Tweens, Teens, Adults
Queue Description: The line for this ride goes through the International Space Training Center and is themed to include spaceships, photos of astronauts, and a control center.
Queue Length: You can often get on Mission: SPACE with a wait of less 30, and sometimes it climbs close to an hour.
Ride Height Requirements:
Orange: 44in (112 cm) or taller
Green: 40in (102 cm) or taller
Scary Factor: Low – this is a space simulator and while there is some excitement, there shouldn't be anything too scary.
Official URL: https://disneyworld.disney.go.com/attractions/epcot/mission-space/
Mission: SPACE Video