If you are planning a trip to Walt Disney World you might be wondering – When is Rope Drop at Magic Kingdom?
You will find that Magic Kingdom Rope Drop will vary from day to day depending on the park hours, but typically, Magic Kingdom opens at 9 am for early entry at 8:30 am for Disney resort guests. That means that if you want to rope drop, you need to get to Magic Kingdom 30-60 minutes before your entry time.
During busy seasons, you'll want that full 60 minutes.
Always check Disney's website for the current daily opening times.
What is Rope Drop at Disney World?
Rope dropping refers to getting to the park before it opens and being there first thing in the morning when the cast members allow park guests to enter into the line queues.
There isn't an actual rope that drops, but it refers to the opening of the park for the day.
Is Rope Drop worth it?
Definitely a yes! The whole purpose of rope dropping for our family is to ride as many rides as we can before the park gets super busy and the long lines form.
Our family has found that we can ride all of our favorite rides without the long wait by using a combination of rope dropping, early theme park entry for Disney hotel guests, and Disney Genie +. On occasion we have used the Individual Lightning Lane option, but really, it isn't necessary in most cases.
The long wait times for rides at Disney parks soar around mid-day and early afternoon. If you can get to the parks early you can take advantage of shorter wait times.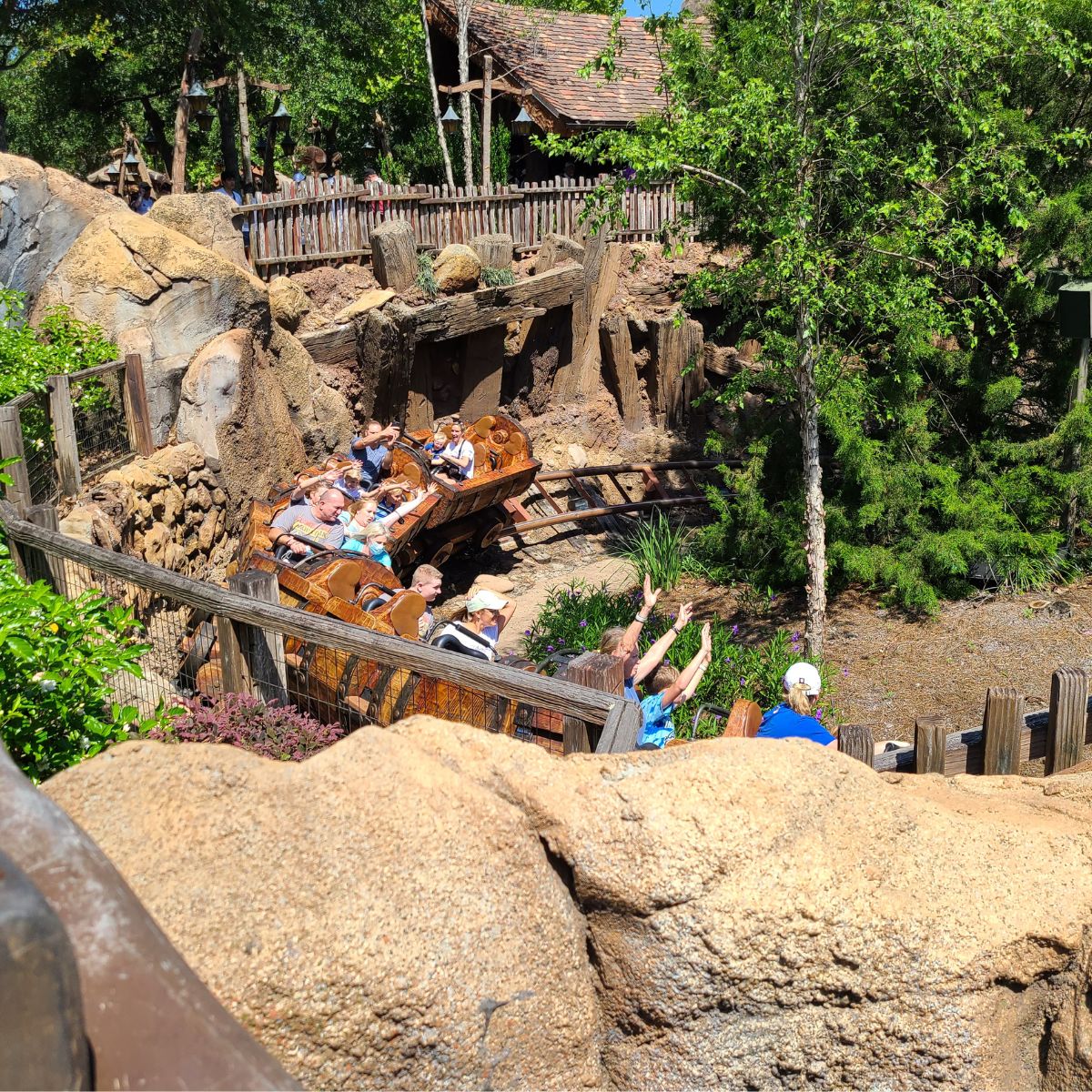 What rides should I Rope Drop?
To me, the best rides to rope drop are the most popular rides.
And I'm just going to say it…..Don't let your 5 year old pick the first ride of the day. You are doing them a favor by taking them on the rides with the shortest wait times first. Otherwise, you will WAIT and WAIT later for those very same rides you could have basically walked onto at park opening.
You want to pick rides that always have the longest lines, the most popular attractions at the theme park.
Here's my top picks for each park at Walt Disney World:
At Magic Kingdom my top picks for early entry rope drop are:
Once you decide on your first ride, you should try to pick a 2nd ride that is close by to take full advantage of the low wait times. You don't want to spend too much time walking across the park during this early time frame. So for example, if you decide to rope drop Seven Dwarfs Mine Train, a great second ride would be The Many Adventures of Winnie the Pooh.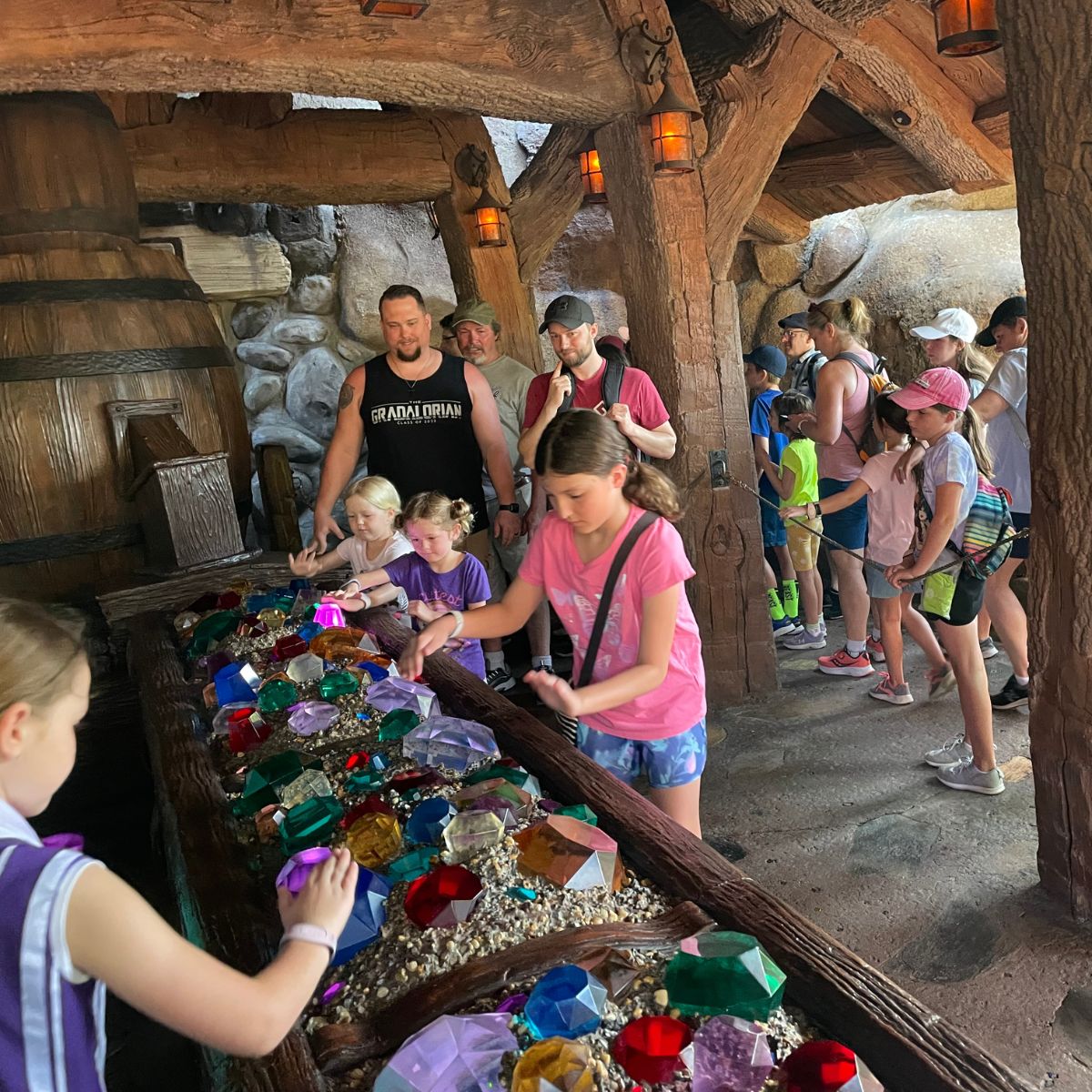 Most of the time, you won't have time to hit 2 of the most popular rides. The lines will have formed by the time you have ridden your first ride and the advantage has disappeared for the most popular rides, but there is still a clear advantage for any medium – popular rides.
So, for example, you probably can't do both Seven Dwarfs Mine Train and Peter Pan's Flight (but always check the wait times in the My Disney Experience app just in case!)
Does Magic Kingdom have 2 Rope Drops?
Yes! Magic Kingdom technically has 2 rope drops on days when there is early entry. Usually Magic Kingdom only opens 2 lands to start the day: Fantasyland and Tomorrowland.
There's a rope drop for the early entry people to get into Tomorrowland and Fantasyland….and then when the regular entry time comes, they open up Frontierland and Adventureland. So technically, you could rope drop with early entry and then rope drop again into Frontierland/Adventureland.
There can definitely be an advantage to doing both. But always do what makes sense in the moment! Sometimes we like to rope drop Fantasyland and then if we have small kids it makes sense to make our 2nd rope drop Haunted Mansion as it is not a far walk. If you can handle a longer "fast walk" during rope drop, make your way over to Splash Mountain or Big Thunder Mountain Railroad.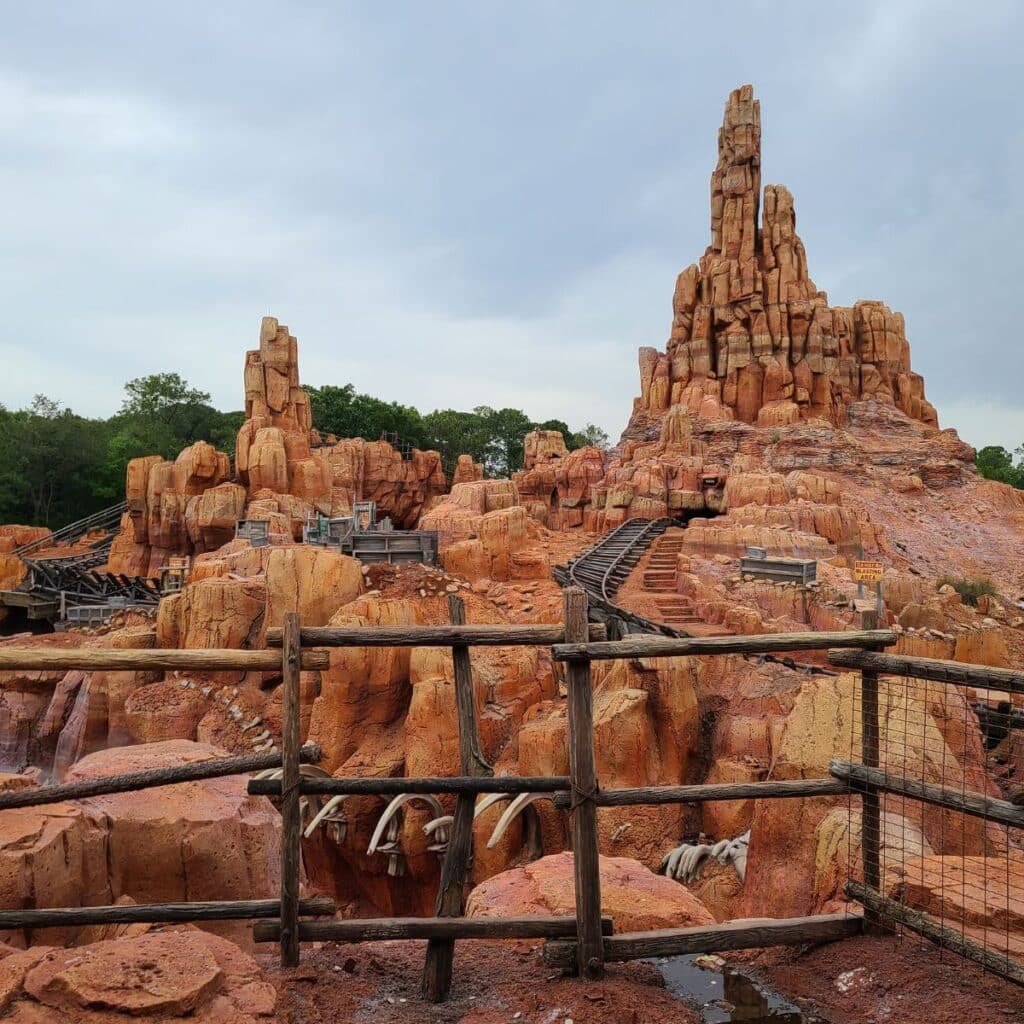 Is there a bad choice for Magic Kingdom Rope Drop?
Yes. Picking rides that always have a low to medium wait time is a bad use of your rope drop advantage. So, don't pick It's a Small World or Price Charming Regal Carrousel as these rides always have a fairly low wait time.
Also certain rides like the Tomorrowland Speedway often open only halfway. So the line may look short, but if they have only opened one side of the Speedway, it will make the wait time A LOT longer than you'd think.
Also, consider rides that break down a lot as poor choices for rope drop.
Rope Drop at Other Parks
At Disney's Hollywood Studios the best rides to rope drop are:
Slinky Dog Dash
The Twilight Zone Tower of Terror
Rock 'n' Roller Coaster Starring Aerosmith
I'd do Toy Story Mania after Slinky, I'd head to the Millennium Falcon after Rise of the Resistance. And with Twilight and Aerosmith, I'd probably TRY to do both while I was on that side of the park, otherwise, I'd head to Mickey & Minnie's Runaway Railway.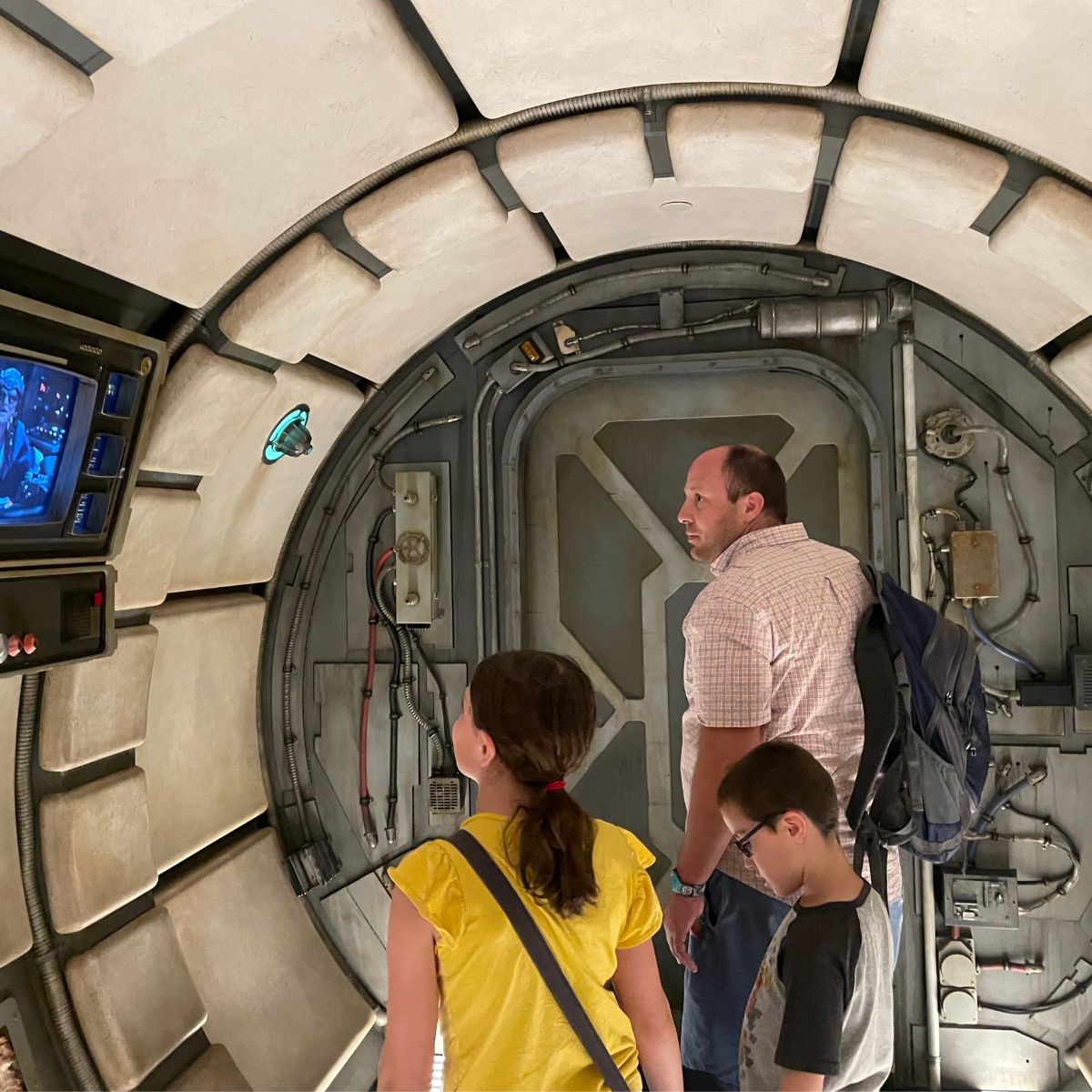 For Disney's Animal Kingdom, there's really only 1 headliner that is worth getting to the park super early for and that is Avatar: Flight of Passage.
This ride always has a huge wait the entire day so if it's on your must-ride list, the best strategy is to rope drop it. If you aren't doing Flight of Passage, I'd head to Navi River Journey first. You can definitely pair both of these rides but Flight of Passage should be done first.
Kilimanjaro Safaris also always has a long wait, however, it doesn't always open right at the official opening of the park. Sometimes it opens an hour or two later.
Check the park's schedule to make the best rope drop strategy for your family.
At Epcot, I'd definitely rope drop Remy's Ratatouille Adventure if you are entering on the International Gateway side (where the Skyliner comes in). If not, I'd rope drop Frozen Ever After. It's all about location and which ride you can get to quickly.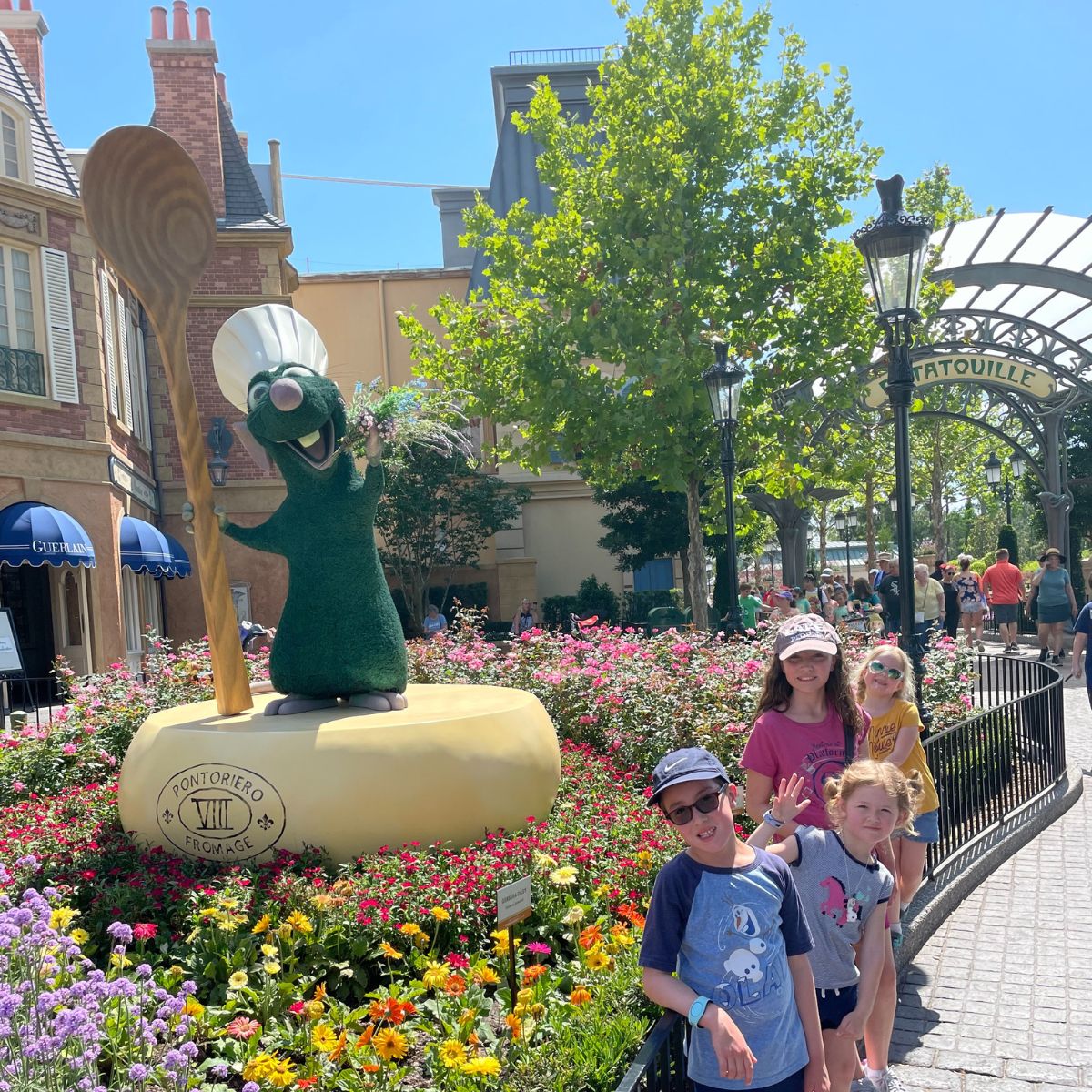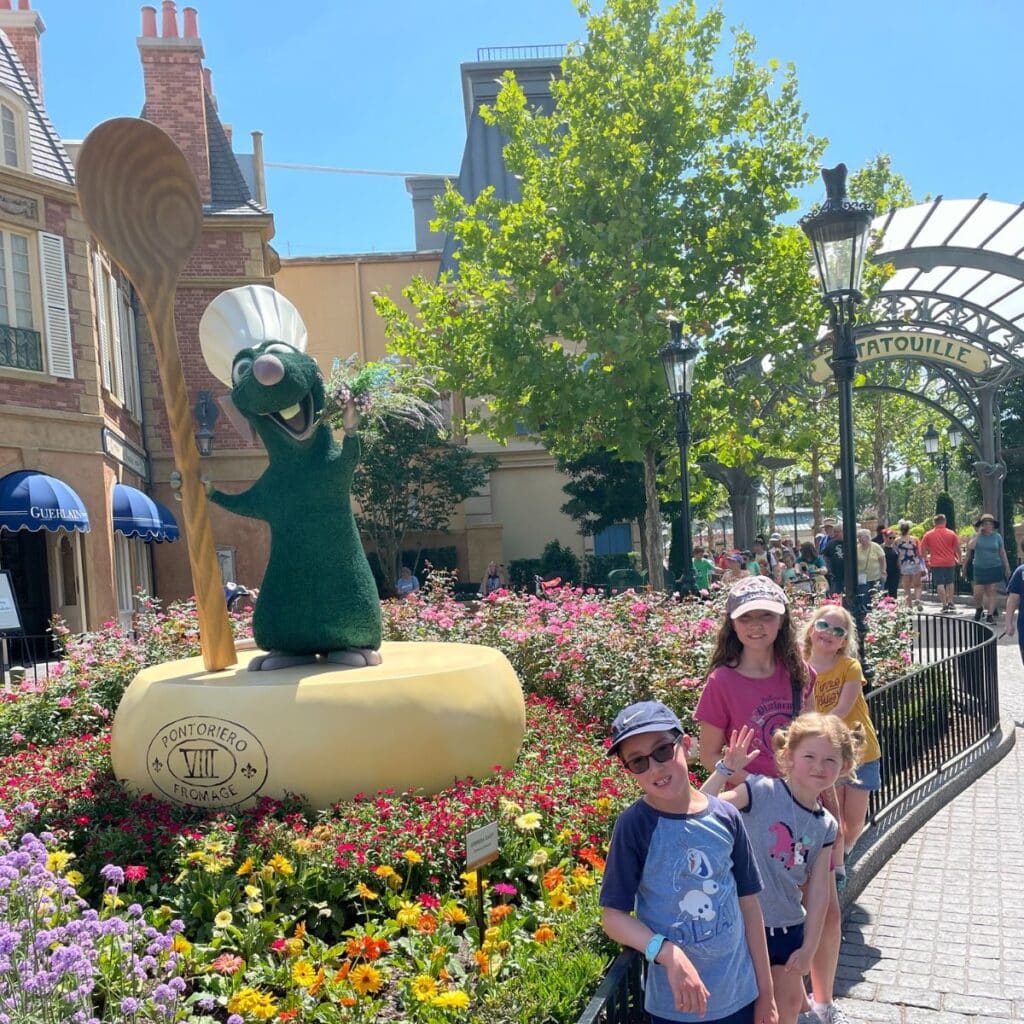 Test Track might seem to be a good one to rope drop, but the reality is that it breaks down a lot and I wouldn't want to waste my rope drop advantage waiting in a line that might never move.
Planning your Day
First, if you are using Disney Transportation, make sure that you get to the buses or Skyliner a few minutes before they start running. You want to be on the first bus or first few Skyliner cars going out.
If you are driving to the park, I'd allow 30-40 minutes to drive there and walk to the entrance from the parking lot. If you are young without kids, then you will be able to walk a lot faster than those of us tugging along a group of children.
Keep in mind that there can be A LOT of walking from the parking lot, especially if the trolleys in the parking lot are not running. The amount of time needed to drive and walk will depend on where your hotel is located and of course how fast you can walk. You might need more or less time.
Next when you arrive, you will be held at the gate for a bit before they let you tap in for the day. It will take a little longer if you are carrying a back pack as you will have to go through a special bag check line.
Always look for the shorter lines to join. Usually they are on the ends, not down the middle. Most people head straight for the middle – don't!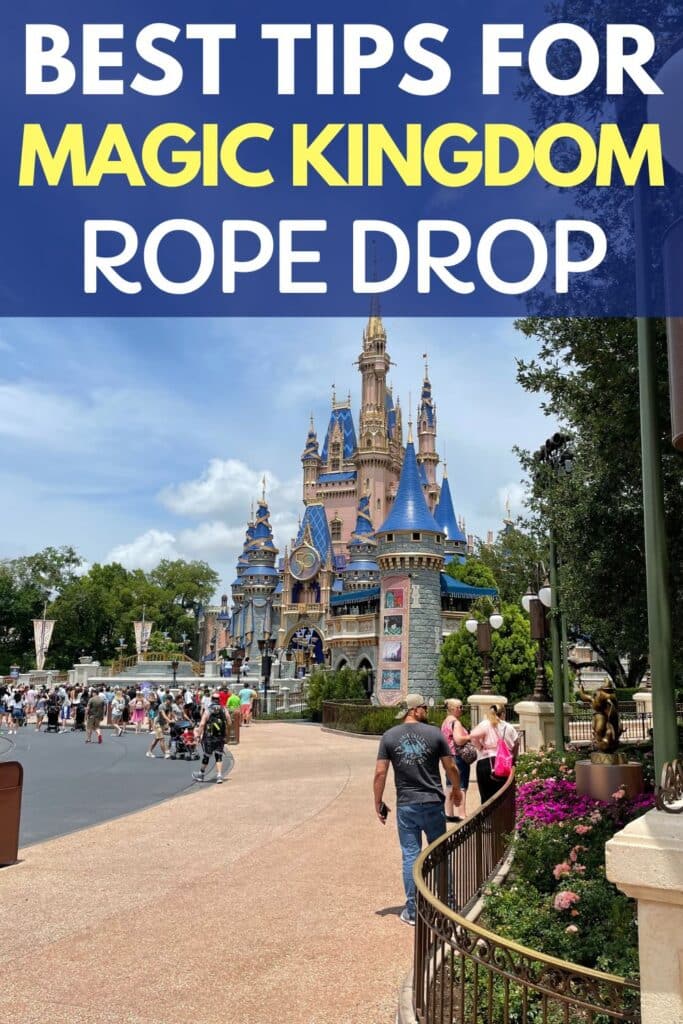 Most of the time they will let you tap in before the official park opening time and gather you into a holding area depending on which part of the park you are heading toward. Be sure to look at a map ahead of time so you know where you are heading.
This small gap of time is a great time to take a quick pit stop if you have little ones. I always have my kids go to the bathroom after we tap in to the park and before rope drop.
Then we join our group in the area where a cast member is holding people back until park open.
Be aware that when "rope drop" happens you will want your little ones either on your shoulders or in their stroller as things get a little chaotic with people moving quickly to get in the front of the line. We always join hands even with our older kids as it really does get chaotic and you don't want to lose someone in your party.
Once you enter the line queue you can breath a sigh of relief. You did it! You rope dropped! Now it's time to take a breather, and pull out your phone and check wait times on the My Disney Experience App and see how you did (did you make a good choice!?) and where you should head next on your magical day?
More Disney Vacation Planning Tips
Planning a Walt Disney World Vacation? Be sure to check out all the Best Tips and Tricks for Magic Kingdom here. So much good information for planning your best day in the parks.
You can find great advice on planning your first trip to Disney here over at Babies and Beaches.
Plus, check out all the Disney Ride Height Requirements here. Know which rides your little ones can ride to plan your best day!
And, if you have toddlers, be sure to check out out list of Best Rides in Magic Kingdom for Little ones here.