Planning a Walt Disney World Vacation? Here's the very Best Kids Shoes for Disney World!
A Disney vacation inevitably involves long days at the parks, a lot of walking, and possible rain. With all of this in mind, you'll want to find the perfect shoe for your child's Disney Parks experience.
As parents of 4 kids, we've tested a lot of shoes! We're happy to say that we've found the most comfortable shoes for a Disney Trip, so you don't have to!
What are the best shoes for Disney Theme Parks?
The best recommendation I can give you is to find sneakers that are comfortable for your child. You want to find athletic shoes with good support.
Don't pack new shoes. The right shoes for an amusement park are your child's go-to shoes that are comfortable and broken in. Meaning, these shoes have been worn regularly by your child for several months and have proven to be comfortable for the child.
If your child needs new shoes, make sure to buy them at least 2 months beforehand, so that you can ensure that they are broken in and comfortable walking shoes for long distances.
Also, make sure you pack at least 2 pairs of shoes for your child.
With the unpredictable weather of Florida and the almost daily rain storms during certain seasons, there's a good chance that your child's shoes may get soaking wet. That's no fun for anyone, let alone a little one!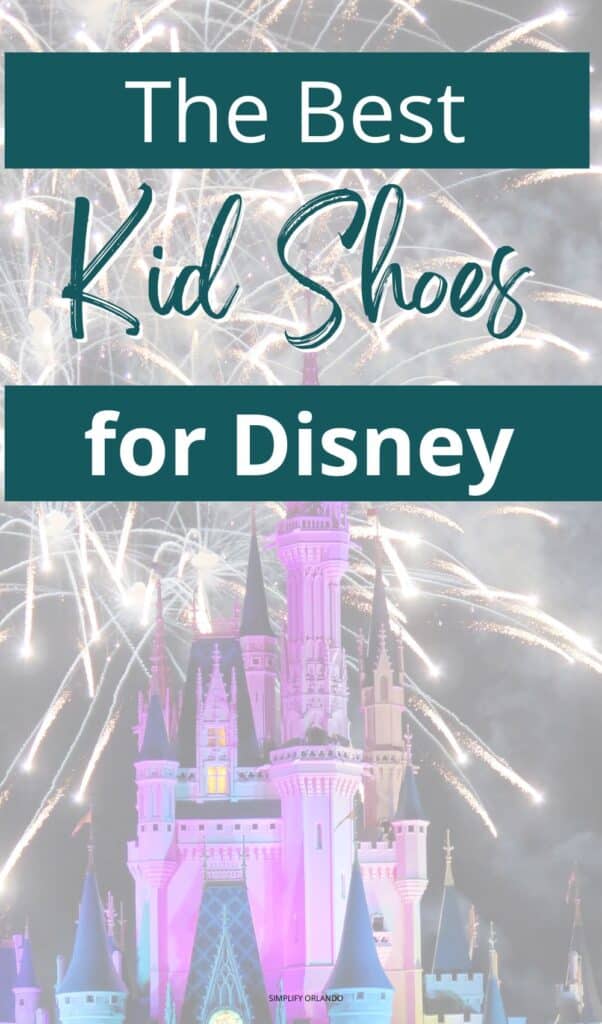 Plus, rides like Splash Mountain and Kali River Rapids can definitely get little one's shoes wet. It's nice to have a second pair with you (at the hotel room) as a back up so that your child doesn't have to wear wet shoes the next day.
** Disclaimer: As an Amazon.com Associate, I may earn from qualifying purchases made by readers clicking my affiliate links at no extra cost to you.
Socks make a Difference
This might sound trivial but socks actually make a huge difference in foot comfort. If you want to avoid having blisters at the end of the day, be sure to invest in some quality name brand socks. Personally, I love these adidas socks for kids.
These Adidas quarter socks are cushioned and offer extra support in the heel and toe. They are moisture-wicking to keep feet dry from sweat. Plus they are durable and breathable.
I recommend the quarter sock, because it is taller than the no show socks and provides a better buffer from the shoe, to avoid rubbing and blisters. You can find more color options here, including girl colors.
Seriously, check out the girl colors if you have a daughter…they are too cute!
Alright, now that we've covered some of the basics, let's dive into the kids shoe recommendations!
Best Sneakers for Kids
If you are looking for the best walking shoes, you will want some sneakers! Here's some of the brands our family uses for those long hot days in the Disney parks.
Carter's Sneakers
When you are looking for a sneaker, look for great arch support, a rubber sole, and a bit of a bumper on the tip of the shoe (for durability!)
Sneakers by Carter's are our family's go-to athletic shoes for kids. We've owned lots of sneakers over the years, and the Carter's brand has been consistently a great choice!
I love these Carter's Anka Light Up Sneakers. My youngest currently wears these. She loves that they light up when her foot hits the ground. I'll admit that is pretty handy when it's dark out, to see where she is! LOL
We also love that these shoes have hook and loop fasteners. Nobody wants to spend their entire Disney vacation tying and retying a child's shoe!
I love that Carter's offers stylish shoe choices, for a reasonable price. They are durable and offer great support for your child's foot!
Here's a boy option in a similar style!
These boy sneakers by Carter's are so cute and functional. I love that these sneakers will match basically any outfit your child wears and they are super durable. They are also not too heavy, so a child can run around all day in them comfortably. Plus, the grip on the bottom of the shoes is great for when it's wet out and you want to quickly make it from point A to point B. No slipping on wet surfaces!
You can tell, I'm a big fan of Carter's shoes. They are so reasonably priced and durable, making these Carter's sneakers our go-to shoes for kids!
You can find more shoes by Carter's here.
Under Armour Shoes for Kids
Another brand that is always a good choice for cute comfortable shoes for kids is Under Armour.
This brand delivers great shoes for all day comfort. The violet shoes above are a great option for girls. They have a hook and loop fastener making them a quick on and off shoe option. These shoes have great support, cushioning, and are perfect for an active day at the parks.
Here's a fun option for little boys. I love that the colors are neutral so that they match basically any outfit.
You can find options for both little kids and older kids as well.
My 12 year old has outgrown the Carter's brand, so she now wears Under Armour sneakers all the time. This brand is an excellent choice for the whole family really.
Here's some options for Big Kids. There's tons of color options out there. We've bought a lot of Under Armour shoes and they have all been super durable and comfortable. We keep coming back for more!
Stride Rite Sneakers for Kids
Another brand I recommend is the Stride Rite shoes for kids. These sneakers are well built, durable, and comfortable for long hours. I initially was introduced to Stride Rite shoes through a partnership they had with Carter's. They are another good option that are cost effective.
Here's a cute boys Stride Rite sneaker. You can see that there's a hook and loop fastener, making it easy for little ones to be independent as they put on their shoes. There's also excellent support. I love that these boys sneakers are neutral colored.
In addition, you can see that there's a great bumper on the toe to protect the foot and for durability purposes!
Check out this adorable little girls Stride Rite athletic shoe.
Everything glitters with this cute shoe! It's got all of the durability that your little one needs and the glam that she wants!
Water Shoes for Kids
Going to a water park at Disney? Bringing along a pair of water shoes will save little ones feet from burning on the hot pavement!
These are also great for the parks if you plan to do lots of water rides!
KEEN Water Sandals
I love these KEEN Kids Newport H2 Closed Toe Water Sandals. They are perfect for a beach day, water parks, or if you are planning a trip to Animal Kingdom, these are great for riding water rides like Kali River Rapids.
Keen makes high-quality shoes that are definitely worth the extra cost. They will last a long time through multiple kids!
I love thesepink Keen Kids Sandals for girls! Functional and way too cute!
Here's another color option for boys. Little ones will be wearing these sandals all summer long, on every adventure! Totally worth the investment!
Happy Feet Tips
On a Walt Disney World Vacation, you will do a lot of walking and it can be hard on your feet. Here's some tips to keep your feet happy (and your child's feet happy) at the Happiest Place on Earth!
Some of these we've already covered but are worth mentioning again.
1) Wear Comfortable Shoes – no flip flops! Athletic shoes are the best footwear for the job!
2) Bring more than 1 pair of shoes – Shoes can get wet on a ride or a sudden rainstorm. Always have an extra pair back at the hotel room.
3) Wear quality socks. Socks matter when it comes to protecting your feet from blisters. Invest in great name brand socks.
4) Don't bring new shoes – make sure you break in your shoes ahead of time to be sure they are comfortable.
5) Bring Moleskin and scissors. If you or someone in your party happens to get a blister, moleskin can be a life saver! It provides a buffer between your foot and your sock/shoe and instant relief from the rubbing.
6) Re-break in your sandals – If you or your child plan to wear sandals, remember that if it's been months since you last wore your sandals, you will want to wear them a bit before wearing them again on a Disney trip. It takes a week or so for shoes like sandals to "break in" again and your feet to adjust to wearing them after the winter months.
7) Go on Walks – To prepare your body (and your children) for all the walking at Disney, try to be active in the months and weeks before your trip. Take daily walks, or send your kids outside to play every day. Getting your body (and your children) used to walking a lot will really benefit you on your trip and help you avoid aches and pains (and whiny kids!)
More Disney Vacation Planning Tips
Planning a Disney Vacation? Be sure to check out the Disney Ride Height Requirements. Find all the ride heights for your favorite attractions and the best rides for the little ones in your group.
Going to Magic Kingdom with little ones? Find the Best Magic Kingdom Rides for Toddlers here. So many great rides that little ones can enjoy ….and let's be honest….the whole family will enjoy these rides too!
Don't miss our best tips on How to Avoid Lines at Disney World. This information is crucial to having a great day at Disney ….and spending more time having fun and less time waiting.
Plus, we dish out all of our best Magic Kingdom tips in this Ultimate List of tips and tricks for Disney! Find out everything you need to know for your next magical vacation!
And….you can find our Ultimate Disney Packing List here. A free printable to help you get packed up with all the essentials for your trip!
Want to save this list of best kids shoes for Disney for later? Pin the image below to your Disney Vacation Planning board on Pinterest.