Eating Gluten Free at Disney World doesn't have to be stressful. Here's 27 incredible Gluten Free Disney World Dining Options!
My husband and I are both on a gluten free diet. Celiac Disease runs in my husband's family, so we've been planning trips with gluten free options for many years. Then, I was diagnosed with Celiac disease myself in 2020. So, we've been there, done that, and are doing that with the dietary restrictions of gluten-free dining.
The great news is that Disney World is GREAT with food allergies. You don't have to jump through hoops to eat well (and eat safely) at Disney. There's tons of safe options. You DO have to do a little planning ahead of time. You'll want to make those reservations 60 days in advance for amazing table service options. However, there's plenty of great gluten free options at the quick service locations too! Let's dive in!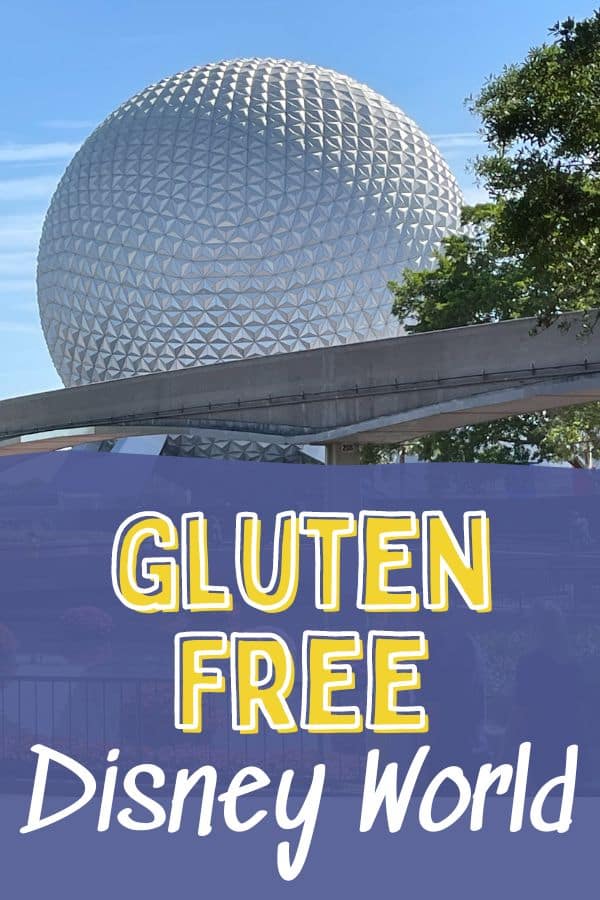 Best Gluten Free Disney Table Service Restaurants
You'll need to make reservations if you want to enjoy a table service restaurant at Disney. The cool thing about Disney Table Service Restaurants, besides enjoying an amazing meal in the air conditioning, is that you might be able to get items that aren't on the allergy menu. Meaning, you can see if the chef is able to modify a dish to make it gluten free! Obviously, they might not be able to, but it never hurts to ask! (Politely, of course!)
As a Celiac, I listen to a lot of chatter in gluten free Facebook groups. The restaurants below are tried and true by LOTS of people on the gluten free diet. Of course, I've ranked my personal favorites at the top.
Let's get started!
The Top Gluten Free Table Service locations are:
1) Coral Reef Restaurant – Epcot
This restaurant is one of my all time favorites. The atmosphere is super special. You'll be wowed by the incredible aquarium inside the restaurant that is home to over 2,000 sea creatures. You can watch sea turtles, fish, sharks and more as you dine on absolutely delicious food.
The Seared Mahi Mahi with Jasmine Rice and Caribbean Shrimp Salsa is one of my favorite meals on Disney property. Looking for something different? There's also prime rib, salmon, Cajun chicken pasta, and more to choose from!
This is one restaurant you don't want to miss, so get those reservations made!
2) Jungle Navigation Co. Ltd. Skipper Canteen – Magic Kingdom
If you are a fan of the puns and laughs of the Jungle Cruise, you might enjoy Skipper Canteen!
This restaurant is known for it's more adventurous menu, but my crew of 4 kids (some of which I'd call picky eaters) definitely loved this meal.
I recommend the "Tastes like Chicken Because it is", which is fried chicken with sweet chili glaze, stir-fried vegetables and jasmine rice. It's absolutely delicious.
Also don't miss the gluten free Brazilian Cheese bread with chimichurri cream cheese sauce. (Technically it's a secret menu item, and you won't see it on the regular menu, so if you want to order it, just ask the skipper!)
3) Liberty Tree Tavern – Magic Kingdom
Looking for a gluten free Thanksgiving feast? Liberty Tree Tavern has you covered! This amazing table service restaurant serves up a Thanksgiving feast all day everyday.
You'll be amazing at the gluten free rolls, stuffing, and dessert. It's the perfect pick for picky eaters and well…. anyone who enjoys classic Thanksgiving foods!
I'd say the only downfall of this choice is that it is a prix fixe menu, so you pay a quite a bit per person. That means you're paying a pretty penny for each person in your party (including that child that basically eats 1 roll.)
4) Be Our Guest
Be Our Guest is an absolutely magical dining experience. You get to dine in the Beast's (from Beauty and the Beast) castle.
You'll get to eat in one of 3 amazing rooms. There's the Grand Ballroom with chandeliers, beautiful decor and you can watch snow falling outside the large windows. (It's so realistic, my kids actually believed it was snowing!)
The West Wing is full of mystery. You can see the enchanted rose from the movie here. And then there's the Castel Gallery where Belle's library is found and there's large figures of Beast and Belle dancing.
No matter where you are seated, you can explore the other sections after your meal. (And you'll want to!)
The gluten free food is pretty awesome and presented in such a way that you'll surely feel like royalty.
The only thing to note is that we suspect the truffle may have had barley in it. So, if you react to barley, you may wish to skip that truffle.
5) 50's Prime Time Cafe
Here's another awesome dining experience – step into a retro kitchen from the 1950's. You'll find classic 50's food.
And rumor has it, if you stop in to talk to the hostess the morning of your reservation, you can even score some off menu gluten free fried chicken. Yes!!! They just need you to place that order in advance so it's ready in time for your lunch.
6) Raglan Road – Disney Springs
Raglan Road at Disney Springs is known for it's dedicated fryers. It's the only place on Disney property that you can grab gluten free fried fish and onion rings.
There's other choices as well including burgers and other fried items. You can also enjoy amazing Irish music and live music entertainment.
Top Gluten Free Disney World Quick Service Options
Counter service restaurants at Disney World are convenient and cost-effective. You can order gluten free food via the My Disney Experience App.
We've always had good luck with using the app, but just be prepared that no matter which way you order your food (in person or using the app) you will wait longer for gluten free food than for regular food to be prepared.
Here's our top picks for Gluten Free Quick Service Restaurants!
1) Backlot Express – Disney's Hollywood Studios
Backlot Express is home to the very best chicken nuggets and fries. So if you have a serious need for some gluten free chicken nuggets – this is it! You can also find Burgers, a Smoked BBQ Pulled Pork Burger, a Southwest Chicken Salad and more!
This Disney World restaurant has Hollywood movie making theming. Cool, right?!
2) Satu'li Canteen – Animal Kingdom
This quick service restaurant is found in the Avatar section of Animal Kingdom. It's theming is former mess hall turned dining hall, adorned with Na'vi art.
It's a great place to relax in the air conditioning while you enjoy a great meal.
Sau'li Canteen is known for their amazing Build your Own Bowls. You can choose from different meats, bases, and sauces.
We haven't found a combo yet that we didn't love. So delicious!
3) Columbia Harbour House – Magic Kingdom
Columbia Harbour House is a must-do for my family when we are at Magic Kingdom. It's consistently good food at a great price. Plus, there's an upper dining room area that's less crowded where you can enjoy a quieter meal with cool views of the Haunted Mansion or Fantasyland.
We love the chicken strips and french fries here, but there's other gluten free options as well. You can get grilled shrimp skewers or salmon as well. YUM!
4) Cosmic Ray's Starlight Café – Magic Kingdom
Cosmic Ray's in Tomorrowland is a solid choice for those who want a gluten free burger and fries. They also offer gluten free bacon cheeseburgers, kids mac and cheese, and a couple of dessert options as well.
There's not much atmosphere here, but it's a great place for a quick bite!
5) Regal Eagle Smokehouse – Epcot
Regal Eagle found in the American Pavilion at Epcot is full of great food! And best of all….there's TONS of gluten free options here!
You can get gluten free ribs, a brisket sandwich, smoked pork, smoked chicken and more. The sides are plentiful and delicious too! There's gluten free garlic toast, baked beans, french fries, and house-made pickles.
This is a must-do for my family. It's hard to beat a good BBQ meal!
6) Woody's Lunchbox – Hollywood Studios
Woody's Lunchbox offers a fun option in the Toy Story Land area. There's gluten free tater tots, grilled cheese, brisket melts, and soup. This is a great choice for kids with gluten intolerances.
And of course, it's home to the Totchos – nachos made with tater tots. Yum, right?!

7) Connections Eatery – Epcot
Connections is a newer restaurant that opened in Epcot in 2022. Happily this restaurant extended the gluten free offerings at Epcot!
There's gluten free burgers, chicken strips and salads. Perfect for a quick bite and it's nice to see some gluten free kid friendly options at Epcot.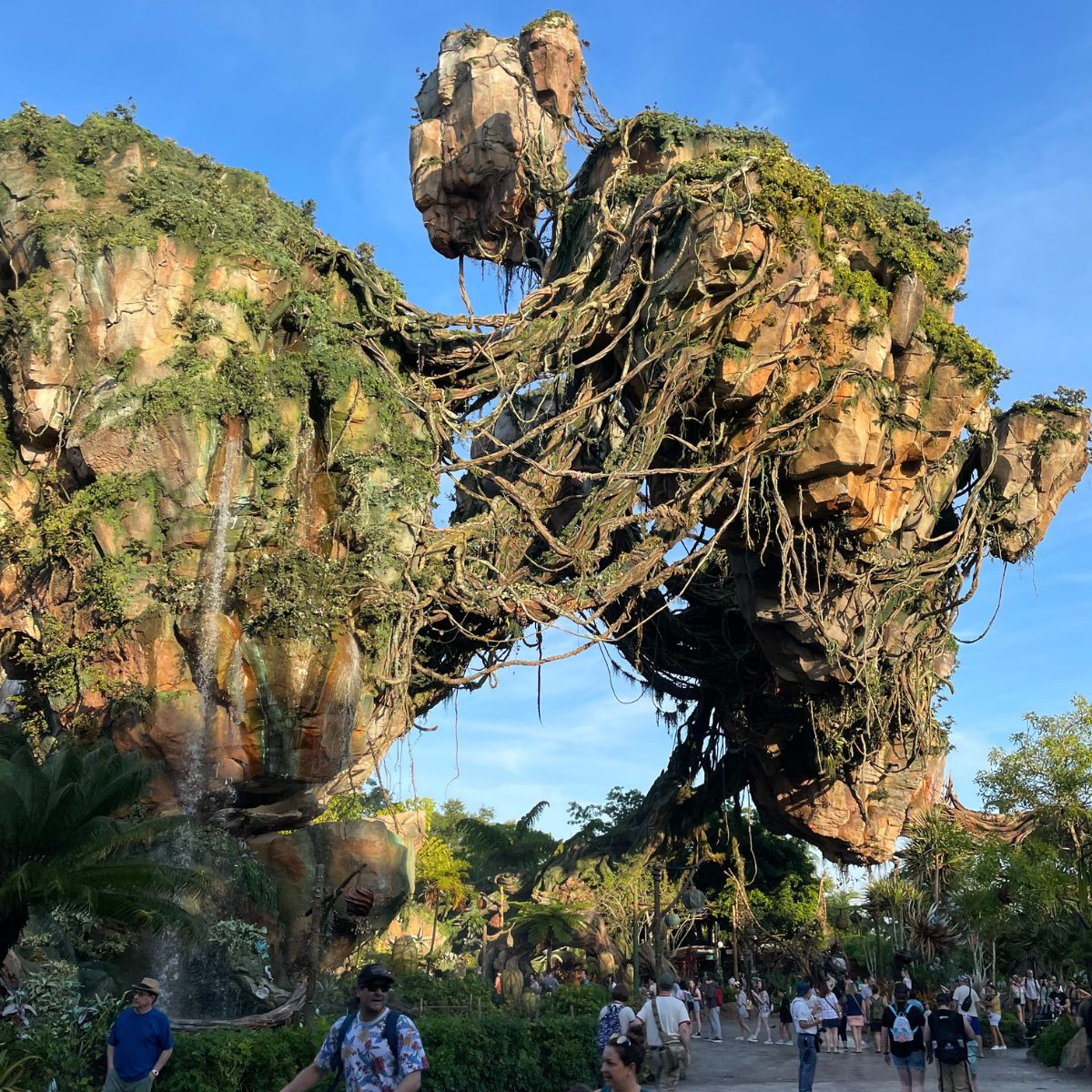 Delicious Gluten Free Disney Snacks
Wondering where to find the best gluten free snacks at Walt Disney World Resort. The great news is that there's plenty of gluten-free items to fit your dietary needs. You'll find tons of different options and of course, you'll want to try them all!
1) Churros – Disney's Animal Kingdom
The Gluten Free Churros at Nomad Lounge in Animal Kingdom are legendary. They are absolutely worth stopping for. If you don't want to eat inside the restaurant, you can simply go into Nomad Lounge and place a to-go order at the bar for your churros.
It's important to note that not all churros at Disney are gluten free. You can find only find the gluten free ones at Nomad Lounge in Animal Kingdom as well as Three Bridges Bar and Grill at Disney's Coronado Springs Resort.
We bought 2 orders of churros for our family of 6….we could have easily eaten a 3rd or 4th order! They are so delicious.
2) Beignets
You can find these delicious gluten free treats at Port Orleans French Quarter at Scat Cats. If you feel like exploring resorts, put this on your to-do list!
What is a beignet? It's a New Orleans style treat – deep fried dough that is sprinkled with confectioners sugar. It's a must have!
3) Dole Whip – Magic Kingdom & More
Yes! Dole Whips is gluten free! This classic pineapple soft-serve is totally delightful. It's the perfect snack to cool off. You can also find various seasonal flavors to try as well!
Where can you find Dole Whips? (Pineapple)
Aloha Isle – Magic Kingdom
Refreshment Outpost – EPCOT
Pineapple Lanai – Disney Polynesian Village Resort
Tamu Tamu Refreshments – Animal Kingdom
Plus you can find other Dole Whips in other flavors as well. Sunshine Tree Terrace in Magic Kingdom has strawberry and orange flavors. And Trilo-Bites in Animal Kingdom has the orange Dole Whip.
4) Mickey Ice Cream Bars
Mickey Bars are also gluten free! This classic treat is vanilla ice cream with an outer chocolate coating in the shape of Mickey's head.
Classic and readily available around the parks at most kiosks.
5) Frozen Lemonade
You can grab a gluten free Minute Maid Frozen Lemonade at various kiosks around the Disney Parks. It makes the perfect cool mid afternoon treat!
And hot afternoon hack – grab one of these Minute Maid Frozen Lemonade's and head to an outdoor show like Indiana Jones Epic Stunt Spectacular! This snack super portable and it gives your kids something to do (and a nice way to cool off) while they wait for the outdoor show to start.
6) Sprinkles Cupcakes
You can find amazing gluten free cupcakes at Sprinkles in Disney Springs. Sprinkles always gets rave reviews! Try the Gluten-free Red Velvet Cupcake – Wow!
7) Ice Cream Macaroon Sandwich
Did you know you can find gluten free macaroon ice cream sandwiches from L'Artisan des Glaces in the Paris section of Epcot? Be sure to ask for one from the back to avoid cross contamination.
Be aware that if you have a severe allergy this may not be an option for you.
8) Erin McKenna's Bakery NYC
Everything in Erin McKenna's Bakery is gluten free! Isn't that incredible! I have to mention it because of all of the choices – we don't see that very often with a gluten free diet!
Unfortunately though, not everything is delicious there. It's rather hit and miss. This is because all of the items are also vegan, which can make things rather dry and dense. In general, we recommend that you stick to the donuts, cookies, and cookie ice cream sandwiches.
Best Gluten Free Disney Character Meals
So, I am going to do a quick overview of Character meals at Disney. The great thing about these is that you get a chance to meet characters while you dine. This can save time, especially if your child has several different characters that they want to meet!
Some of the best places for gluten free Character meals are:
1) Be Our Guest – Magic Kingdom
Experience the magic of dining in a castle from Beauty and the Beast. And….meet the Beast!
I've already mentioned this restaurant in the section above, but it's definitely worth mentioning again. The magic of Be Our Guest is worth experiencing both for adults and kids!
2) Ohana – Disney's Polynesian Village Resort
Your little ones will flip over this one! Meet Lilo & Stitch while you eat a delicious breakfast of Polynesian flavors and classic American breakfast foods.
3) Tusker House – Animal Kingdom
Enjoy a meal of African inspired flavors for breakfast, lunch or dinner. You can meet Donald Duck and other Disney friends.
4) Topolino's Terrace – Disney's Riviera Resort
Enjoy an amazing breakfast with Mickey Mouse, Minnie Mouse, Donald Duck and Daisy Duck.
5) Chef Mickey's – Contemporary Resort
Enjoy Character Dining at Chef Mickey's at Disney's Contemporary Resort. Have a great meal and meet Mickey, Minnie, Donald, Goofy, and Pluto.
6) Story Book Dining at Artist Point with Snow White
Don't miss this one! Meet Snow White, Dopey and Grumpy while dining in a rustic setting at Disney's Wilderness Lodge. Enjoy the magic of the Enchanted Forest and take pic with the evil Queen.
7) Cinderella's Royal Table – Magic Kingdom
Admittedly, Cinderella's Royal Table doesn't have a lot of options for gluten free. However, there's nothing quite like dining inside Cinderella's Castle and meeting princesses. Your best bet, if you simply must eat in the castle is to talk to the chef and see what can be made gluten free.
Conclusion
Alright! I hope you've found some amazing new Disney restaurants and gluten-free options to try! Remember that it's always important to mention your gluten allergy to the cast member taking your order.
It's not necessary to contact the special diets department, but know that it is an option, and you can if you wish.
You definitely should mention your dietary requirements when you make reservations at a restaurant. (Most online reservation forms ask this question).
Mobile order on the app when possible – just remember to look for the Allergy section on the My Disney Experience App. Your food should always come out with an wooden allergy stick pick on it, so you know that it is safe.
I hope you enjoy some amazing gluten free dining experiences at the most magical place on earth!
Want to save this list of best restaurants on Disney World Property with gluten free menus? Just pin the image below to your Disney World Vacation board on Pinterest.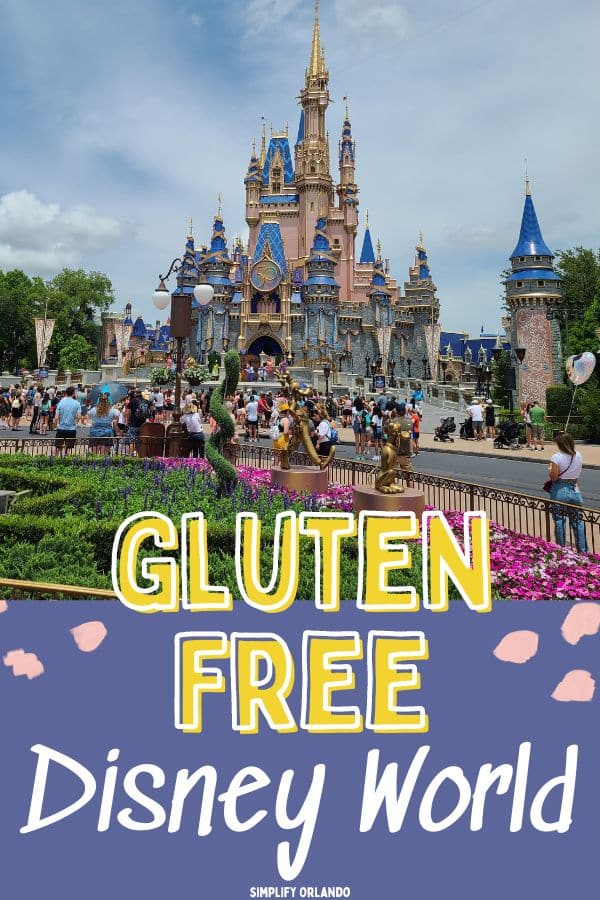 You can find more information about Eating Gluten Free in Epcot here.
Headed to Animal Kingdom? We've ranked the top Animal Kingdom Gluten Free dining options here.
Looking for more Disney World tips? Here's the Ultimate Guide to Magic Kingdom.
You can find the Best Days of the Week to Go to Disney here.
Find tons of great Disney tips by watching the Best Disney Vloggers on YouTube.