Looking for the best Gluten Free Animal Kingdom restaurants and snack options? Here's the top gluten free dining options at Disney's Animal Kingdom.
First things first – our family lives a gluten free lifestyle. I'm not a reporter for a large website who just perused some allergy-friendly menus. I actually eat these delicious gluten free foods!
My husband and I both are both on a gluten free diet and I have Celiac Disease. We know first hand how hard it can be to navigate life with food allergies.
Luckily, Disney has lots of options for those of us with Celiac Disease, a gluten allergy, or a gluten intolerance. Yay Disney!
So without further ado, here's some of our personal favorite gluten free options in Animal Kingdom.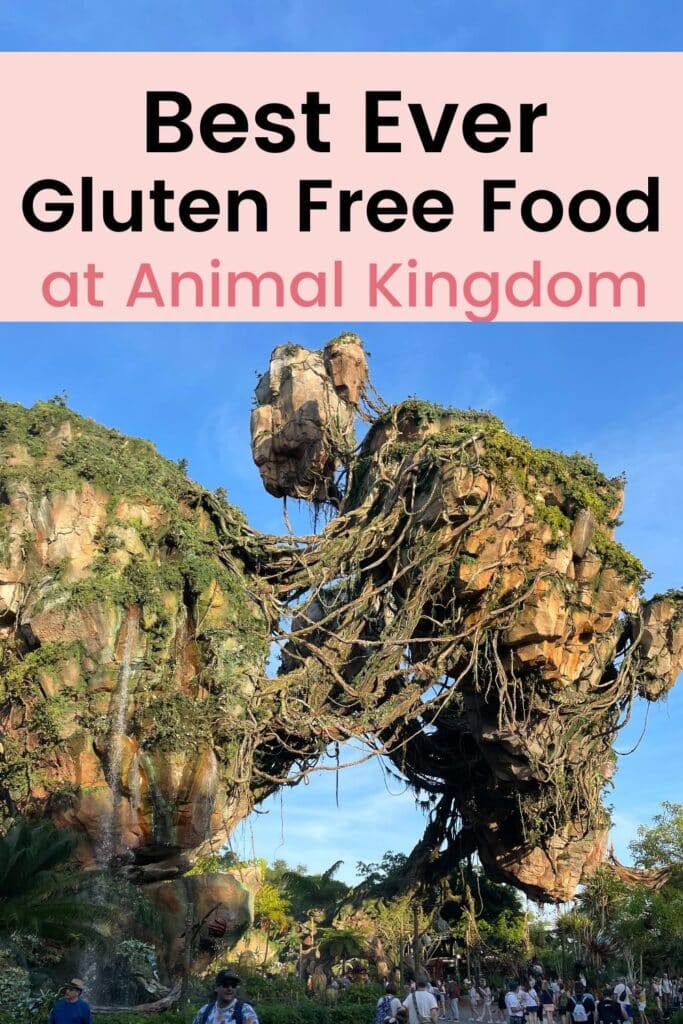 Coming in at the top of our list is:
1) Satu'li Canteen
This restaurant consistently amazes me.
It's one of my absolute favorite places to cool off and refuel with a good meal.
Satu'li Canteen is a quick-service restaurant, but it's got a cool vibe. It's found in the Pandora section of Animal Kingdom.
We love to get the bowls here. You get to choose your favorite protein: Beef, chicken, shrimp, tofu.
Then you can select your base – sweet potato hash, rice and beans, or a salad.
And lastly, you get to choose your sauce – green onion vinaigrette, creamy herb, or no sauce. So many delicious combinations, you really can't go wrong!
In second place, you've got….
2) Nomad Lounge
Nomad Lounge is a legendary stop for those of us with Celiac Disease. You can find gluten free Churros with dipping sauces! All you need to do is place an order to go at the bar. You don't even have to join the line outside!
Just tell the cast member outside you are there to order gluten free churros to go and you can step on in and wait in the nice cool A/C for your delicious treat.
Gluten free churros are a great option for a fun snack at Animal Kingdom. They are so good, you probably will wish you'd ordered 2 boxes!
Nomad Lounge is our go-to stop for churros, but it also offers a few gluten-free menu options as well including a Chicken Manchurian bowl, sliders, a veggie plate, fresh fruit, falafel, wings, gluten free bread service and more.
Many items from the regular menu can be made gluten free – just politely ask your chef!
3) Restaurantosaurus
If you are looking for quick service restaurants that offers traditional kid-friendly foods, you'll want to check out Restaurantosaurus.
You can find gluten free chicken strips with french fries, gf bacon cheeseburgers, as well as kids cheeseburgers, mac and cheese, and even gluten free chocolate or vanilla shakes.
The only catch with this restaurant is that it has odd hours. It's a great stop for lunch but it often closes before the supper time hours, so don't count on it for later in the day!
4) Tamu Tamu Refreshments
Love Dole Whip? You can find it at Tamu Tamu Refreshments at the Animal Kingdom theme park!
There's nothing quite like cooling off at Disney with a delicious pineapple Dole Whip. It's definitely one of my favorite Disney treats!
You might also find other flavors of Dole Whip here as well based on the season.
5) Flame Tree Barbecue
If you don't mind eating outside, Flame Tree Barbecue has delicious food.
You can find ribs, pulled pork, smoked chicken, baked beans, coleslaw, and more!
So many great gluten free options. There's even a gluten free hot dog for your picky eaters!
Flame Tree Barbecue is delicious, but it's not one of my personal go-to stops as there is no air-conditioned indoor seating and there's a lot of birds milling around the area hoping to get a snack.
You might find it works for you though if you visit during the cooler months of the year.
6) Tiffins
If you're looking for a more fancy option – Tiffins is the place!
It's a little more pricey, but Tiffins has a reputation for putting together an amazing allergy friendly meal!
You can find Shrimp and grits, Butter Chicken, fish, Surf and Turf, Short Ribs and more!
Be sure to politely ask to talk to the chef – there may be even more menu options for you as well!
7) Pizzafari
Love pizza? Check out Pizzafari, which serves up piping hot slices of gluten free pizza!
It's not the best gluten free pizza you'll ever have, so I ranked this one lower….but it is gf pizza!
But, if you are looking for kid-friendly foods – Pizzafari is where you'll find that allergy friendly pizza!
8) Harambe Market
Harambe Market serves up ribs and chicken bowls! Plus you'll also find gluten free brownies and cookies in this location as well.
Harambe Market is a good option for a quick lunch when you don't want to walk all the way across the park.
9) Harambe Fruit Market
Grilled Corn with spices….Need we say more!
If you love corn on the cob or have a craving for fresh fruits – be sure to check out the Harambe Fruit Market.  It's the perfect place for a snack if you're near Kilimanjaro Safaris!
Alright! I hope you've found some amazing options for gluten free food at Animal Kingdom!
Remember that this list is ranked – so don't miss our number 1 pick = Satu'li Canteen…..with of course #2 ….Nomad Lounge churros for dessert!
More Animal Kingdom Gluten Free Tips
Here's a few more things to note:
To eat gluten free successfully on your trip – it's best to peruse those menus ahead of time. I love to use the My Disney Experience App.
You can pull up the menu for nearly every restaurant that is Disney owned. Scroll down past the normal menu to find the specific dietary restrictions on the allergy menu.
Mobile order whenever possible. Allergy orders often take longer than normal orders, so it's great to get those orders in early via the mobile My Disney Experience App.
Remember to always mention your gluten allergy right away to the cast member taking your order. You can ask for the chef if you feel like your options are limited.
(Sometimes they are able to adjust a recipe to meet your dietary needs.) Just remember to be patient and polite!
Lastly, relax! Disney is a great place for those of us that need to be gluten free!
More Disney Tips
While you are planning your Animal Kingdom trip – don't miss our Best Animal Kingdom Rides List (and which one to skip!)
Visiting Epcot as well? Here's our guide to Gluten Free Epcot Dining Options. You'll find all the best quick service restaurants, sit-down restaurant options, as well as gluten free snack options in Epcot!
Want to know which restaurants are the very best for Gluten Free Dining in Disney World? Here's our top picks, gluten free friends! We combed through all the Disney world restaurants and made a list of the very best options on Disney property!
Planning a trip to Walt Disney World resort with little ones? Check out all the best rides at Magic Kingdom for toddlers here.