Planning a trip to Walt Disney World's Animal Kingdom? Here's the 7 Best Rides in Animal Kingdom (and one you should avoid!)
Never been to Animal Kingdom? It's basically a zoo within a theme park. In the past, Animal Kingdom has been called a half day park – meaning people say there's only a half day of activities here.
It's the largest of the 4 parks at Disney World due to all of the space provided for the animals, but it has the least amount of rides. But don't let that fool you, there's plenty to do and explore!
I personally think that you could a great overview of the park and see a lot in a half day. However, if you spend a whole day at Disney's Animal Kingdom theme park, which I highly recommend) you will get to see nearly everything and really truly enjoy the amazing atmosphere of this park.
** Disclaimer: As an Amazon.com Associate, I may earn from qualifying purchases made by readers clicking my affiliate links at no extra cost to you.
1) Kilimanjaro Safaris
Kilimanjaro Safaris is by far the best ride at Animal Kingdom. This amazing experience allows people of all ages to ride on a safari vehicle and observe tons of animals in their habitats.
On this 18 minute ride through Harambe Wildlife Reserve you'll explore the plains, forest, and rocky wetlands that are home to 34 animal species. Each open air vehicle has a safari guide to point out the amazing animals and shares cool animal facts.
You might see hippos, giraffes, crocodiles, elephants, hyenas, zebras, lions, and more! My family loves this ride because every time we ride it, we see different things. Each guide tells different facts, and overall, it's always a unique adventure.
It's a great ride so naturally, the wait time can really skyrocket at certain times of the day.
The best time to ride it is when it opens (which is usually a couple of hours after park open), and of course grab a Genie+ Lightning Lane as well. Yes – This one is worth riding more than once!
You can find a full review of Kilimanjaro Safaris here.
2) Avatar Flight of Passage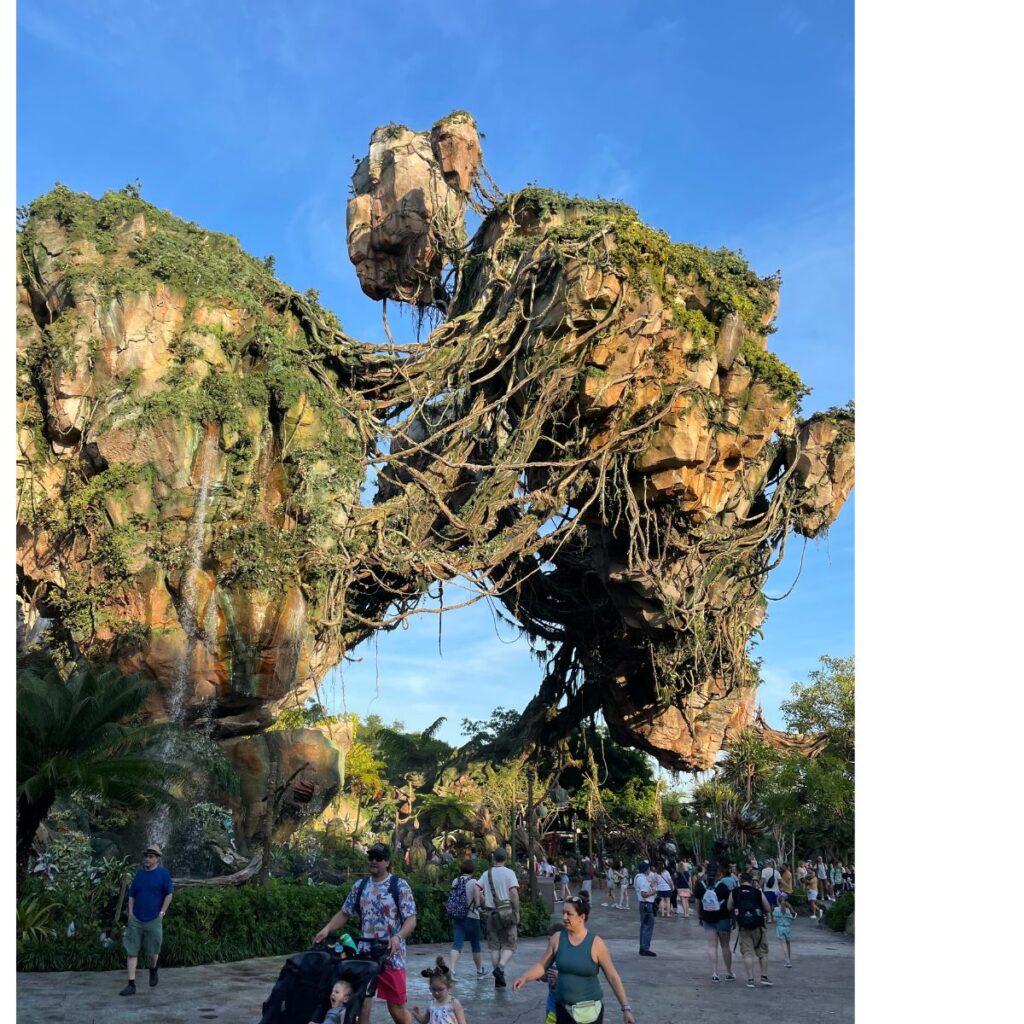 Avatar Flight of Passage is an immersive experience found in the Pandora section of Animal Kingdom.
As the name suggests, this ride is based on the movie Avatar. This ride places you right onto the back of a "Banshee" flying through the jungle, valleys, lakes, etc in Pandora.
This simulator creates a truly magical experience as you feel the "Banshee" breathing beneath you. You experience the motions of flight, the sounds, smells, and even water mist as you take your own "Flight of Passage." It's by far one of the best Animal Kingdom rides.
Avatar Flight of Passage has the longest wait times of any ride in Animal Kingdom. I recommend "rope-dropping" this one (meaning get to the park early and head for this ride as soon as the park opens).
This ride may not be a good fit for you if you get motion sickness from simulators. Read here about some of the ways our family avoids motion sickness at Disney.
3) Expedition Everest – Legend of the Forbidden Mountain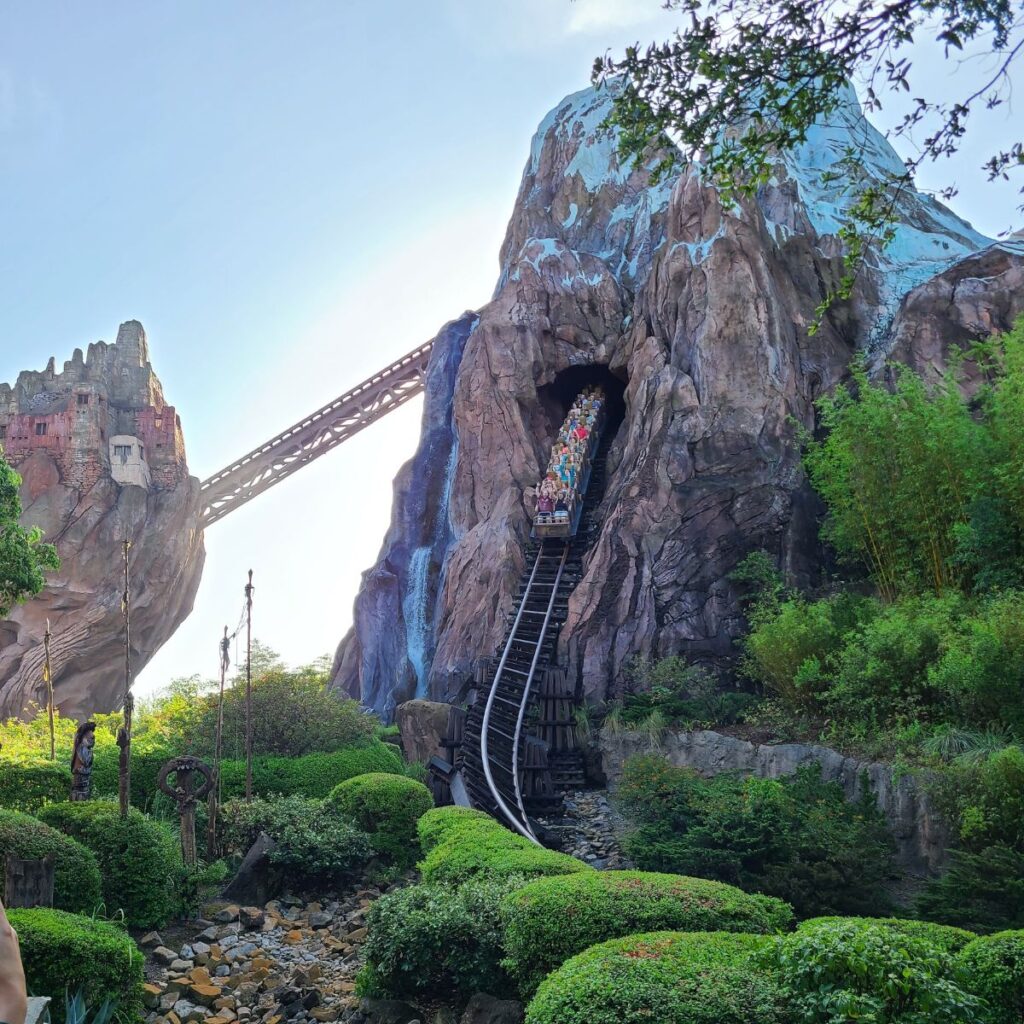 Next up is Expedition Everest – Legend of the Forbidden Mountain. This roller coaster is one of the most expensive roller coasters built in the world!
This thrill ride is a high speed roller coaster with a fun Yeti theme. The queue is very well done with neat artifacts. The theme is that you are boarding a train in a village in Tibet at the base of Mount Everest. The ride starts with a very steep hill – it feels like you are going straight up.
The ride picks up speed and you go into darkness. The tracks break away in front of you and you sit for what seems like forever watching a hawk. Suddenly, you fall backwards into the dark and it feels like you go upside down. The Yeti makes an appearance adding to the excitement and you careen around corners and hang on for dear life!
This is not a ride for young children. My 12 year old was taken aback by the intensity of this ride as was I. There are definite moments of Disney magic at this great attraction, but it's an extreme ride made for the thrill seeker.
Fun fact: This roller coaster is one of the most expensive roller coasters built in the world!
4) Kali River Rapids
Kali River Rapids is an exhilarating water ride and absolutely one of the best attractions at Disney's Animal Kingdom. Board a large circular boat, and buckle up for a white water rafting ride! You'll splash down hills and dip into the river. You WILL get wet…and possibly drenched. But in the heat of Florida, this is often very welcome! There are lockers located nearby to place your phones and belonging in to keep them dry and I highly suggest you use them.
This boat ride is one of our favorite rides in the park because of the excitement and the theming!
Our favorite way to ride Kali River Rapids is back to back. Yup! We ride it twice in a row. It's a great ride and we usually save it for when the line is short and then pair it with a Genie+ Lightning Lane time. That way, we get all the fun and all the wetness in one go!
5) Na'vi River Journey
Na'vi River Journey is a slow dark ride through the world of avatar. Board a boat and explore the glowing world of the Na'vi. Float through the bioluminescent rainforest and discover unique creatures and amazing plants.
The highlight of the journey is seeing the Shaman – a lifelike animatronic that talks, sings, and moves to the music. It's beautiful.
This ride tends to also get long lines, which may diminish the way that people feel about this ride. Meaning, it's a beautiful enjoyable ride, but if you have to wait longer than 30 minutes, it won't feel like it's worth it. I recommend riding it close to park opening when you can ride it on repeat with little to no wait.
6) Dinosaur
On Dinosaur, you board a Time Rover vehicle that jerks and bounces you along through a thrilling trip through a forest of dinosaurs.
The storyline is that a paleontologist has asked you to bring an Iguanadon back from the prehistoric era. It's a dark ride filled with excitement and of course lots of dinosaurs. The theming is well done and it's very realistic.
This dark ride can be scary for small children.
My 5 year old did ok with it, provided I prepped her ahead of time that it was all pretend and that the dinosaurs were not real. It was still a bit scary though and she didn't want to re-ride it.
7) Triceratop Spin
This ride is basically the same concept as Dumbo at Magic Kingdom, only of course you are riding a dinosaur!
The Triceratop Spin is a standard carnival ride where the dinos are on hydraulic arms that lift you up and down, as you spin around the center. Each Dino has a little joystick that allows the riders to raise and lower the dino during part of the ride.
This ranks at the bottom because obviously this isn't an immersive experience, but wow, do kids love it! I'm so glad that Animal Kingdom has this ride for my kids and the bonus is that the line isn't nearly as long as it is for Dumbo.
Other Don't Miss Attractions:
The Tree of Life
The Tree of Life is located in the center of the park. You can't miss it as you walk in. Animals are carved into this amazing giant piece of artwork. It's fun to spot the animals and it makes a great photo opportunity! It's a must do!
The Festival of the Lion King
The Festival of the Lion King is an amazing show. It tells the story of the Lion King through song and dance and theatre. It's enthralling and absolutely a great way to experience the magic of Disney!
The Boneyard
The Boneyard is a great place for kids to let off a little steam during your day! It's located in the Dinoland U.S.A. section of the park. Kids will enjoy this playground that is full of climbing, slides, and fun!
The playground is gated making it easy to supervise your kids as they can't leave the area without you! My kids love this and always have so much fun here.
The Animals
Well of course you should see the animals while you are here! It is a zoo after all! You might like exploring the Gorilla Falls Exploration Trail or the Maharajah Jungle Trek. The komodo dragons are also really cool.
The Worst Rides and Attractions at Animal Kingdom
Ok, so this is completely subjective but to me, the ride that absolutely ranks as the worst is Rafiki's Planet Watch. The concept for this ride is so great….to ride a wildlife express train up to another part of the park to learn about conservation.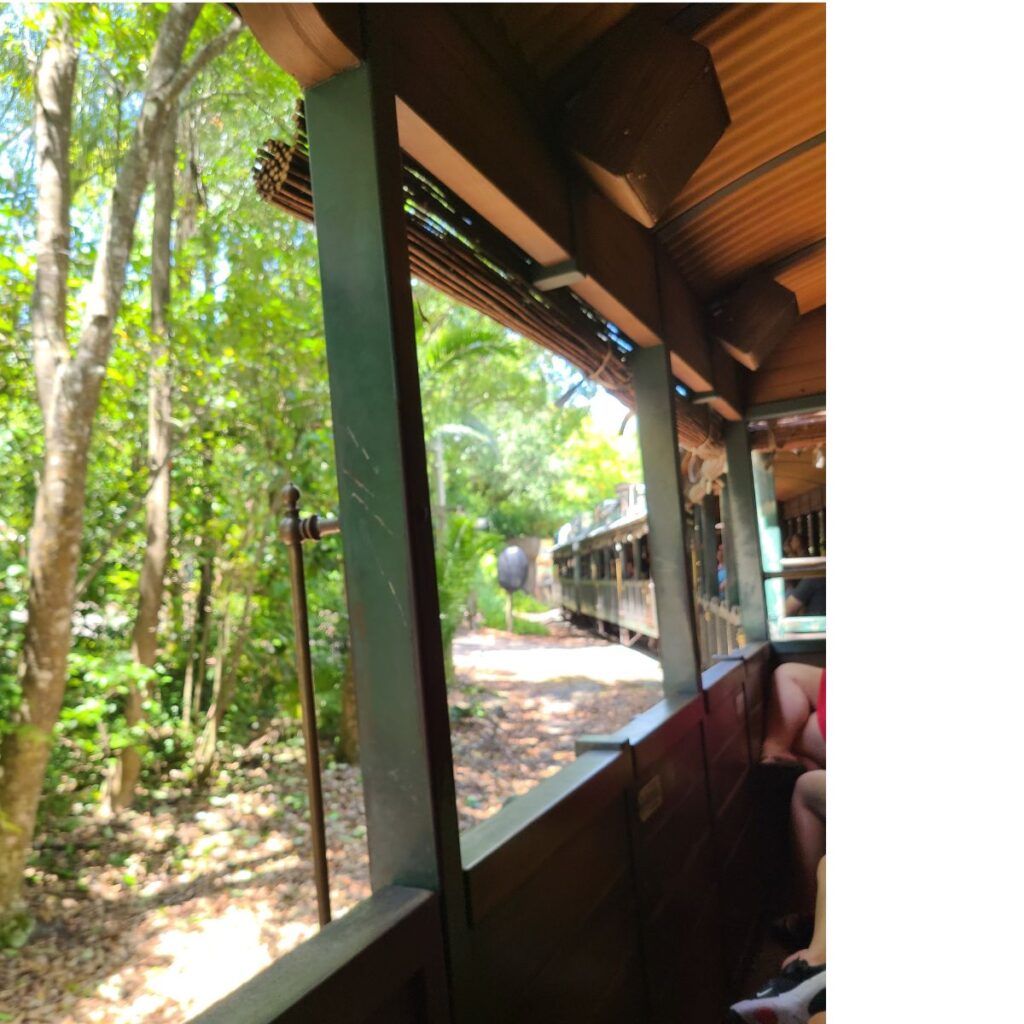 But it's absolutely a waste of time (in my opinion). You board a train, which appears to be exciting, but once you are on it, you can't see anything interesting.
The views include the backsides of buildings, parked cars, and lots of fences, walls, and shrubs. Nothing pretty, and absolutely nothing exciting.
It was quite disappointing and we love a good scenic train ride!
Once you arrive at your destination, the conservation station you are sorely disappointed. There are goats to feed at the petting zoo "affection section."
Yes, you traveled on this boring train to see goats. Not much to see otherwise and it's super hot with very little shade, so you'll trek back to that train station pretty quickly to ride the "boring train" back to the rest of the park asap.
Skip it. Until Disney can come up with something more interesting, I highly recommend you skip this area and don't waste your precious park time here.
Especially if you could be riding one of the 7 best rides mentioned above! Seriously. Ride that amazing safari over and over!
Alright! That's it!
More Disney Vacation Tips
I hope you have a magical trip to Disney's Animal Kingdom! Be sure to check out our other articles as you plan your Disney Vacation!
Learn all about the Best Rides for Toddlers in Magic Kingdom here. There's surprisingly a lot of rides that are great for the whole family to enjoy!
Find all of the Disney Ride Height Requirements here. We have a handy chart that has compiled all the info you need to know!
Here's everything you need to know about Picking the Best Day to Visit Disney World.
Plus, you can find the Ultimate list of tips and tricks to make your Disney Vacation the best ever here.
And of course if you or someone in your family deals with motion sickness, be sure to check out all of the rides that might pose a problem. Plus, find our tips and tricks for avoiding motion sickness (and what to pack in your Disney bag!)
Pin the image below to save this article to your Disney World Vacation planning board!