Looking for the best days of the week to go to Disney World?
It's a valid question. But honestly there's a lot more that goes into it besides picking a day of the week.
It really depends on what your priorities are. Are you are looking for lower crowd levels, lower wait times, or the lowest park prices? Are you prioritizing visiting one park over another?
You are going to want to take into account many factors. Figure out your priorities and what you are willing to compromise on. Disney World is BUSY these days. Gone are the days of low crowds. But there are some ways to avoid mega crowds….so let's get into it!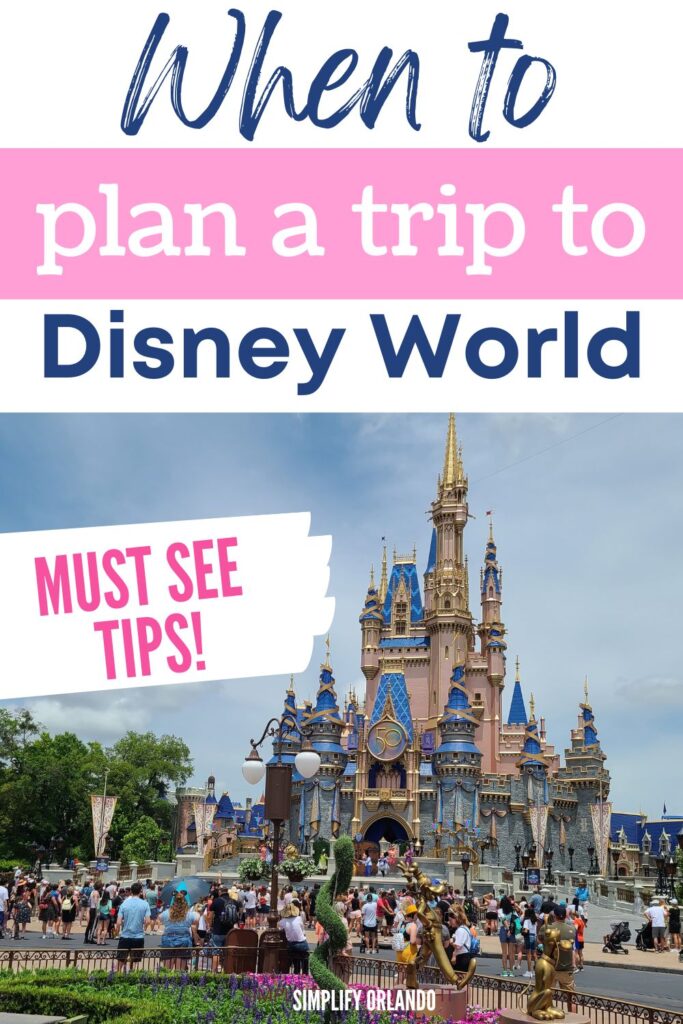 What are the Best Days of the Week to go to Disney World?
The best days tend to be mid week days: Tuesday, Wednesday, and Thursday. The busiest days (the worst days) are Monday and Friday as well as the weekends. Lots of locals head to the parks on the weekend.
But this information doesn't always apply across the board. Holidays factor into things as well as summer breaks and spring breaks. People like to plan their Disney World Vacation during the summer months when kids are out of school on spring or summer break.
In general, there's not much of a difference between days of a week, versus which week in the year you choose to visit.
But no matter which week you choose, the most important factor in scoring lower wait times is what time you arrive in the park. The easiest way to beat the crowds and score lower wait times is to come early or stay late. Wait times sky-rocket late morning until afternoon.
Also, Hollywood Studios is pretty much always busy, year round now. Toy Story Land and the Star Wars expansion have really made Hollywood Studios traffic explode.
Rumor has it that you might have some luck going into Hollywood Studios on a weekend (later in the day) after the locals have cleared out. Otherwise, it's pretty crazy busy all the time.
Which Holidays are Busy at Disney?
If you are looking for lower wait times, then I'd advise against visiting the parks during Holidays. The following holidays and events tend to be busy times at Disney World.
January – Walt Disney World Marathon, Martin Luther King Jr.
February – Valentine's Day, President's Day, Princess Half Marathon, Mardi Gras
March – Spring Break
April – Easter, Springtime Surprise Weekend
May – Dapper Day, Memorial Day
July – Fourth of July
September – Labor Day
October – Columbus Day
November – Wine and Dine Half Marathon, Thanksgiving
December – Christmas Week – (Yes, Christmas is likely the busiest day at Disney World.)
Not only will the park be busy on these holidays and events, but also on the days surrounding it as well.
If you are factoring in wait times when finding the best days of the week to go to Disney World, holidays should be avoided.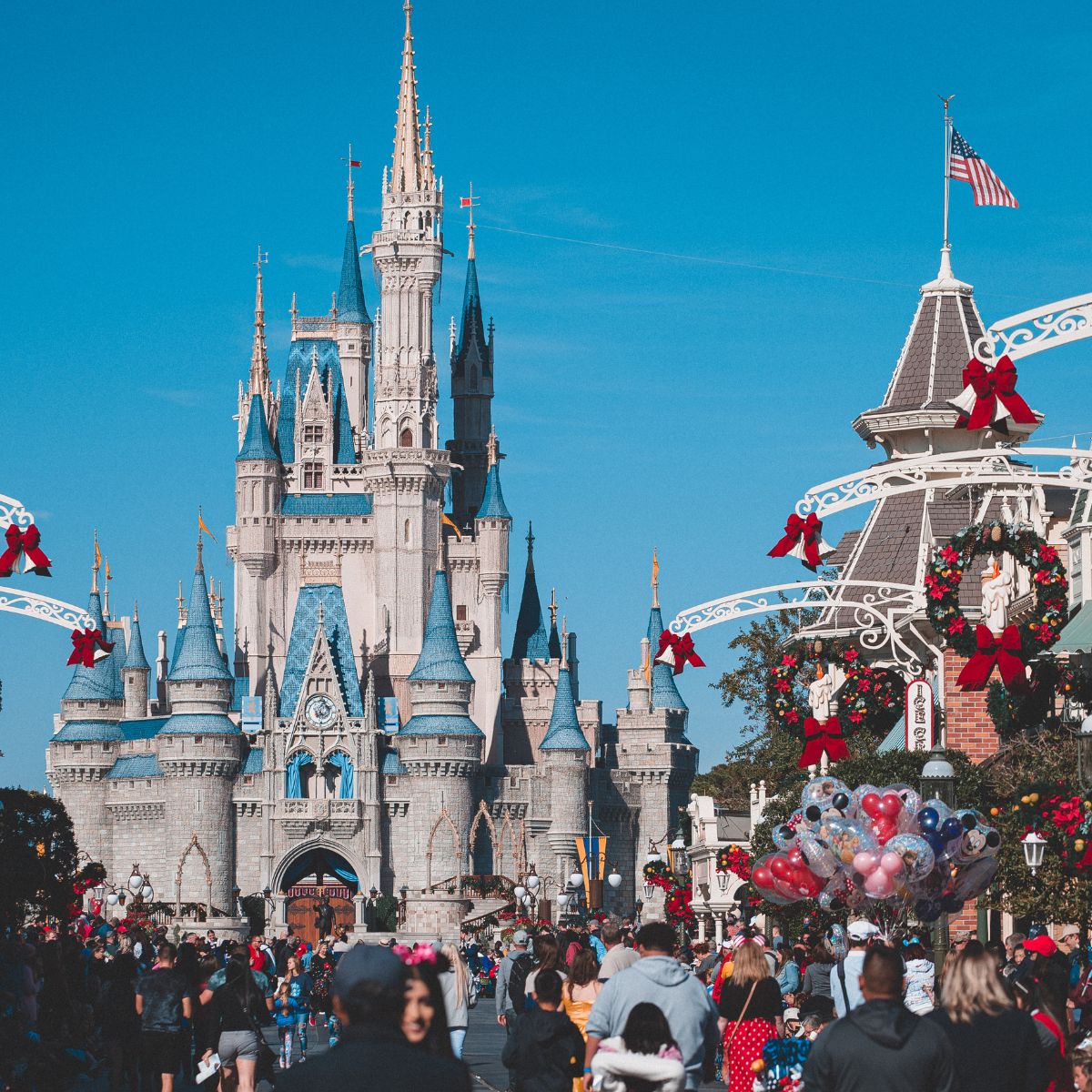 When are Disney Park Tickets Cheaper?
Disney World tickets are priced according to date so that Walt Disney World can control crowd levels a little better and distribute their visitors more evenly across the year.
You will find that the most expensive dates to visit Disney World are during major holidays like Christmas, Thanksgiving and Easter.
If you can visit during a less crowded time of year, you will find less expensive ticket prices!
You'll find that the cheapest Disney World tickets are in January, February, August, and September.
So, for example, you can score a 1 day park ticket in September for $109.
This same 1 day park ticket will cost you $159 in December. Crazy, right?!
So, just remember, date and time of year REALLY matters for your overall cost of your trip. If you want the best deal on tickets you need to visit Disney World theme parks in the off-season.
Find the Best Day of the week for Each Park
Alright, so once you've decided what month to make your trip, and which week, you are going to want to check out the Crowd Calendars.
I like to correlate the information from two different sources before I make a final decision. I really like the Crowd Calendar from Undercover Tourist. It's super easy to understand. (My fave when planning our family's Disney trips!)
I also check out the Crowd Calendar from WDW Prep School. The layout is less condensed, but I like to cross-reference the data and get a 2nd opinion on park days for our Disney World trip.
(I guess that makes me a Disney Data Nerd!)
You can find which days have the highest projected crowd levels and can easily make a decision on which park to go on which day.
There's a scale 1-10 to show you how busy each park is on that day compared to the rest of the year.
You can also see at a glance the park hours and special events on those particular dates.
Park Closing Early on Trip Date
If you make all the plans and buy the tickets for your Disney vacation and then notice that one of the Disney parks is closing early on the day your are scheduled to be there, don't worry! A few times a year, Disney closes certain parks early to hold events for it's employees.
Our last trip happened to fall on a day when Magic Kingdom was closing at 4pm.
I was devasted. We had planned a 5 day trip and we wanted to make the most of it.
I did look into switching parks for the day but our trip was quickly approaching. I didn't want to risk losing our park reservations altogether, so we decided to just go with the flow.
It actually ended up being one of our most successful days in Magic Kingdom ever. We rope dropped in the morning to take advantage of low wait times and we ended up riding 18 rides that day (including most of the popular attractions twice!) before 4pm.
We also were able to take advantage of jumping into one last line right around 3:50. As long as you enter a line before closing time, they allow you to wait and ride after park closing.
After our last ride we were exiting the park around 5pm. We also got some pics of the castle with no one in front of it.
(I'd say great pics, but oh were our kids tired! LOL)
Given the choice, I'd totally do that again! I'd totally go to a park that had an early closing time again as the lower crowds made our day much more efficient!
Please note that this does not apply to Mickey's Not So Scary Halloween Party or the Mickey's Very Merry Christmas Party.
These events are actually likely to make the crowd levels soar in the daytime as people come early to the park and then stay late for the party in the evening.
Making An Informed Decision
Here's a few more things to factor into your decision on which park to visit each day.
Epcot can get super busy and rather rowdy on the weekends with locals partaking in alcohol and food in the World Showcase.
If you want to keep it family friendly with small children and enjoy shorter lines for food, I'd advise visiting Epcot during the weekdays and not weekends. Avoid those weekend crowds whenever possible!
Hollywood Studies has a lot of popular rides like Rise of the Resistance, Smuggler's Run, Tower of Terror, and Slinky Dog Dash, so it always reaches park capacity first. It's not a park you want to plan on park hopping to later in the day.
Magic Kingdom is iconic for Disney World, so many people visit on the first day of their trip or on the weekends. If you can plan your visit to Magic Kingdom in the middle of the week, you'll do better!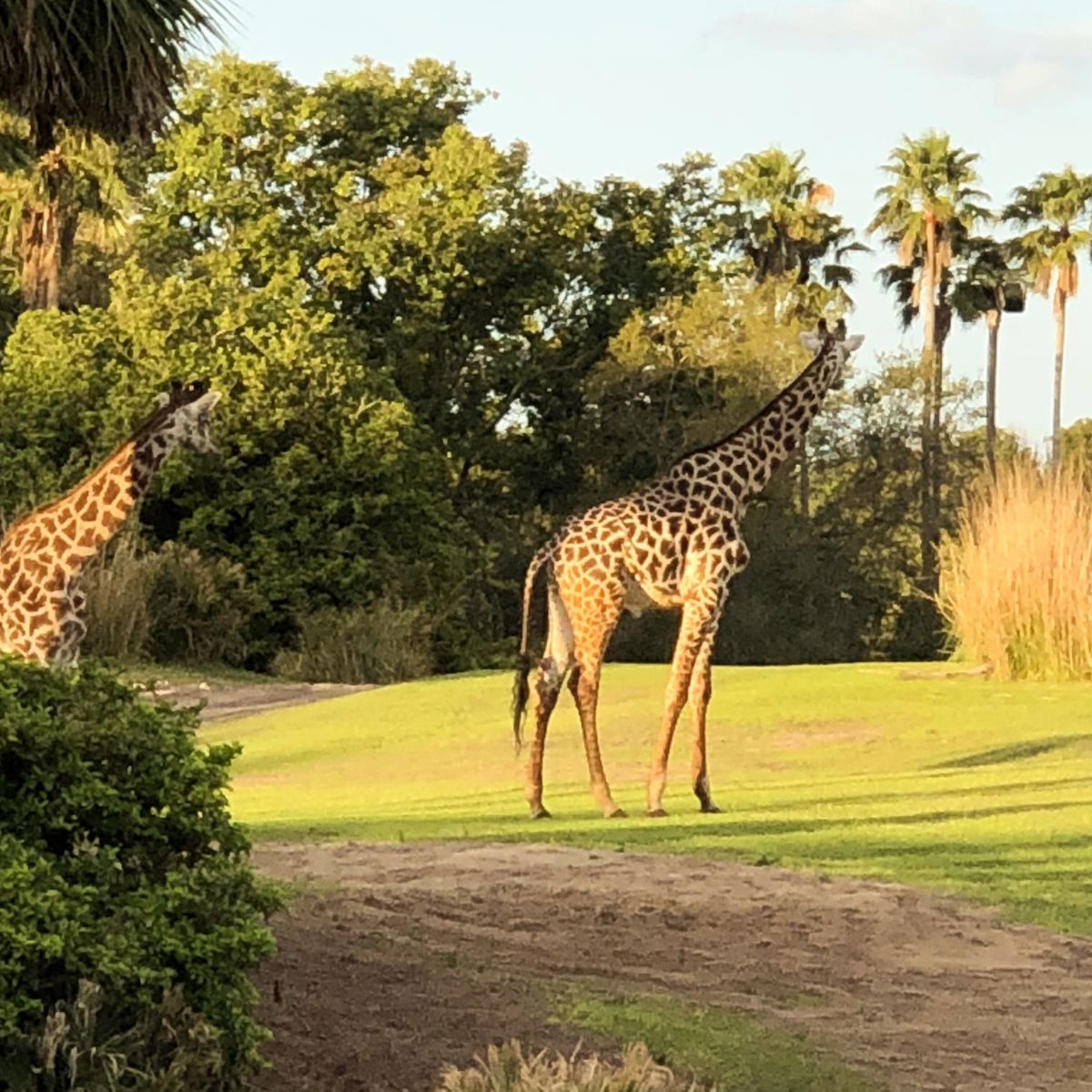 Which Disney Parks can you do in half a Day?
Disney's Animal Kingdom can be a half day park. There's plenty to see and do, but you could definitely fit most of the highlights into a half day. It's the least busy, so you can pretty much fit it into your schedule on any day and the wait times won't vary much.
Tips for Visiting Disney World during Peak Season
If you have to plan your Walt Disney World Vacation during one of the busiest times of the year, you are going to need to deploy the following tactics:
Buy the Genie + Lightning Lanes. If you want to make the most of your day and have a great time in the parks, I highly recommend buying the Genie+ Lightning Lanes. This will save your time and sanity.
Take advantage of any early theme park entry offers. Many times when you stay at a Disney Resorts hotel, you can take advantage of early entry into the parks. Getting into the parks early is your best option during peak season. (I'd even recommend it during the off-season!) You will be able to take advantage of lower wait times and checkmark off the most popular rides while the crowd levels are still reasonable.
If you aren't able to rope-drop (get to the park before it opens) then you will want to stay late. You can ride a lot of the rides with shorter wait times after families with small children go home for the day. You can also ride attractions during the fireworks show at night as wait times drop during this time frame.
Be prepared to wait. Patience is needed. Know what you are walking into. Watch the wait times on your My Disney Experience App a week before your trip to get a feel for wait times. If you are going at Christmas, you can expect the wait times to be even higher.
Prioritize you day. Make a plan to ride 5 attractions and anything after that is bonus. Large crowds mean long lines, so if you MUST ride something, prioritize it.
Check out our full list of Tips for How to Avoid Lines at Disney World here.
More Disney Planning Info
Alright! That's it! Good luck with your vacation planning! Be sure to check out our other articles. You can learn all about the Best Rides at Animal Kingdom here.
You can also grab our Best Tips for Visiting Magic Kingdom here.
If you are traveling with small children don't miss the Best Rides for Toddlers at Magic Kingdom.
Also, don't forget to check out the Ride Height Requirements if you are traveling with little ones!
Have a great trip!