Looking for Disney World Magic Kingdom Tips and tricks? We've got you covered! Here's our best insider information for visiting Magic Kingdom in 2024.
During our last visit to Disney, my husband and I were talking to various people on the Disney buses and in the queue for rides and we were shocked by how many times people mentioned how they waited in super long lines for rides or how few rides they rode in a day.
With a simple strategy and your pockets full of information, this simply shouldn't happen.
Preparation is the key to having a great time at Magic Kingdom. And no worries, Simplify Orlando has got your back! You are on your way to being fully prepared for an amazing Disney Vacation.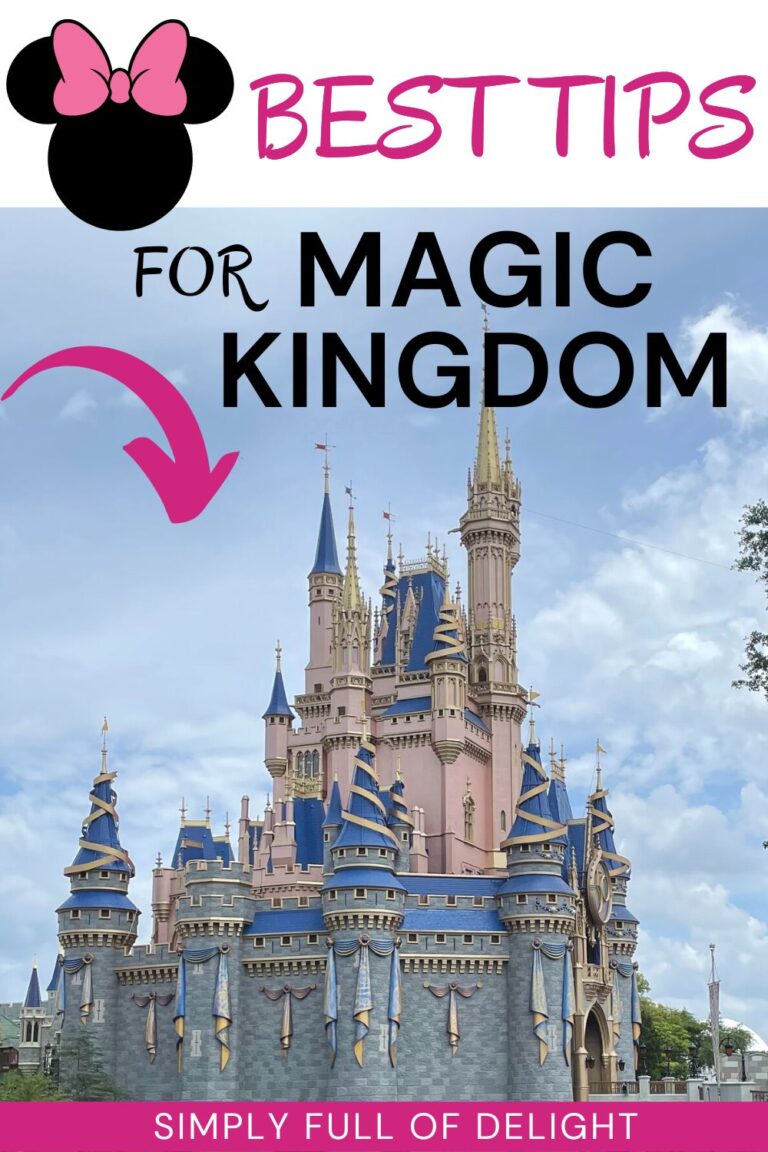 Here's our personal Best tips and tricks for Disney World's Magic Kingdom!
1) Go with a Flexible Plan
The very best tip I can give you is to visit Magic Kingdom with a flexible plan. Magic Kingdom has tons of rides and attractions, so it's nearly impossible to do it all.
My family prioritizes RIDES over shows, fireworks, shopping, or parades. When we make a plan for our day, it is all about hitting the most rides we can. Then, we add in shows and character meet and greets and other fun things as we go.
Being flexible is key, because you never know what ride is going to break down or what crowd levels will be like.
2) Rope-Drop When Possible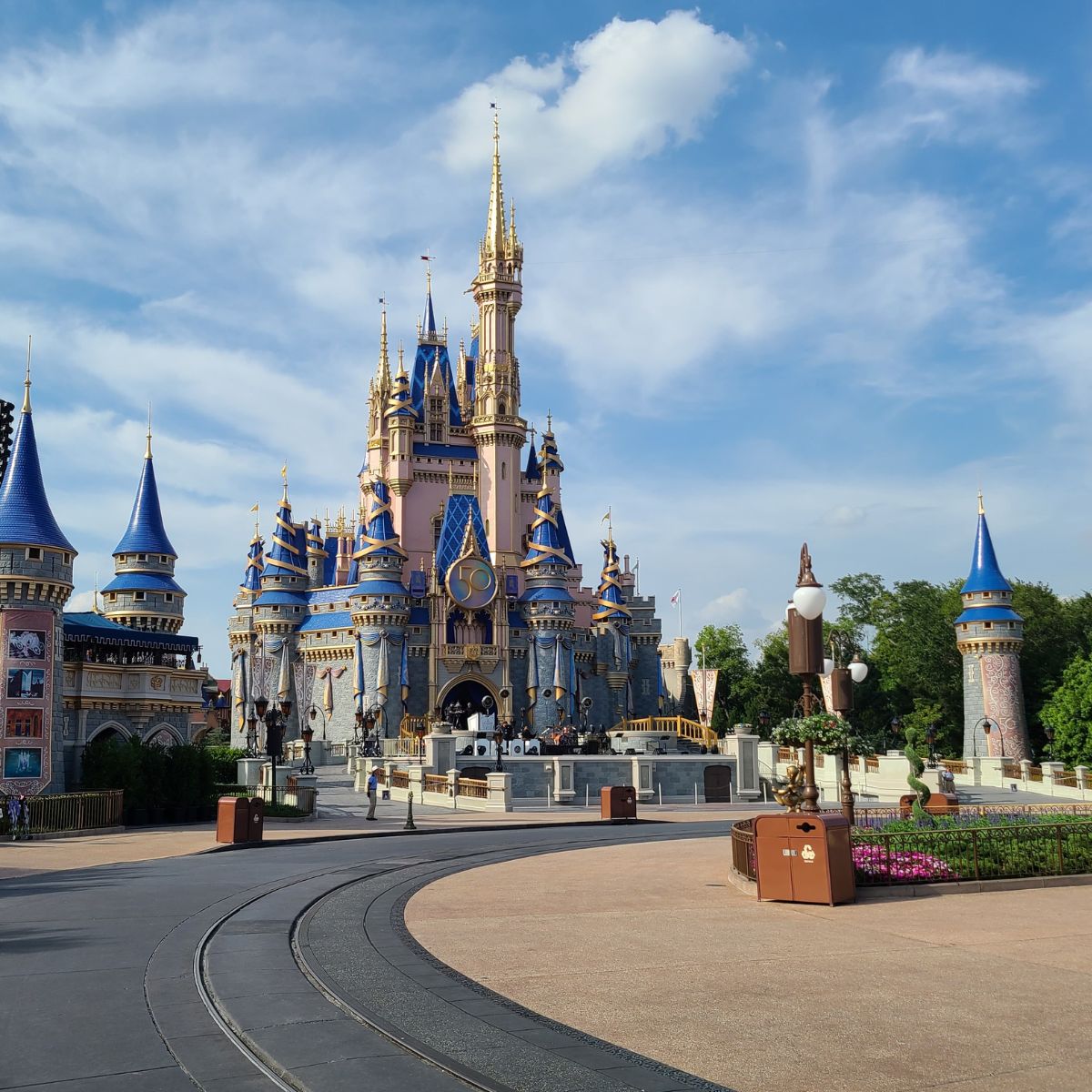 What is rope-drop? This refers getting to the park early before it opens. Did you know you can actually enter the park 30-45 minutes before the posted opening time? The advantage to this is that you will already be scanned in at the gate and ready to head to your first ride as soon as "the rope drops."
We try to get to the park 1 hour before it opens, so that we can be first in line to scan in at the gate, have time to take our kids to the bathroom, and get in a good position to ride our first ride.
What is the advantage? If you rope-drop, you can ride your first few rides with little to no wait.
I recommend hitting one of the most popular rides first like Seven Dwarfs Mine Train or Peter Pan's Flight, as both of these have long wait times.
You might be wondering….why should I rope drop if I have to get up to wait in a big line at the entrance for park open? The reason is that the ride wait times are overall much lower. You can cover a lot of rides in that first hour (or two!) compared to coming into the parks at 10am when everyone else arrives!
3) Stay Late
If you heard about rope dropping and said, "um…..no, that's not for me. I'm not a morning person." Then I have a different strategy for you! Your family might find success in staying late at the park.
I'm all about rope-dropping myself, but many people have great luck with low wait times by riding rides during the night time fireworks show.
If you are willing to stay late and skip the fireworks, this is a great option. Ride wait times tend to be lower after the families with little ones leave for the day and the crowds are busy watching fireworks.
4) One Last Ride
If you do stay late at the parks, remember that you can ride one last ride right at closing. That's right, you can enter a line at the very last minute before park closing and they will still let you wait and ride.
So if the park closes at 11pm, you can still get in line at 10:59pm. (By the way, park open and close times vary, so be sure to check what they are on the day of your visit!)
5) Save Money with Multiple Day Passes
Just like many theme parks, you can save a lot of money by buying multiple day passes versus single day passes. You will pay a lot less for that 3rd or 4th or 5th day.
It progressively gets cheaper the more days you add to your trip.
Granted, you still have to pay for a hotel and food for those days, but it's nice that the park tickets get cheaper!
6) Stay at a Disney Resort Hotel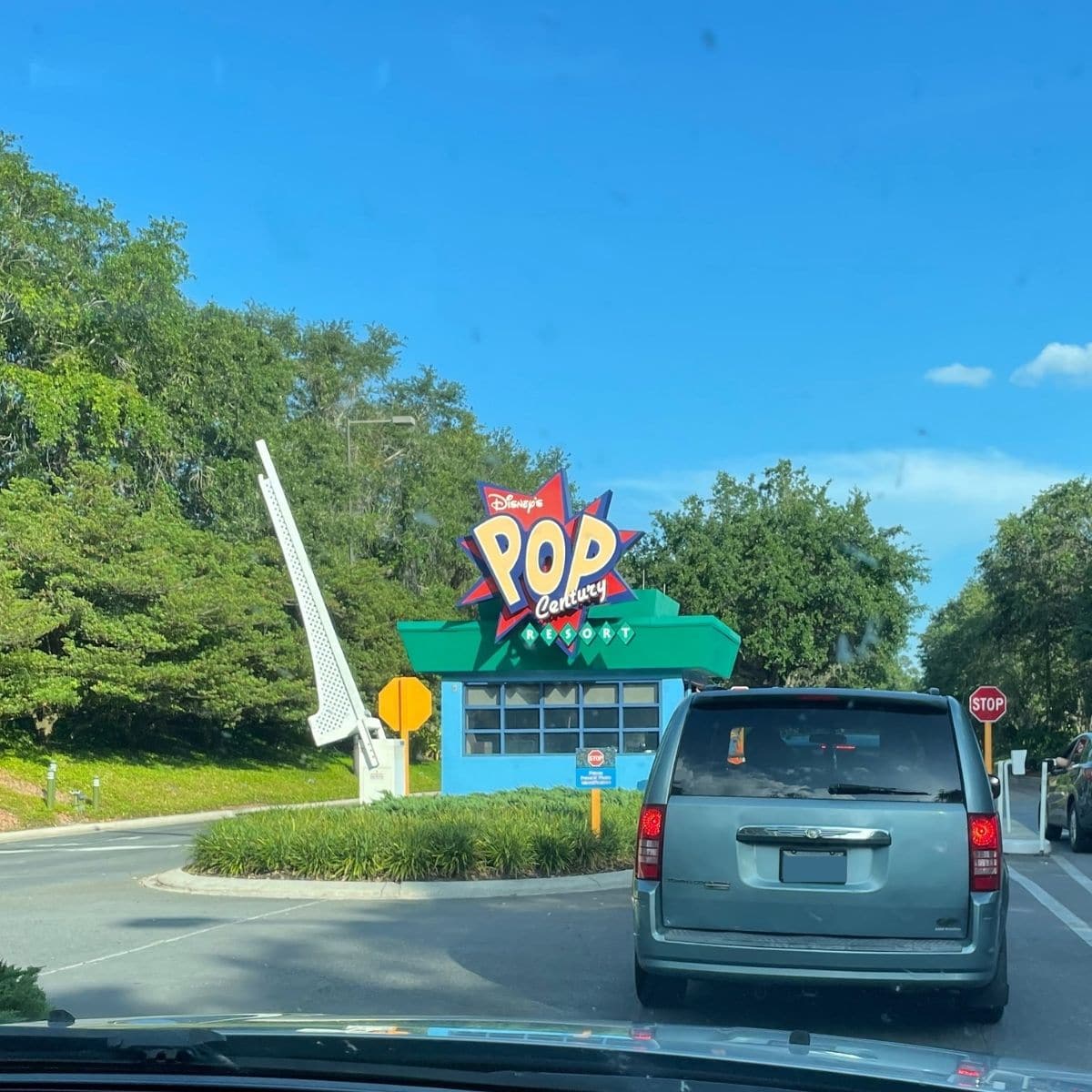 Every time we plan a trip to Disney, we consider staying off site because it's cheaper. However, each time, Disney keeps giving us a reason to stay on-site. Sometimes they offer extra early entry hours or late hours in the parks.
This is a huge advantage because you can actually rope-drop twice.
If you have an early entry advantage, you can rope drop Fantasyland or Tomorrowland. Then at normal open time, you can rope drop Frontierland.
We like to stay at the Pop Century Resort. It has reasonable prices, fun giant toy theming, and Skyliner access (which is a major bonus if you plan to go to Hollywood Studios or Epcot).
7) Lines at Entry – Disney World Magic Kingdom tips
When you are entering the park to scan your cards or Magicband, go to the right or the left. Most people head to the center lanes, so if you head right or left, you will often find a shorter lane.
8) Take the Monorail
The Monorail is one of the fastest ways to Magic Kingdom. If you drive, you will have to park at the Transportation Center parking lot. Then you have a choice of taking the Monorail or the Ferry.
The Ferry is much slower than the Monorail. It's a beautiful ride though, so we often make an effort to take the ferry at some point in our vacation.
If you are in a hurry to rope-drop, speed matters so you should take the Monorail.
9) Take the Bus
Taking the Bus from your Disney Resort is a great choice as well as it will drop you off really quite close to the gate.
It doesn't drop you at the Transportation Center, but instead goes right up next to Magic Kingdom! A total advantage!
10) Get Genie+
Genie+ is the new paid version of the old Fastpass program. Basically you pay extra money per person per day to be able to schedule passes to skip lines.
It's totally worth it in a park like Magic Kingdom where there are SO many rides. (It's a little debatable in some of the other parks).
To get the best use out of your Genie+ Lightning Lanes, you'll want to make sure you are ready to schedule your first one asap at 7am. Then, set an alarm on your phone for the next time you can grab one.
Or be ready to grab your next Lightning lane after you tap in to use your first one.
Be sure to grab those "hard to score passes" first for popular attractions like Jungle Cruise or Peter Pan.
11) Mobile Order
Mobile Order your meals whenever possible! You can do this through the My Disney Experience App. It's super easy and totally saves time.
We like to order our food while we are in line for a ride. Then we simply press "I'm Here" when we are almost to the restaurant, so that we have little to no wait for our quick service meals.
12) Bring Snacks and Drinks
Did you know that you are allowed to bring food and drinks into the parks with you? I don't recommend bringing too much, as it can be heavy.
However, I do recommend bringing a few lightweight snacks and drinks into the park with you. This Disney World Magic Kingdom tip can save both time and money!
We like to bring a pack of Lays Stacks as they don't get crunched in our bag. I also bring granola bars for a quick breakfast while we wait to enter the park.
We pack a collapsible cooler with a few drinks as well, to save a few bucks! Remember that it's nice to save some money….but don't kill your back carrying too much!
13) Prepare Physically – Start Walking!
Many people are surprised at how much walking they will do at Disney World. It's kind of a marathon.
You can easily walk 17,000 -20,000 steps in a day. It's a TON of walking. To prepare for this, you should start taking family walks before your trip.
It makes a huge difference in your endurance and in how much you will enjoy your trip! Plus, this is a great way to break in your shoes if needed.
14) Don't bring a Stroller
Speaking as a mom of 4, a stroller is going to slow you down. At every ride entrance, you have to both park your stroller, secure your belongings, and then of course retrieve your stroller afterwards.
Strollers slow you down in crowds, bathrooms, stores, and more. Strollers are a nuisance. Granted, if you have a child 3 and under. You will need a stroller. There's little chance your child can walk that far.
However, if your child is 4 and up. Skip the stroller. Kids who are physically active can handle the walking.
Unlike a zoo where you don't sit much, Disney is filled with opportunities to take breaks. You sit when you ride, you sit a meals, and of course you sit at shows.
My young kids do great walking at Disney – and not just one day….usually our trips are 5 days in a row. And that is, admittedly, a lot of walking.
I believe that my 4 young kids (ages 4, 5, 6, and 11) are super well behaved at Disney because they don't have the chance to become bored like the ones who were riding in strollers.
Strollers = bored kids = tantrums.
15) No New Shoes
Don't wear new shoes to Disney. You're going to want a broken in, super comfortable pair of sneakers.
Plus, bring at least one other pair of shoes to swap out with those.
I like to bring 2 pairs of sneakers (in case one gets soaked at a ride or in a downpour).
Plus I like to bring my Birkenstock sandals. (Be sure you wear your sandals some before your trip to break them back in if you haven't worn them in a few months).
16) Bring Moleskin
Moleskin is a life saver if you get a blister on one of your feet, which can happen quite easily with all the walking you'll be doing.
All you have to do is cut a piece and stick it to the affected area to keep your shoes from rubbing the sore.
17) Prepare for the Weather
When you are packing for Disney, make sure you prepare for the local Orlando weather.
You'll want to pack clothing appropriate for Orlando as well as a few extra outfits in case you get drenched in an unexpected rain.
Also, Bring Ponchos. You never know when you might get caught in the rain and Disney ponchos are expensive!
18) Rain Plan
I always recommend having a rain plan in place. We like to head to Monster Inc. Laugh Floor to stay dry, as it's always a good laugh!
If you aren't nearby that attraction, you might like to check out another show or indoor ride until the rain clears.
19) Take a Break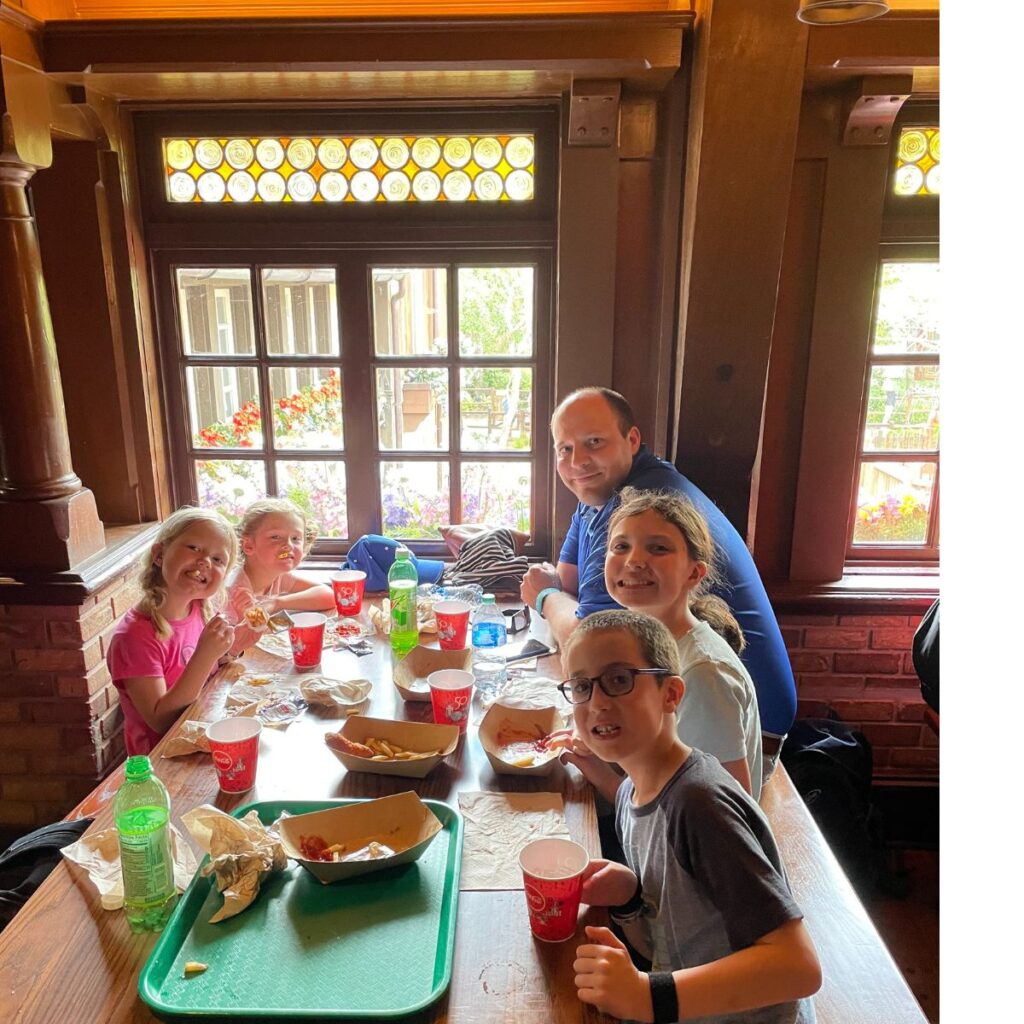 The best way to truly enjoy a day at Magic Kingdom is to take breaks to cool off. My family likes to get reservations for a sit-down meal when the park is super busy and hot. We love Skipper Canteen and Liberty Tree Tavern for sit down. Or for a quick bite to eat, check out Columbia Harbour House. (Our crew is shown enjoying some excellent seafood and chicken above!)
If you didn't plan ahead and get reservations, you can also find some quick service restaurants with air conditioning as well.
Sitting in the a/c for a meal is a great way to refresh your group and get ready for the afternoon!
20) Don't Bring Toys
My husband and I were shocked at how many people were carrying around toys at Disney. Not kids….grownups.
You'll be hot, tired, and carrying around your child's doll that they lost interest in after the first hour.
Leave the toys at the hotel.
There's plenty to do at Disney without bringing in your own toys.
21) Ship Gifts
We avoid carrying items as much as possible in the parks. If you find a fun souvenir, you can ask a cast member to have it sent to your hotel or to the front of the park to be picked up after your day.
22) Shops Open Late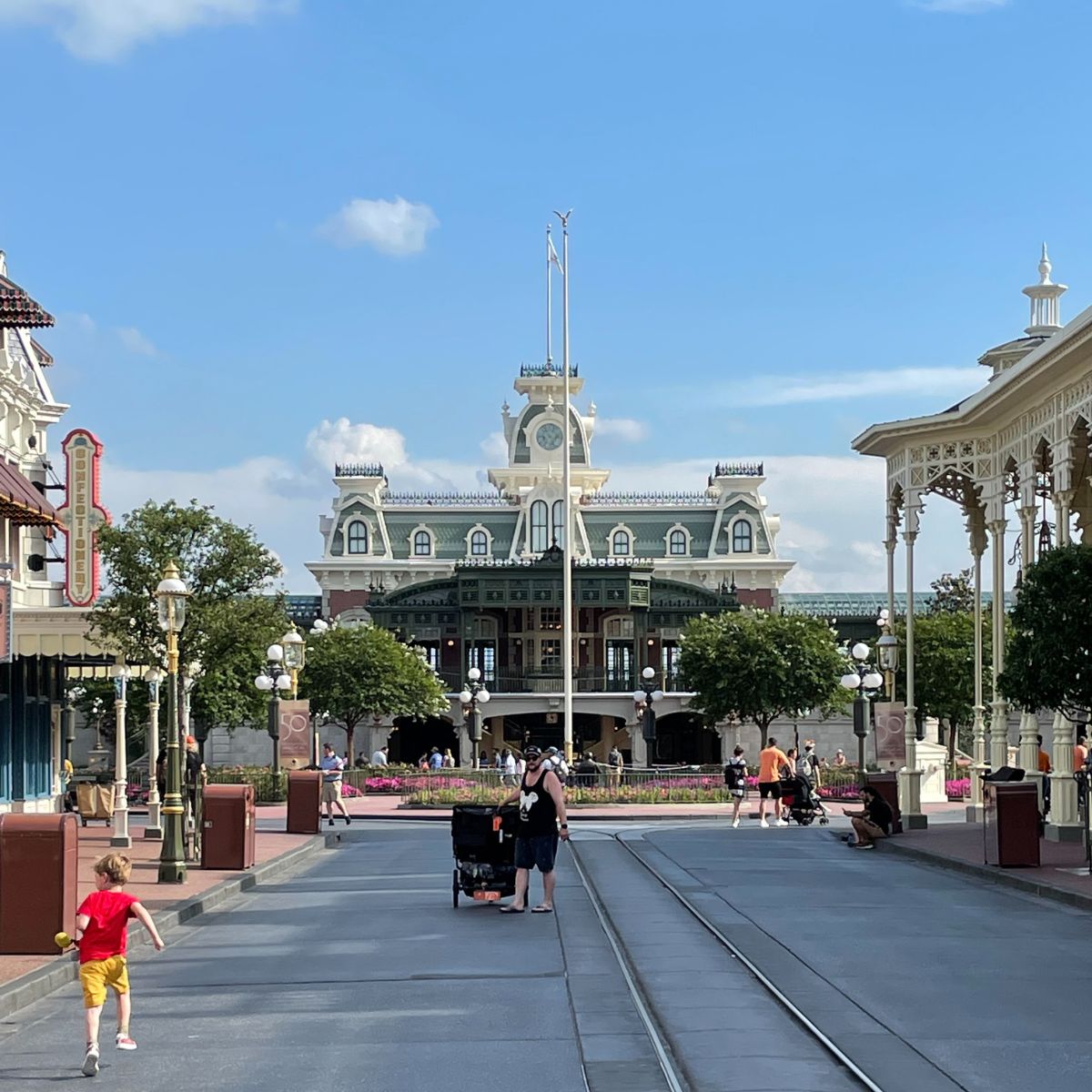 Did you know that the shops on Main Street U.S.A. are open 30 minutes to 1 hour after park close? It's a great idea to save your shopping until the end of the day.
That way, you don't have packages to carry AND you can utilize that last 30-60 minutes after park close!
23) Get Magic Bands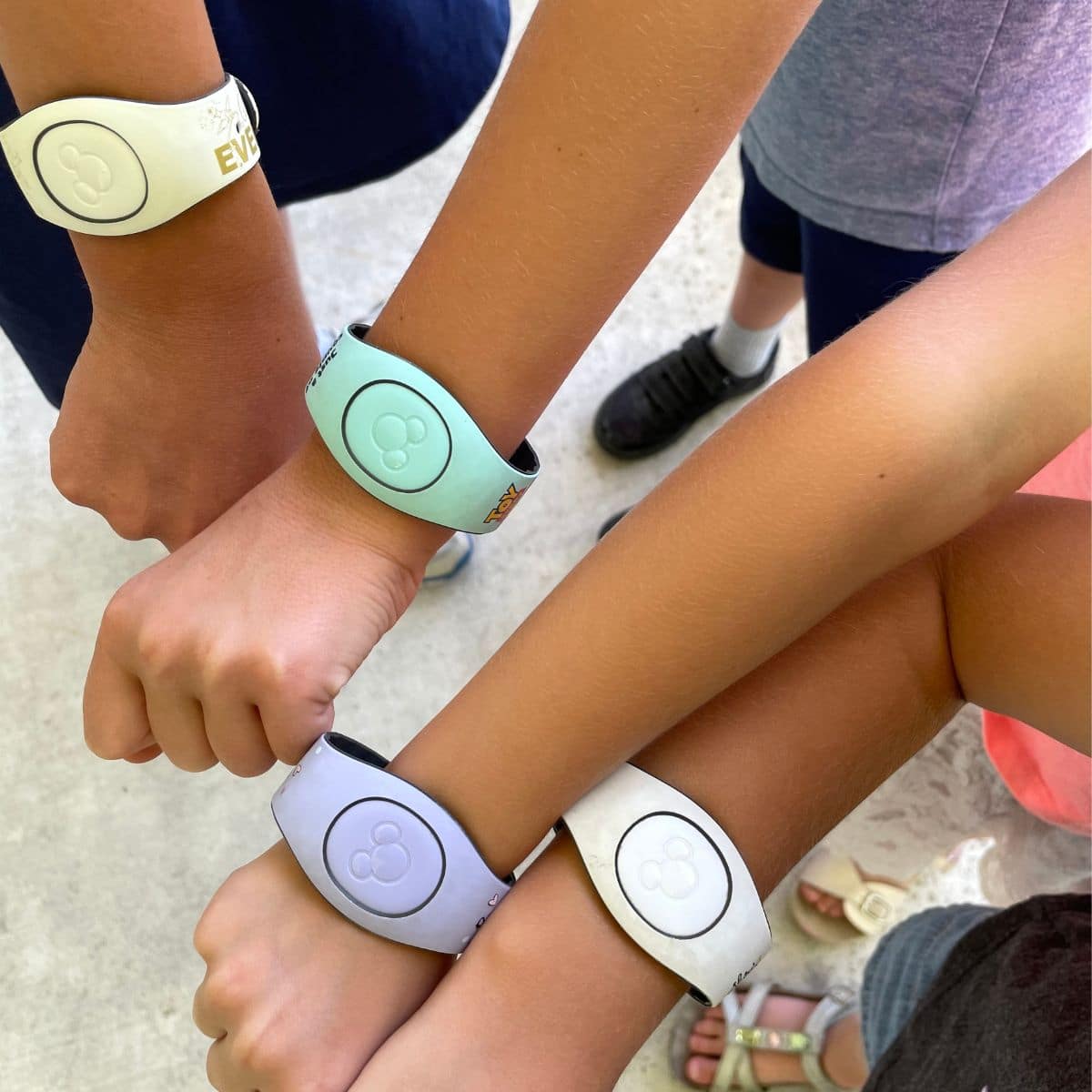 So, this is debatable, but I am on team Magic band. It makes it so much easy to check in for your Genie+ Lightning if you have a big group.
We have 4 kids, so Magic bands were totally worth it for us. Plus seeing the Mickey head light up when they each tapped in added to the magic.
We love those MagicBands, but don't love the cost! Be sure to grab them online before your trip as they are less expensive online.
**Currently, there aren't many choices online, but if you can find one that works for you, it will be way cheaper online than buying one in the parks or at Disney Springs.
24) Portable Phone Charger
Between checking current wait times and scheduling your next Genie+ Lightning Lanes, your phone is going to get a workout. We always bring a portable phone charger into the parks with us.
You don't want to have a dead phone at Disney. Be prepared!
25) Lightweight Backpack
We carry a lightweight backpack in the park. It holds our necessities for the day including our ponchos, portable phone charger, a collapsible cooler with a few drinks, and a few lightweight snacks.
Get a backpack with good support so that you don't mind carrying it all day. My husband carries this lightweight G4Free Hiking backpack. He likes the support of the straps and that it has plenty of room and pockets for what we need for a day in one of the Disney Parks.
26) Free Water
Did you know that you can get a cup of cold water at any quick service restaurant, free of charge? It's not always convenient but we definitely take advantage of this whenever possible.
We often grab free waters to go with our meals at quick service restaurants. It's a great way to hydrate your kids and yourself.
27) Single Rider Line
If you don't mind riding rides without your party, the single rider line is perfect for you! Often times, rides have a single seat empty, so they fill it with people from the single rider line.
This is a great way to save time if you don't mind riding by yourself.
28) Rider Switch Service
The Rider Switch service is for families who have a kid who does not meet the height requirement or people who don't want to ride a certain attraction.
With Rider Switch, one adult waits with the non-rider while everyone else in the party enjoys the ride. When the other adult comes back, they stay with the non-riding people, and other adult can go on the ride without having to wait in the standby line.
You can read more about it here on Disney's website.
29) Be Opportunistic about Parades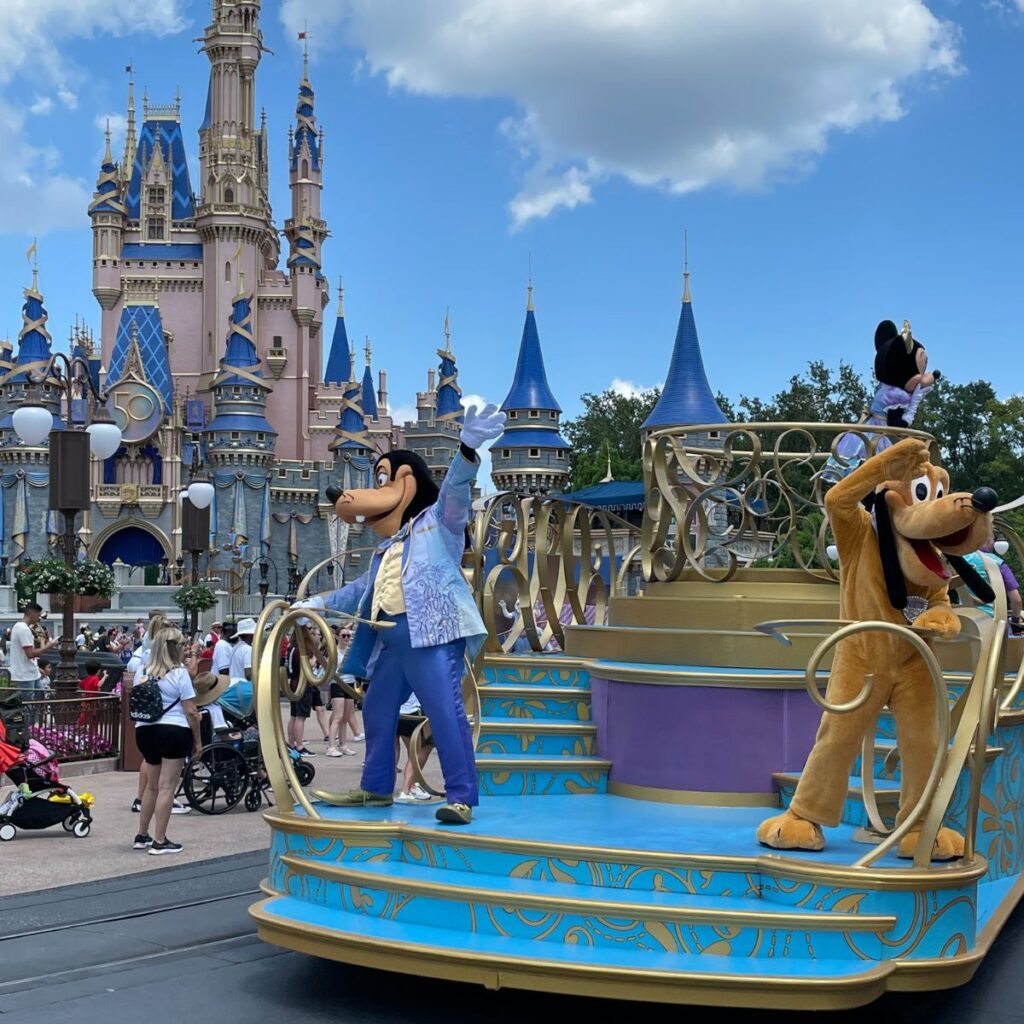 To make the most out of your day at Magic Kingdom, I recommend skipping parades. If you happen upon one, absolutely take a few moments to enjoy it.
Parades can be a great way for little ones to get a glimpse of their favorite characters. My 5 year old still talks about seeing Mickey Mouse in the parade during our last Disney World vacation.
However, I don't recommend scouting out spots to watch or waiting for one to fully pass by. In my opinion, it's not a good use of your time at Disney.
My family has always been opportunistic about parades, meaning that if we happen upon them, we enjoy the moment, but we don't waste time planning our day around them.
30) Dole Whip
I can't talk about Disney World Magic Kingdom tips without mentioning one of the very best treats found in the parks! The Dole Whip is a delicious pineapple soft serve. It's super refreshing on a hot day and absolutely craveable.
It's a legendary dessert for a reason!
You can find the Dole Whip at Aloha Isle in Adventureland. If your kids aren't into pineapple, no worries! There are other flavors to choose from as well! There's usually vanilla also at this location.
Other locations may have a seasonal flavor such as strawberry, lime, or creamsicle. Dole whip is always on my list of must-have Disney snacks!
31) Consider Skipping Fireworks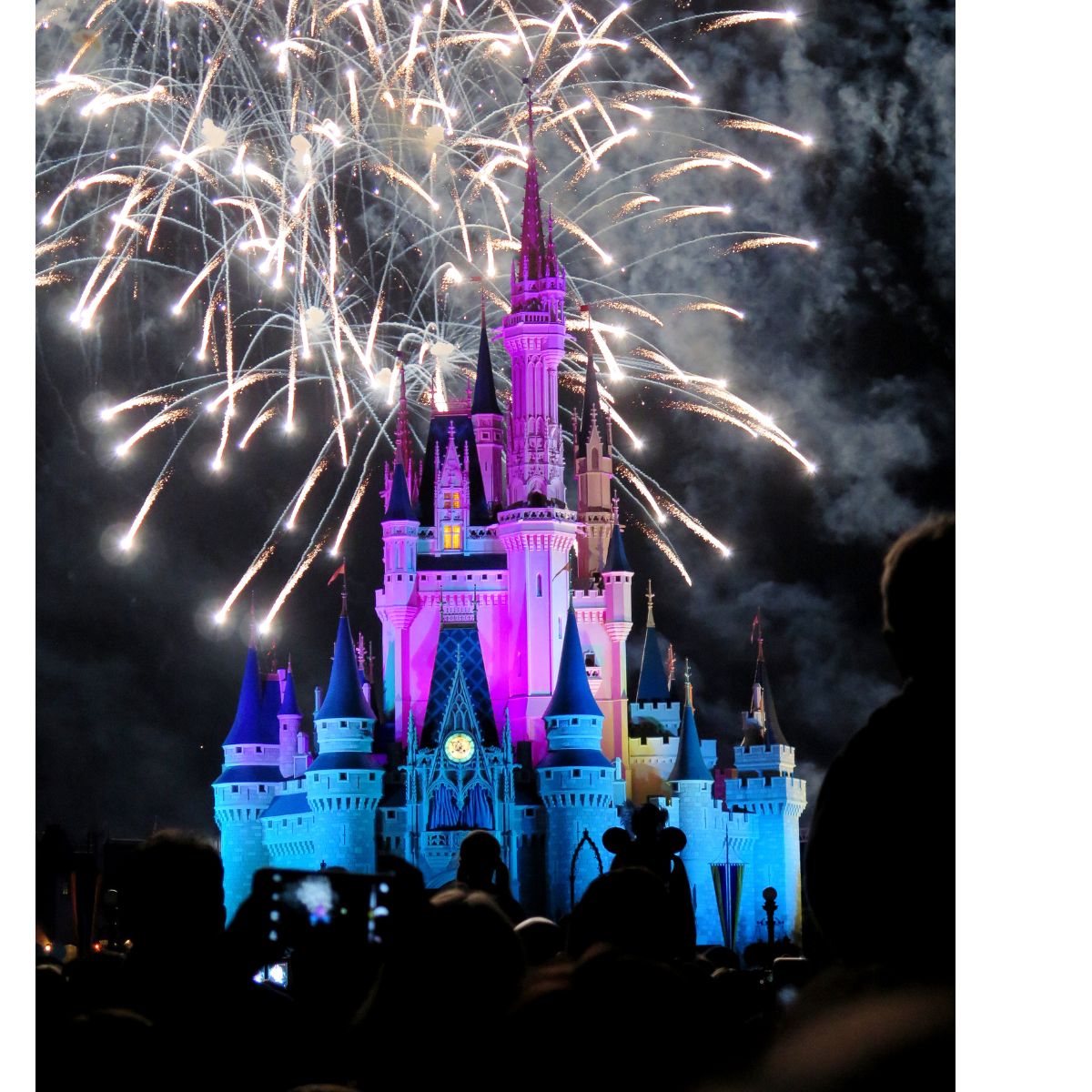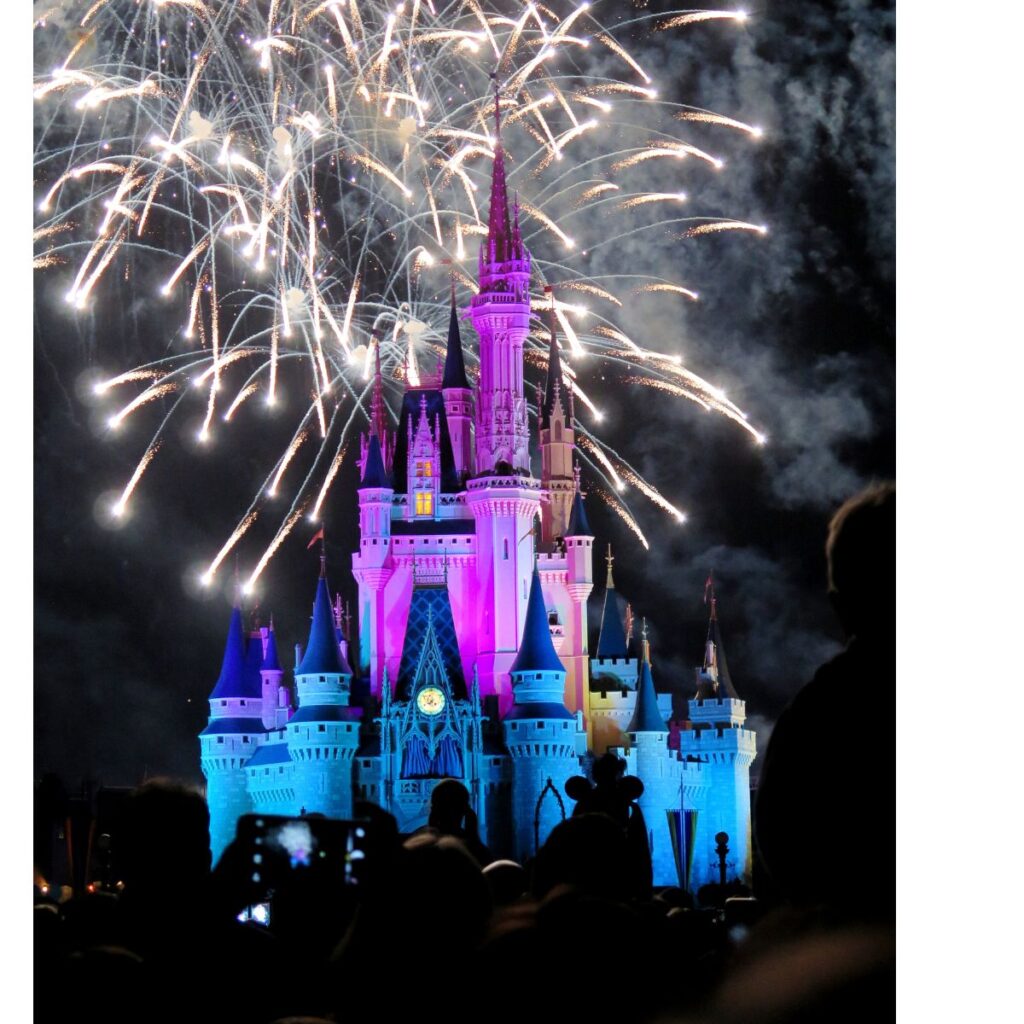 If you are willing to skip firework shows, you have a clear advantage of low wait times at attractions. Sometimes you can even find no wait time at some rides and are able to ride on repeat.
The Fireworks shows are very well done, but it is exceedingly difficult to get a good spot to view the show, without staking out a spot super early. Then, of course, after the show, you are stuck in a massive crowd leaving the park.
Our family often ops out of fireworks to ride rides or to get back to the hotel so that we can be in the parks early the next day.
32) Make a Target Run
If you are driving to Disney, be sure to stop at a store before you arrive at your hotel to grab the necessities for the week. We usually pick up a case of water (Florida water tastes notoriously nasty).
We also grab quick breakfast items for the week and anything else we forgot to pack.
33) Amazon Prime or Instacart
If you fly into Orlando, you might want to take advantage of having items shipped to your hotel or delivered by Amazon or Instacart.
This is another great way to get items you may have forgotten or quick breakfast items to grab and go.
34) Know the Headliner Rides
I recommend watching the wait times on the Disney App a few weeks in advance of your trip so that you understand the ebb and flow of which rides are popular and have long wait times and which ones have short wait times.
In general these are your headliners at Magic Kingdom:
Seven Dwarfs Mine Train
Jungle Cruise
Splash Mountain
Peter Pan
Whenever possible, you are going to want to rope-drop these rides, ride them near park close, or get Genie+ Lightning Lanes when applicable.
35) Know Your Low Wait Time Rides
On the flip side of knowing the headliners, it's good to know your low wait time rides. This will help in 2 ways. One, you will never waste too much time waiting on a ride that isn't worth that wait time. And two, you will know exactly where to head when the crowd levels start to rise.
Your Low Wait Time rides are:
It's a Small World
Prince Charming Regal Carrousel
Mad Tea Party
The Barnstormer
Journey of the Little Mermaid
Carousel of Progress
People Mover
You'll note that I didn't mention several rides like Pirates of the Caribbean, Haunted Mansion, Space Mountain, Big Thunder Mountain Railroad, etc. That's because these rides are neither headliners nor low wait time rides. These rides may have a bit of a longer wait than the low wait times, but tend to stay in the mid range wait times.
I hope these 35 Disney World Magic Kingdom tips and tricks have been helpful! Every family is different, so feel free to use what works for your family and throw out what doesn't.
Wishing you the most magical trip ever!
More Disney Parks Information:
As you plan your trip to Disney World, be sure to check out our favorite rides at Animal Kingdom. There's 7 amazing rides there, and one you should avoid.
Read all about how to have a good time at Magic Kingdom with toddlers here.
Find all the Disney Ride Heights here so you can spend less time figuring out what your small children can and cannot ride.
Looking for the Best Days to visit Disney? Here's everything you need to know about planning which month and day.
Find our Best Tips for Avoiding Waiting in Lines at Disney World here.
Want to save these Walt Disney World Magic Kingdom tips and tricks for later? Pin the image below to your Disney vacation board on Pinterest.