Wondering How to Avoid Lines at Disney World? All it takes a little planning and a some insider knowledge about these theme parks!
Disney World is busy in 2024! Wait times for rides and basically lines for anything have skyrocketed. There are tons of people in the parks.
However, with some great insider tips, you will be ready to skip those lines and have a great day in the parks with little waiting.
Let's jump into it!
1) Avoid Peak Season
Not waiting in long lines starts all the way back at the planning stages of your trip. If you can avoid going during peak season, you will find smaller crowds and much shorter wait times.
When is peak season? The highest attendance days for Disney World are summer breaks, spring breaks, and holidays. (Yes, SO many people go at Christmas!) You can find out more about using a crowd calendar to find the best times to visit Disney World here.
Is your trip planned during peak season? No worries, I've got plenty more tips that will help you make the most of your time and avoid long waits.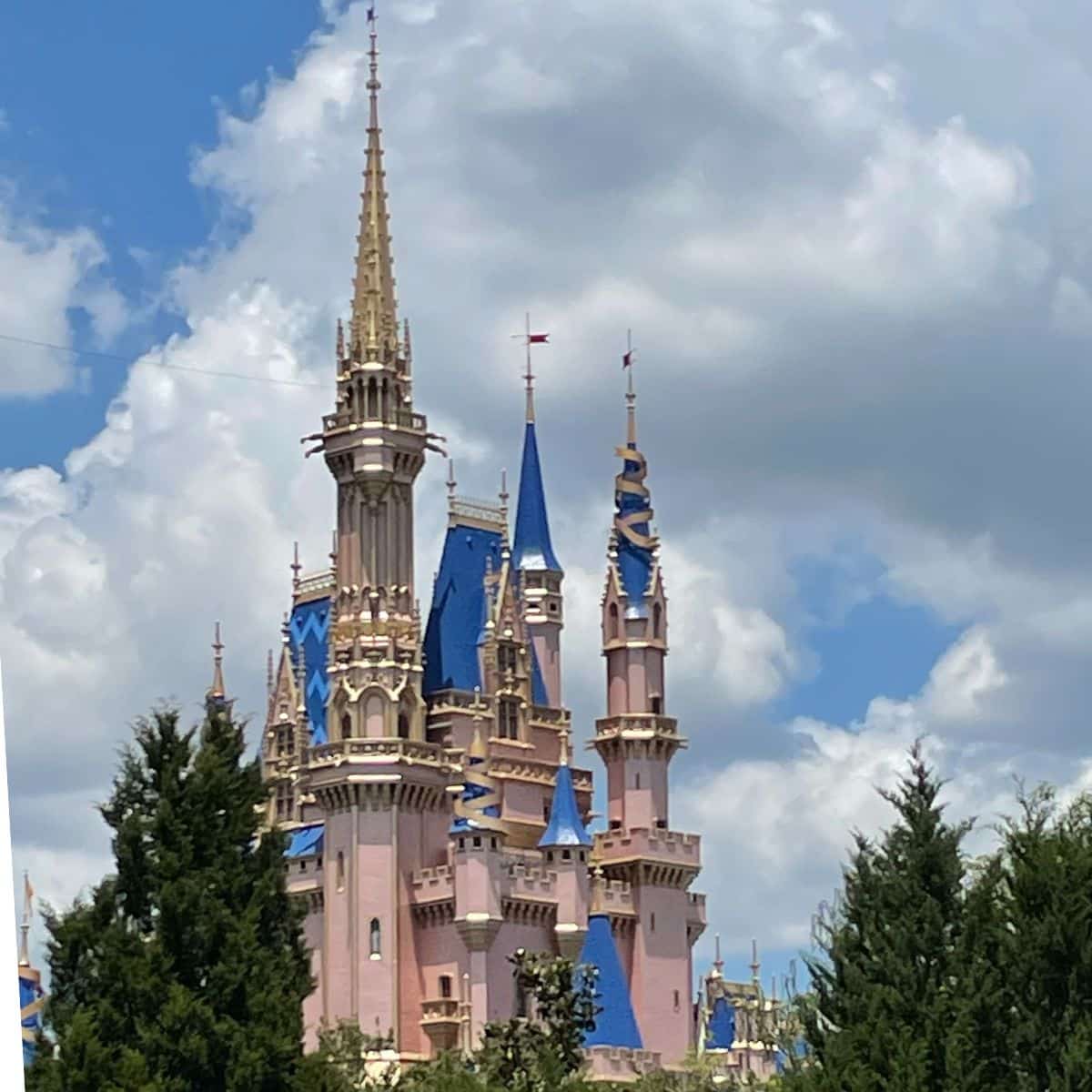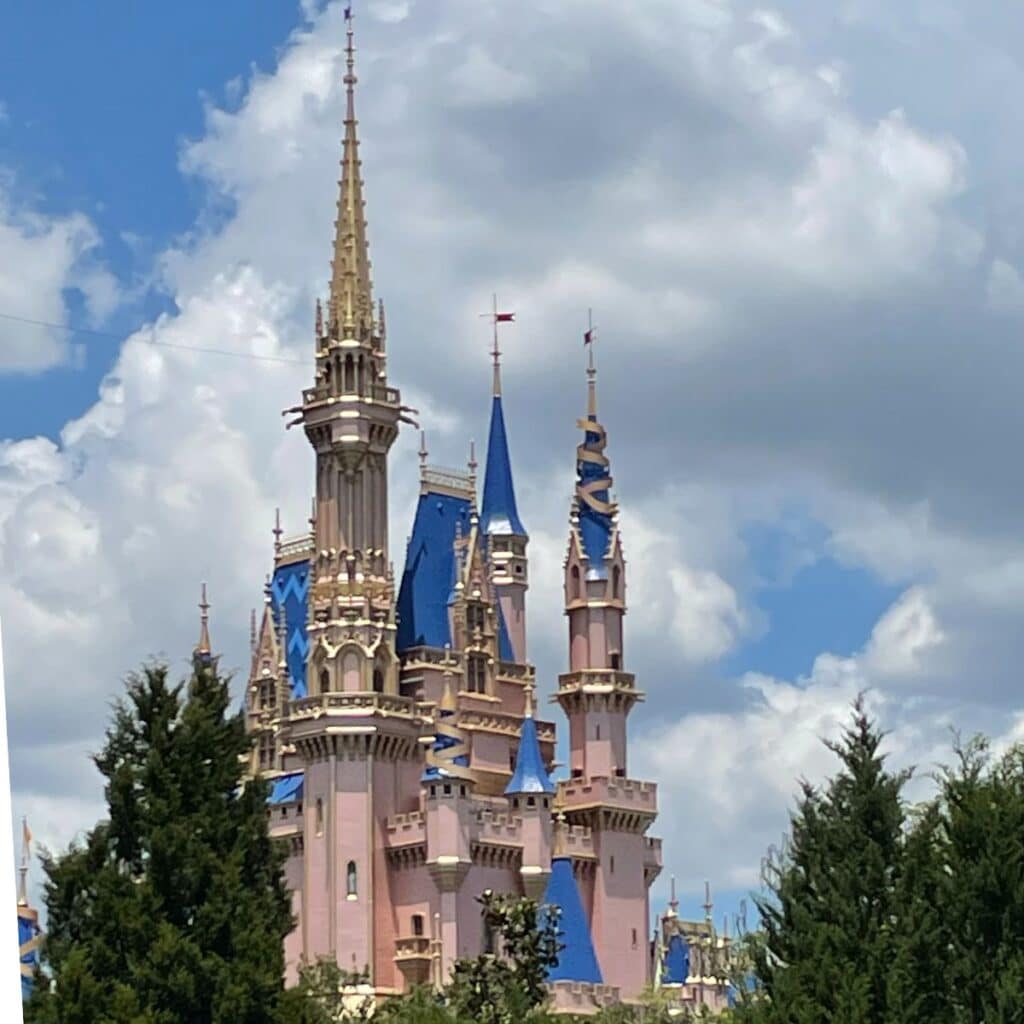 2) Rope Drop
In my opinion, Rope Dropping is the single best way to make the most of your day. Rope dropping means getting to the park before it officially opens and waiting for the "rope to drop" and being allowed to get in line first for popular attractions.
To do this, you need to plan to leave your hotel at least an hour before the park opens. That way, you can get on the first bus leaving for the parks, be one of the first people tapping into the park entrance and then towards the front of the crowd when you are waiting for the rope to drop.
When the rope drops, you want to grab up your little ones, hold hands and walk quickly to a popular ride. Don't waste the rope drop advantage on a ride that isn't popular.
You want to head to a popular ride(a headliner) that usually always has a long wait time. For Magic Kingdom, that would be Seven Dwarfs Mine Train or Peter Pan's Flight.
Don't waste your first hour. It's not the best time to be riding It's a Small World or Mad Tea Party These rides always have a fairly short line and it's not worth using your rope-drop advantage on these.
There's a ton of information about Rope Drop Do's and Don'ts here. (coming soon)
3) Stay Late
This is not a tip my family personally uses, but many families have great luck with shorter lines late in the day.
Families like mine with small children clear out of the park to get our kids to bed (and get ready for another early morning!) This means lines can get shorter in the evening.
This can be a good option for parents of teens who might struggle getting to the Disney parks at park opening.
This is a valid option for people who don't want to spend their Disney World vacation getting up early every day!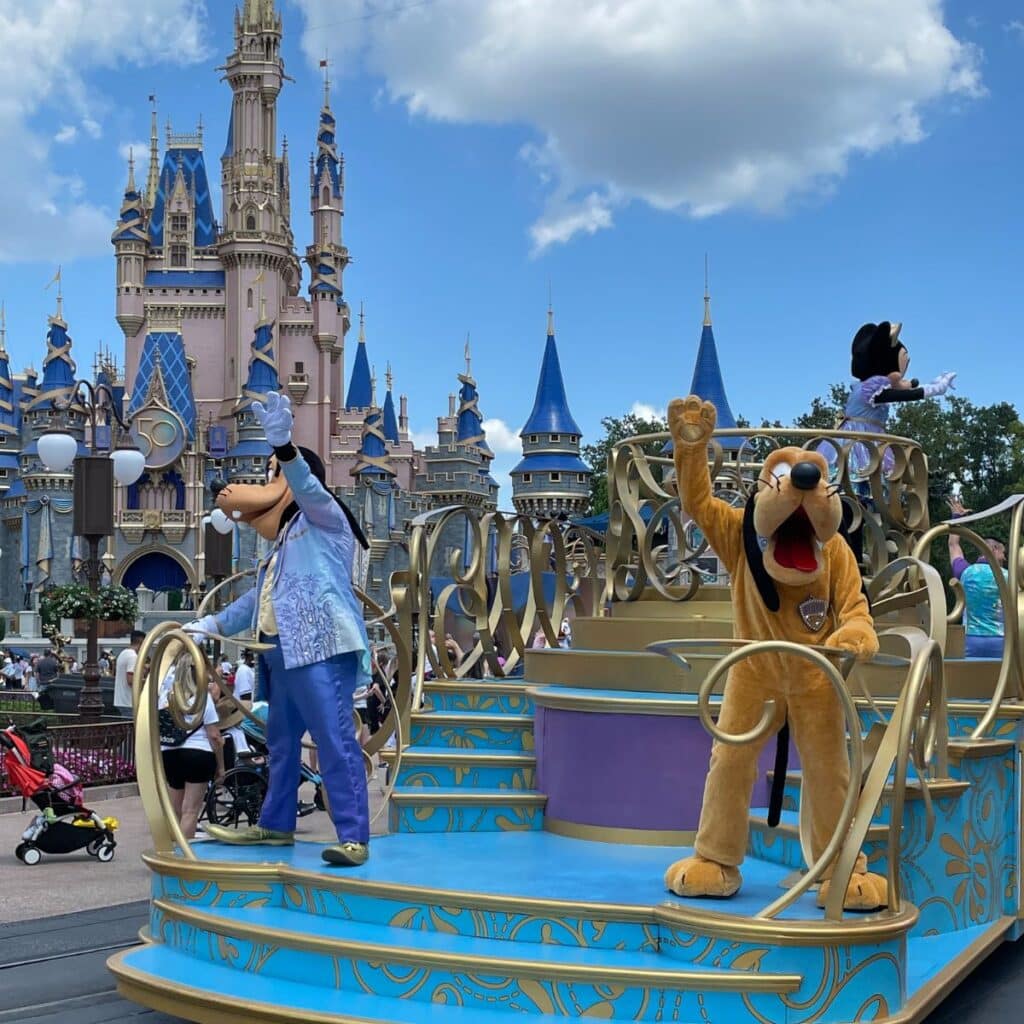 4) Ride During Parades and Fireworks
Ride wait times will drop when crowds of people are watching parades or fireworks. If rides are a priority for you, I recommend skipping the fireworks and parades.
I'm not saying that Disney's fireworks or parades aren't amazing – they absolutely are! However, wait times will drop during these times.
You might like to plan ahead that one evening you are watching fireworks and another evening that you are riding rides during that time frame. If you have a large group, it's good to get everyone's expectations on the same page ahead of time!
Our family has always been opportunistic about parades. If we happen upon one, we stop for a moment and wave at the characters. After we pause for a few moments, most of the time we keep walking to our next destination.
5) My Disney Experience App
If you are planning a trip to Disney World, you need the My Disney Experience App. This is Disney World's own app for your phone. You can see wait times for rides, you can mobile order food, and more!
Admittedly, as I plan my trip, I often log in to see wait times the week before we are there so that I can see how the crowds behave and which ride wait times peak at certain times. (Yup, I'm a Disney Data Geek!)
This is a great tool to help you make good decisions. For example, knowing that Avatar Flight of Passage always has a long line, helps you see that you might need to rope drop that ride.
6) Single Rider Line
If your party doesn't mind not sitting together on a ride, you might like using the Single Rider Line. Basically, this line is used to fill spots on the rides by single riders.
So if a family of 3 waiting in the regular line gets on Expedition Everest, two of them will sit together and the remaining person in their group will be seated with someone from the Single Rider line.
There's 4 Disney World rides with single rider lines: Rock 'n' Roller Coaster Starring Aerosmith, Millennium Falcon: Smugglers Run, Expedition Everest – Legend of the Forbidden Mountain, and Test Track.
This can be a great way to save time. Usually, the single rider line is about a 1/3 of the wait.
However, there are caveats. Many people find that the single rider line for Rock 'n' Roller Coaster Starring Aerosmith often takes as long as the regular line.
If you use the single rider line for Test Track, you don't get to design your own car.
You might miss out on seeing cool features in the queue of these rides.
And finally, you'll almost always be an engineer on Millennium Falcon Smuggler's Run.
It's a give and take to use the Single Rider Line. Give it a try for yourself!
7) Genie+ Lightning Lanes
Genie+ Lightning Lanes are the best way to get the most out of the parks. Granted they probably aren't needed at every park, but you won't regret paying for it at Magic Kingdom or Hollywood Studios.
If you aren't familiar with Genie+ Lightning Lanes, it's basically the new paid program that replaced fastpasses.
You pay an extra fee per person per day to be able to schedule passes to skip the lines.
I believe it's a must-do. Pairing this program with Rope Drop and a few of the other tips mentioned can absolutely change your day.
You get to schedule your first Genie+ Lightning lanes first thing in the morning and then you get to schedule another one after you tap in and use your first one (or after 2 hours have passed).
It's not a simple system to use (as you can tell from my explanation), not every ride is included, but the pros definitely outweigh the cons.
If you don't want to waste your vacation waiting, get Genie + Lightning Lanes.
8) Individual Lightning Lanes
If you don't want to pay for Genie+ Lightning Lanes you might find value in paying for Individual Lightning Lanes. Buying these can help you avoid some of the longest lines in the park including Star Wars: Rise of the Resistance.
They are only offered for certain rides and are available in limited quantities the day of your visit. You can learn more about Individual Lightning Lanes here.
Admittedly, we've used both! If Star Wars: Rise of the Resistance is a priority for you, it might be worth paying for (it was for us!)
9) Extra Magic Hours
If you stay at certain Walt Disney World resorts and hotels, you can score Extra Magic Hours. These are extended theme park hours for resort guests. They change from time to time, so you'll need to check to see if your Disney resort qualifies for these.
Basically certain parks offer extra hours so that you can spend more time in the parks!
Sometimes the extra magic hours are the driving force for our family to stay on-site.
10) Ride it again!
This is an intuition tip. If you get off of a ride and you see that the line is still really short – hop back in line and ride it again!
My kids don't love it when we do this, but logically, it makes a ton of sense.
You don't have to walk anywhere, you can see that the line is short, so it's perfect! Take advantage of the opportunity to ride an attraction twice.
We typically see these opportunities at Buzz Lightyear's Space Ranger Spin, Soarin', and Millennium Falcon Smuggler's Run. But really, any ride where you can see the wait time has not changed much and the queue looks empty is a great choice to try out this tactic.
It's always a bit of a risk, as there's always the possibility that the line has grown and you can't see it, but usually your intuition will serve you well.
11) Use your Intuition
There will be times when you can see that a line has stopped for some reason. Rides break down from time to time and you might have to think on your feet and change directions.
Sometimes, your gut will tell you to stay the course and stay in line. Other times you will need to make a fast decision.
For example, recently we were rope-dropping Slinky Dog Dash at Disney's Hollywood Studios. We were the 3rd family in line. Right at the front.
However, the line was not moving. They had stopped the line from entering the queue. We waited a good 15 minutes before we realized our rope drop advantage was disappearing. We checked wait times across the park and made a risky move. We left the line.
We rode Toy Story Mania while basically the whole giant line of other people still stayed in the Slinky line. We walked to the Star Wars area and rode Smuggler's Run twice with little waiting.
Then we walked back to Toy Story Land where the line had now mostly disappeared as the ride was still not working …..but, it was running tests. We decided to join the line on a gut feeling that it was opening soon and we were able to ride it with just a 20 minute wait.
Be bold, use your intuition, don't use the "sunk cost theory"….well, I've waited this long….might as well keep waiting…
Nope.
Keep moving!
12) Be Prepared to Walk
If you don't want to wait, you are going to be walking a lot. You'll find yourself walking to all of the popular rides during rope drop before the lines grow. These popular rides are spread out throughout the park.
Then you will double back to ride the less popular rides during the peak times (late morning-afternoon). Plus, you'll have to walk to any Genie+ Lightning lanes you've scored.
It's a lot of walking. But it's a choice. You can either walk….or you can wait.
We have 4 young kids. We don't do strollers, so to keep them behaving well, our best bet is to keep them moving. Walking is preferrable to waiting. So we walk.
What to do when Waiting in Line
As mentioned, we have 4 young kids. I don't think it's necessary to bring toys to the parks. We are there to ride attractions and experience Disney World. My kids don't need to be entertained by a phone or toy.
So what do we do in line?
We hydrate.
We might eat a snack from time to time.
Take this time to use the My Disney Experience App to find your next Disney Genie + Lightning lane.
Mobile Order Lunch using the App
Check Ride Wait Times or Show times across the parks
Interact with the fun queues (some lines have fun items to explore)
Play Would you Rather? with your kids or I Spy.
More Disney Planning Tips
I hope you've found some amazing tips and tricks for how to avoid lines at Disney World. Be sure to check out our other articles!
Learn all of the Best Tips for Magic Kingdom here.
Traveling with little ones? Find all the best rides for toddlers here.
Is it your first trip to Disney World? Be sure to check out our Best Disney Tips for First timers!
Going to Animal Kingdom? Here's all the Best Rides at Disney's Animal Kingdom, plus 1 to avoid.
Plus, you can find all the Best Disney Vacation Planning YouTube Channels here. Ones that we personally recommend!
Pin the image below to save these 12 tips to skip the wait at Disney!