Planning a Disney vacation with a toddler? Here's the Best Disney Magic Kingdom Rides for Toddlers!
As a mom of 4 and an avid Disney World fan, I've been on nearly every ride at Disney and on most of the rides with kids.
Every kid is different, but there are some overlying things to keep in mind as you plan a trip with small children. First, experiences can be really intense to little ones. Something you think your child will love, might be completely terrifying.
With little ones along, it's best to start out with really tame rides and work your way up to more adventurous attractions if you feel your child can handle it.
Alright! Let's dive into the 15 Best Disney Magic Kingdom Rides for Toddlers!
1) Peter Pan's Flight – Best Disney Magic Kingdom Rides for Toddlers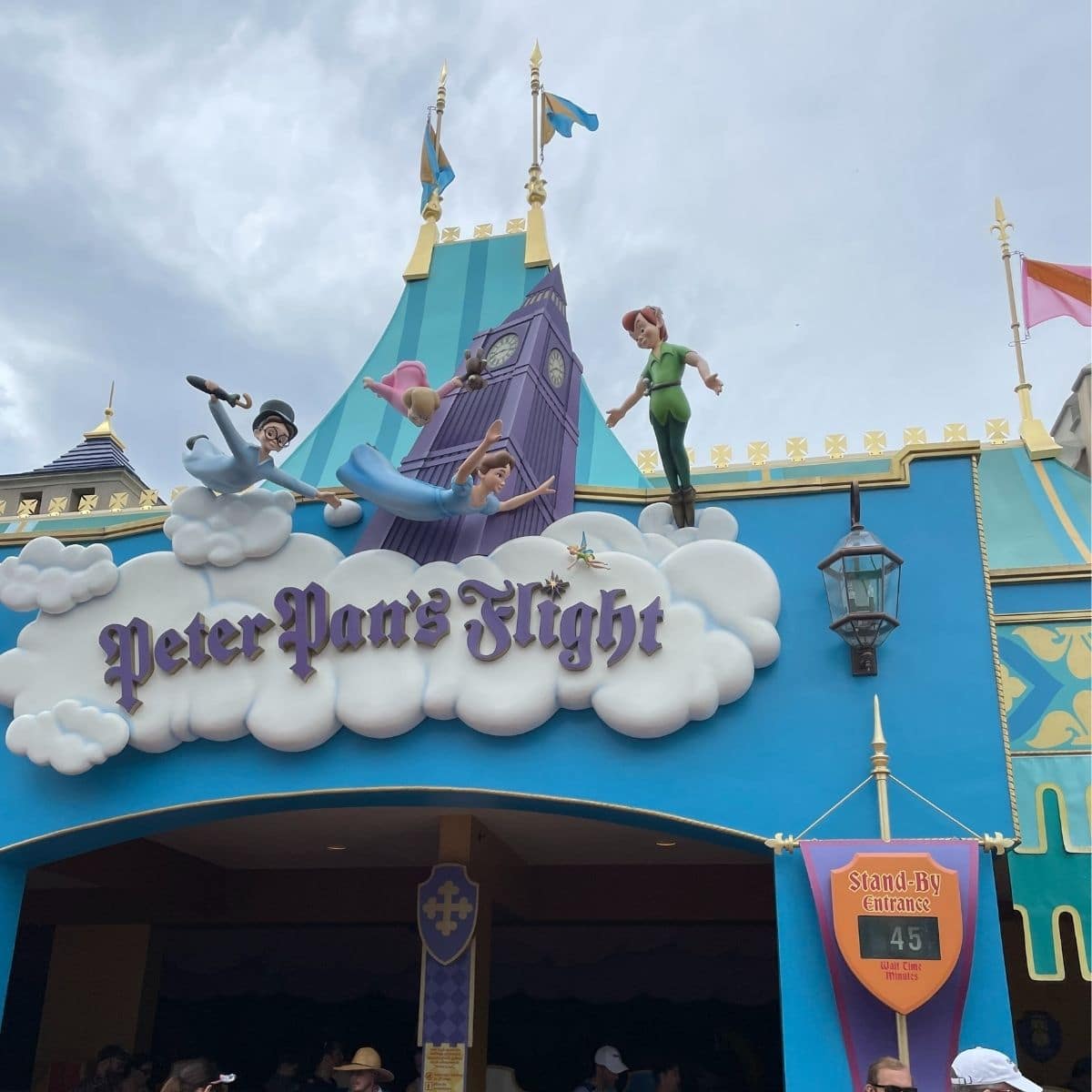 Topping the list is one of my personal favorites, Peter Pan's Flight. Little ones will love boarding their tiny pirate ship with mom and dad to sail above the city and into Neverland.
This ride is super tame and an absolute joy as it brings the story book of Peter Pan to life. I smile every time I ride this one and my kids all 100% agree that Peter Pan is a must-do ride every time we go to Magic Kingdom.
There is no height requirement for Peter Pan making it the perfect ride for toddlers!
2) Dumbo the Flying Elephant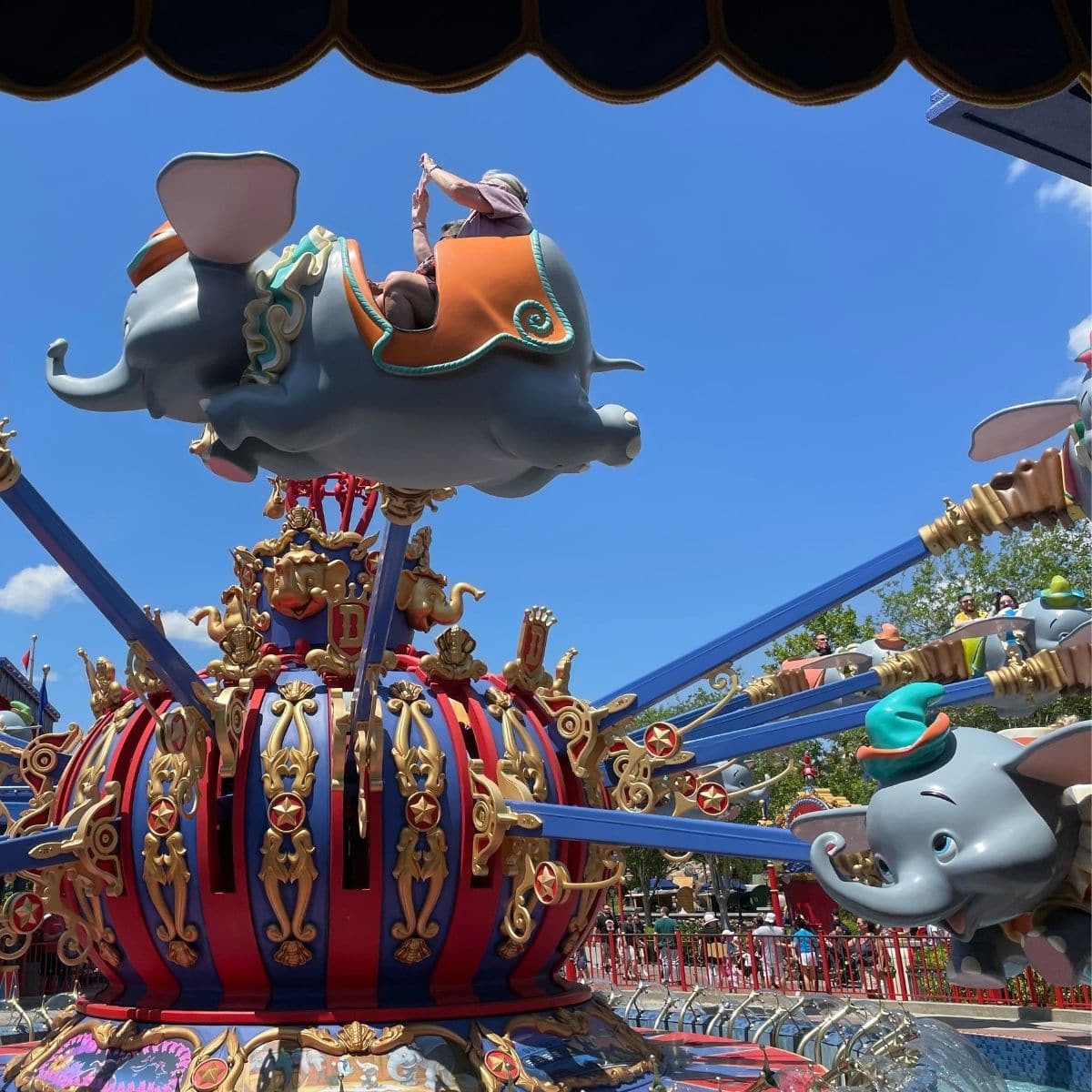 Next up is Dumbo the Flying Elephant! This is yet another absolute must-do for any kid! On Dumbo kids and parents board an elephant and can soar through the sky. There's a lever that allows kids to control whether the elephant goes up or down. Kids love that!
Best of all, there is a play area inside of the queue. Kids can play on a circus themed indoor playground while their parents relax on the bleachers in the air-conditioning.
It's an absolute treat for both kids and mom and dad!
My husband and I love to go to Dumbo in the heat of the day, sit in the cool A/C while the kids play and mobile order our lunch! With no height requirement, an indoor playground, and an amazing ride through the sky, Dumbo is a must-do attraction for toddlers!
3) Prince Charming Regal Carousel
The Prince Charming Regal Carousel is always a high priority ride for little ones! The line can be really short or really long for this one, so just keep an eye on the wait time in the free My Disney Experience app.
The Carousel features the nostalgic carousel horses that you would expect. It's a beautiful ride! Kids can choose their horse that goes up and down and parents can stand next to them to assure they won't fall. There are belts available to add an extra layer of safety for little ones.
If your little one would rather ride on a bench, those are available as well.
4) "It's a Small World"
"It's a Small World" is another classic Disney ride. Families climb aboard boards to slowly sail through different cultures and parts of the world. Dolls dressed in cultural clothing sing the "It's a small world" song in their language.
It's beautifully done and there's always so much to look at. The dolls move, sing, dance, and completely enthrall little ones. It's a must-do ride for toddlers!
5) Jungle Cruise
Jungle Cruise is another can't miss attraction at Magic Kingdom.
On the Jungle Cruise, families go aboard a boat with about 15-20 others and a skipper who gives a tour through "the jungle." Anyone who says this ride is a dud hasn't caught on to the humor.
The skipper/tour guide is speaking almost entirely with puns the whole time. I will say, some cast member skippers are better than others (and you don't get to choose your tour guide) but be ready for a ton of puns and play on words!
If you are good at puns, you will laugh the entire time.
You are going to want to ride this one early in the day though, before the line gets outrageously long, as it usually does. Or try to get a Genie+ Lightning Lane to skip those long lines all together!
There is no ride height requirement for this ride. Toddlers will enjoy seeing the various animatronic animals while parents will enjoy the humor. Don't miss this one!
6) Under the Sea – Journey of the Little Mermaid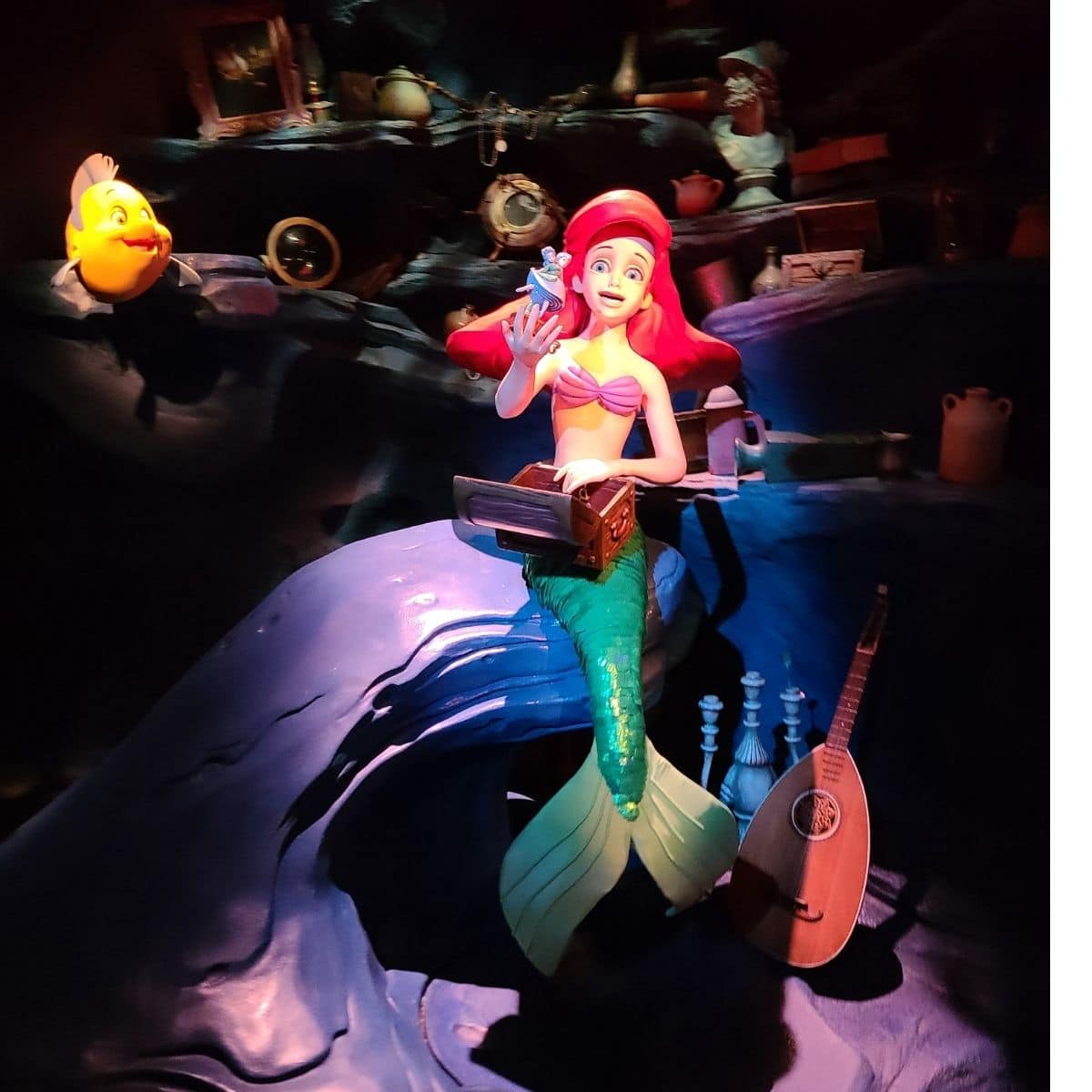 The Little Mermaid is another great ride for toddlers. Toddlers can board a seashell pod with their parents on this slow ride through the story of The Little Mermaid.
There is a moment when kids see Ursula, that could be potentially scary, but none of my kids have ever been scared of her. This ride has no height requirement and it's a joy to see the story of The Little Mermaid come to life through the animatronic characters.
It's a tame, kid-friendly ride with great music the whole family will enjoy! Best of all, ride wait times don't tend to get long for this one, so that's always a plus when you are traveling with a toddler.
7) Buzz Lightyear's Space Ranger Spin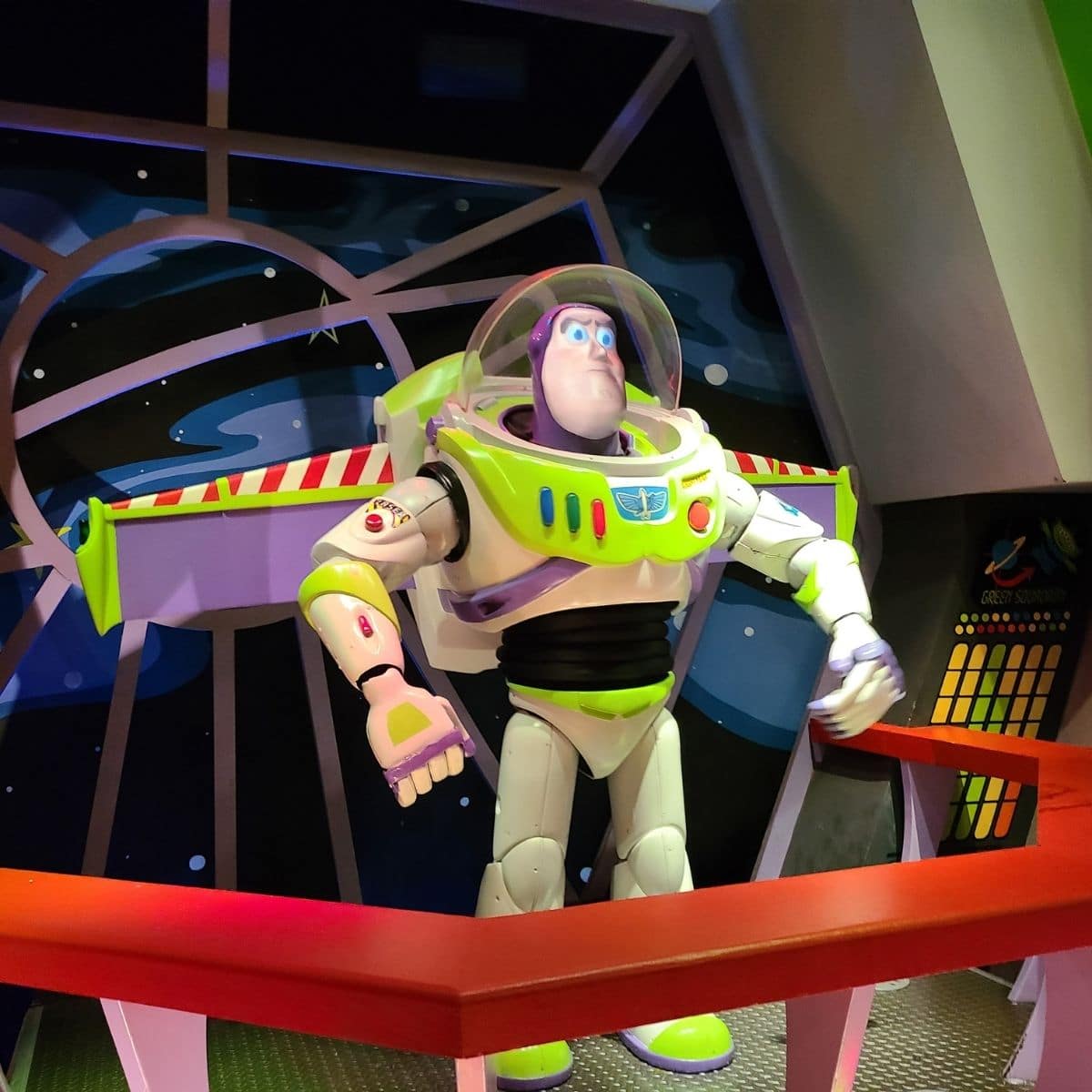 Buzz Lightyear's Space Ranger Spin is a fun ride that little ones can also enjoy! Slowly ride through this space themed ride using your "blaster" to help defeat the evil Emperor Zurg.
Little ones can help mom and dad shoot the targets with the laser guns or spin the ride car around with the controller. There's no height requirement and older guests will enjoy seeing if they can get a high score.
8) The Many Adventures of Winnie the Pooh
The Many Adventures of Winnie the Pooh is another slow ride that works great for toddlers. Go onboard a honey pot car and into the world of Winnie the Pooh. Join Tigger as he bounces along and see other friends from the story within this ride.
The ride itself is not one of my personal favorites, but little ones really enjoy it. Also, the queue is really fun for kids as well with all of the interactive items (things to touch, jump on, etc). All in all, it's another one of those great Disney Magic Kingdom Rides for Toddlers.
9) The Magic Carpets Of Aladdin
Go on a magic carpet ride on The Magic Carpets of Aladdin. If your child enjoys Dumbo, then Aladdin is another great choice. Kids in the front control the height your carpet soars to, while kids in the back control the tilt forwards and backwards.
This ride often can have high wait times and the queue can get very hot, so keep your eye on the My Disney Experience App for low wait times.
Be sure to stop by Aloha Isle which is right next to this ride for a Dole Whip after your ride Aladdin. Dole Whips are a classic "can't miss" treat at Disney!
10) Mad Tea Party
The spinning tea cups of Mad Tea Party are an iconic Disney ride! Little ones are just the right size to give this a try with mom and dad.
When our kids are really young, we don't spin the cup at all. We just ride without spinning the cup's wheel and let the ride take us for a whirl. That's usually enough of a thrill for a toddler!
Once they get older, you can let them spin the cup as much as they can handle! There's also an adorable animal that pops out of the top of the teapot which is fun for little ones to watch.
11) Pirates of the Caribbean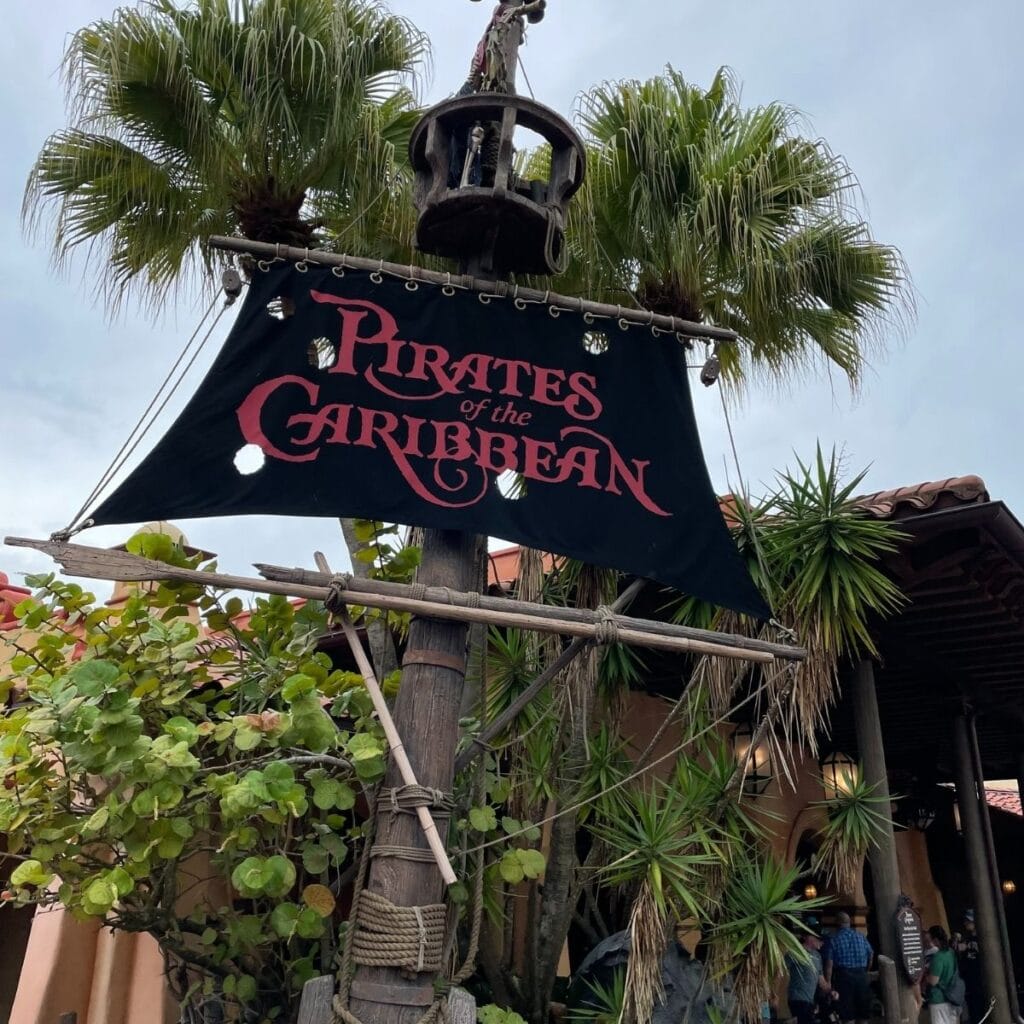 Pirates of the Caribbean is one of my absolute favorite rides. There is no ride height requirement, but this ride has the potential to be somewhat scary, which is why it is ranked at #11 for toddlers.
Pirates of the Caribbean is a dark slow ride where you board a boat to go on an adventure with pirates. Potentially scary moments for toddlers include a small drop/splash, cannons blasting and splashing a bit of water near you as you pass a pirate ship, and a city lit up that is on fire.
That kind of sound intense when I write it down, but in the moment, it was not that scary at all.
None of my kids ever were scared of this ride and it's usually declared a favorite of the littlest ones. However, just keep in mind to be ready for those potentially scary moments.
12) Tomorrowland Transit Authority People Mover
The Tomorrowland Transit Authority People Mover is a small train that takes you on a tour of Tomorrowland. It goes inside and outside of all of the buildings in the land showing you the various attractions.
There is a tour guide audio that plays telling you fun facts about each thing you pass. It's a fun way to cool off as you are mostly in the shade and going in and out of buildings.
The only potentially (super small) scary moment for a toddler is going through the Space Mountain area. It does go dark for a moment as you pass through, but it is a short moment before you are back outside in the sunshine again.
13) Tomorrowland Speedway
Little ones LOVE the Tomorrowland Speedway! This ride does have a height requirement of 32 inches to ride with an adult (and Drivers must be at least 54 inches to drive unassisted.)
If your toddler is tall enough, you can let them handle the steering wheel while you press on the gas pedal. It's a bit a of jerky ride with a crazy toddler driver behind the wheel, but you are guaranteed to laugh a lot!
14) Haunted Mansion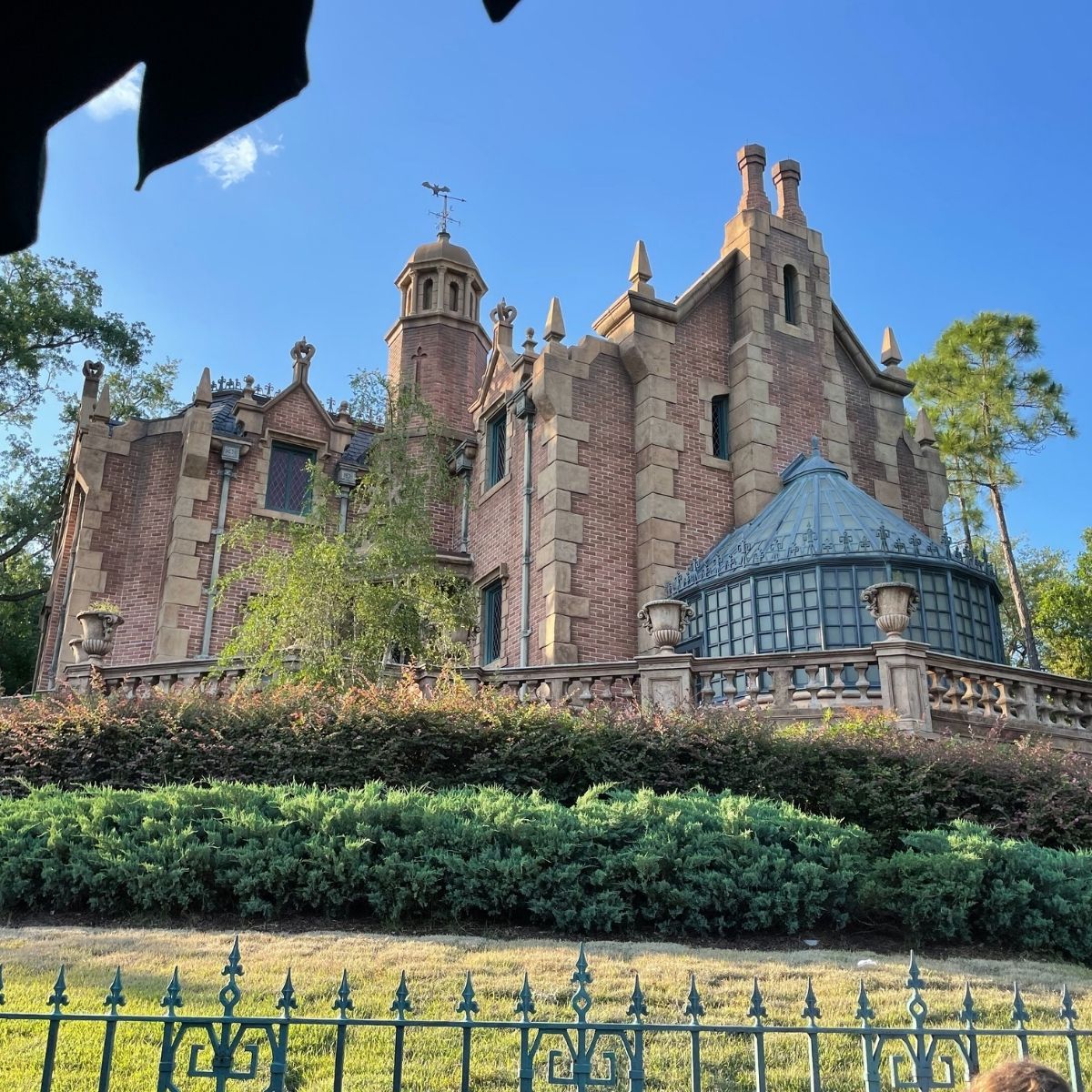 The Haunted Mansion is another one of my all time favorite rides. It's a classic Disney ride that is a "fun spooky." You board a small black pod that goes slowly through a haunted house. Nothing really jumps out at you (in general) or touches you, but there are cool illusions of ghosts and things that move by themselves.
It's a fun spooky dark ride, and none of my little ones have ever gotten too upset by it, but they do grab my hand as they are a little uncertain. I always reassure them it isn't real and it's going to be fun.
Your little one might not be ready for this ride if they are scared of Pirates of the Caribbean.
15) Walt Disney World Railroad – Best Disney Magic Kingdom Rides for Toddlers
(Slated to be open by October 2022) The Walt Disney World Railroad is a great ride for toddlers! Little ones get to board a real train and take a ride around the entire park.
There are multiple stops around the park, so you could technically use it to get to another section of the park if you wish! If you have a train loving toddler, this is a must-do!
Rides with No Height Requirement
There are tons of rides with no height requirement, but the ones I ranked above are the ones best suited for toddlers.
Some rides, like the Astro Orbiter can be really intense for kids, even though there isn't a height requirement. (The Astro Orbiter sent my 7 year old son into tears of fear even though he loves Dumbo and the Magic Carpets.)
You can find a full list of the rides with no height requirement here.
Other rides, with no height requirement, like Carousel of Progress and Liberty Square Riverboat may not appeal to toddlers. But who knows?! Every kid is different so give it a try if you want!
Shows and Attractions for Toddlers
In addition to rides, Magic Kingdom also has many shows and attractions that toddlers will enjoy!
Monsters Inc. Laugh Floor
The Monsters Inc. Laugh Floor is a hilarious show featuring Mike Wazowski from the movie Monsters Inc. The audience is involved in the fun and the funny antics and jokes are awesome!
It's definitely a family friendly show worth going to and you'll appreciate being able to relax in the cool air conditioning for a bit.
Character Meet and Greets
If your toddler loves princesses or Disney Characters, then they might really like the Character Meet & Greets!
These vary all the time, but some popular ones at Magic Kingdom are Mickey Mouse and Cinderella. In the past, my kids have met Tinkerbell, Winnie the Pooh, Belle, Cinderella, Elena, Tiana, Ariel, Mickey Mouse, and more! Characters available to meet definitely vary but there's usually someone your toddler might like to see!
You'll enjoy seeing your child's reaction to meeting their favorite characters. Be sure to have your camera ready to capture the joy!
More Disney Rides for Toddlers
As you can see there's a ton of amazing Disney Magic Kingdom Rides for Toddlers! Don't forget that there's amazing rides for toddlers at all of the other Disney parks as well!
Animal Kingdom Rides for Toddlers
Animal kingdom has the Triceratops Spin which is a real hit with little ones. Na'vi River Journey is also great for little kids.
The whole family will enjoy Kilimanjaro Safari as well, which is one of the best rides in the park! Also, don't miss the Boneyard playground. It's a must-do for young children!
Rides for Toddlers at Hollywood Studios
Hollywood Studios tends to have popular rides for older kids but there are a few great rides for young kids as well. Little kids will enjoy Mickey and Minnie's Runaway Railway as well as Toy Story Mania. Both of these have no height requirements so they are perfect for toddlers!
Also, if your child is for toddlers 32 inches or taller, be sure to check out the Alien Swirling Saucers.
Epcot Rides for Toddlers
Epcot surprisingly has a bunch of rides that are great for toddlers and kids of all ages!
There are no height requirements for Frozen Ever After, Gran Fiesta Tour Starring The Three Caballeros, Journey Into Imagination With Figment, Living with the Land, Remy's Ratatouille Adventure, The Seas with Nemo & Friends, and Spaceship Earth. Cool, right?!
More Disney Vacation Tips
Be sure to check out all of the Disney Ride Height Requirements here. You'll find easy to read charts displaying ride height for every ride at Disney World.
Don't miss this article on Avoiding Motion Sickness At Disney. Tips and tricks for keeping everyone feeling good and having fun on your Disney vacation. Plus some must-have items if you have a child/adult who gets motion sickness.
Also, here's the Best Rides at Animal Kingdom (and 1 to avoid). You'll find everything you need to know to plan the perfect trip to this amazing park.
Need to know when to plan your visit? Here's the Best days to go to Disney!
Want to save this information for later? Pin the image below to your Disney Vacation board on Pinterest!