Today we're sharing the best shoes for Disney World. It's no secret that long days at Disney parks mean a LOT of walking. And if you're like our family, you might cross the park a few times within a day, (looking at you, Lightning Lanes!)
No worries though, we've tested many shoes in the parks and today we are revealing our favorite shoes for a day in the awesome Disney theme parks.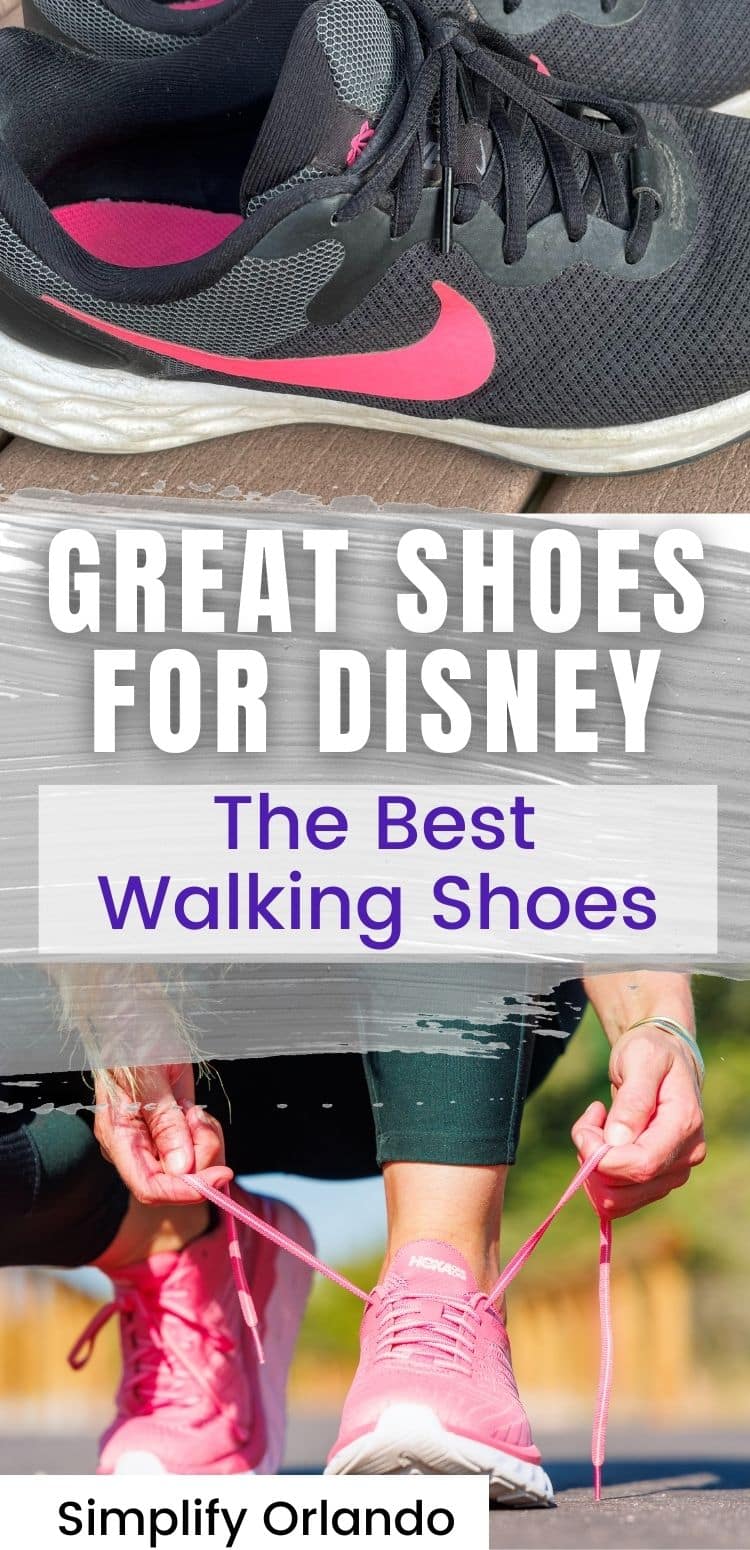 Let's dive in and find the perfect shoes for your Disney Vacation!
Pro Tips for the Best Disney Shoes
No Brand New Shoes
First things first. Don't wear new shoes. The best shoes for Disney are ones that you have taken the time to break in.
I've personally made this mistake. You need to wear a pair of shoes regularly for at least a month before you put them to the test at Disney World.
So, if you need new shoes for Disney, buy them right away so you can start breaking them in.
Also, keep in mind that if you haven't worn a pair of shoes in a while, you need to rebreak them in (hello Birkenstocks after a long winter!)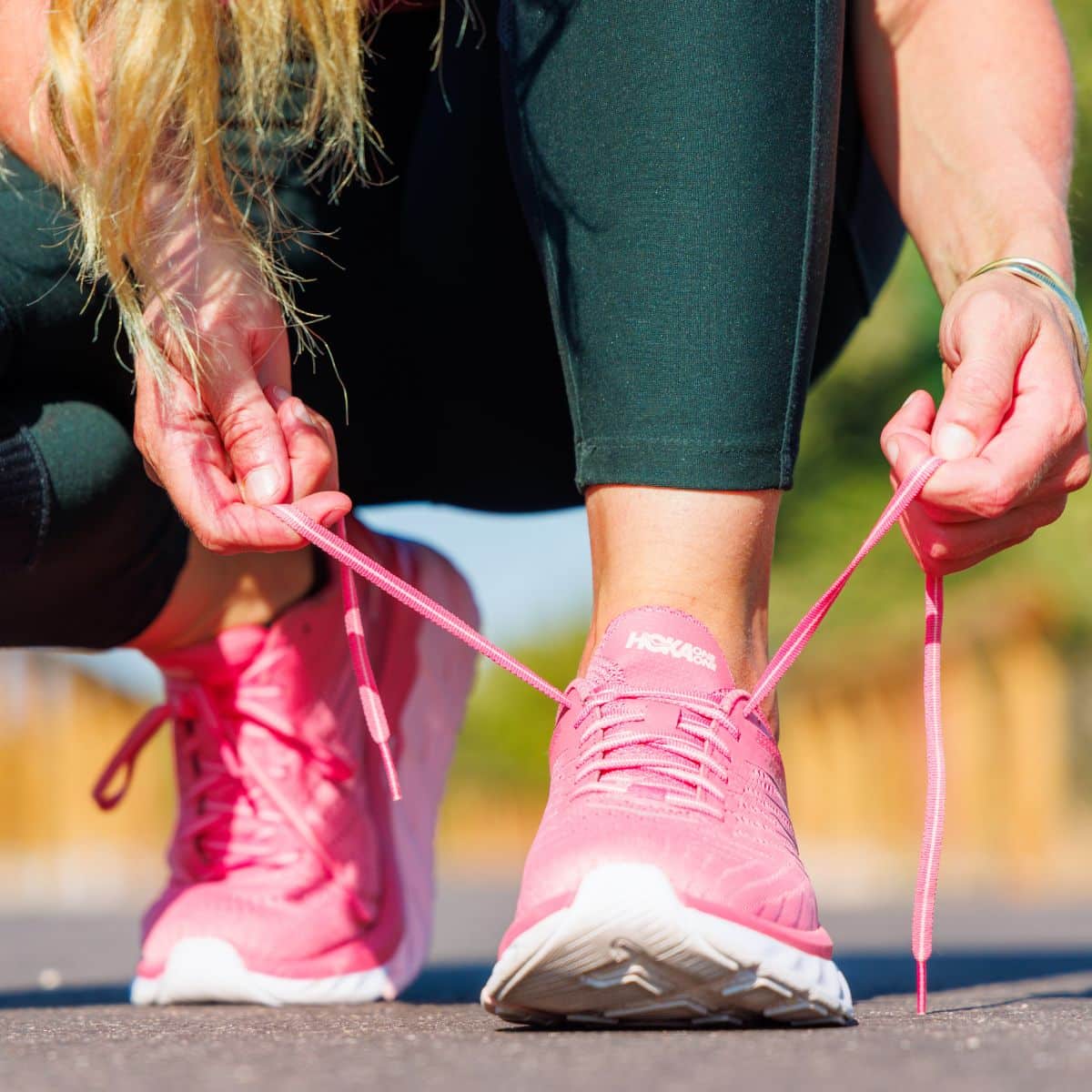 Pack Sneakers
A pair of sneakers is going to be your best option.
Sneakers are always going to win the prize for the best walking shoes.
You can't beat the great support and comfort they will provide for long distances.
Plus, there's something to be said for great shoes that fully protect your feet (so that no one steps on your bare toes!)
No Flip Flops
Don't wear flip flops. There's no support and by the end of the day you will fully regret your shoe choice.
Even the best flip flops aren't fit for a theme park trip. (I have a sandal option to share with you that's way better!)
Invest in Good Socks
Great socks make a HUGE difference in the amount of blisters you'll have at the end of the day.
Not near enough people realize that your socks matter just as much as your shoes do!
I personally use these Adidas socks – I love that they protect the back of my heel from getting blisters.
And as a long distance runner, my daughter wears these socks for her cross-country practices and meets – they are THAT good!
Pack 2-3 Pairs of Shoes
Lastly, be sure to pack several pairs of shoes.
It's good idea to have options!
That way, if you soak your shoes on one of the water rides or get caught in a downpour rain shower, you don't have to wear wet shoes the next day.
I like to pack 2 pairs of sneakers and 1 pair of comfortable sandals.
List of the Best Shoes for Disney
Alright, here's our top picks for the most comfortable shoes for your Disney trip!
1) Nike
Nike sneakers are always a great option for your Walt Disney World Vacation.
These athletic shoes are my personal top choice as they fit well and I have happy feet at the end of the day!
The last thing you want is sore feet at the end of a long day. These Nike sneakers provide all day comfort and support.
2) Under Armour
My daughter and I both own a pair of Under Armour shoes that we wear regularly.
She actually runs cross country in hers, so you know they are comfortable!
I love that Under Armour shoes are high quality and you can find them in so many different colors!
3) Birkenstocks
I can't speak for all Birkenstocks, but I personally wear this style of Birkenstocks to the parks regularly.
I especially love to wear these to Animal Kingdom because I know that Kali River Rapids will leave my feet completely soaked.
These are the perfect water shoes as they won't leave you in soaked socks all day long. (You will want to let them dry out the next day back at the hotel though.)
4) New Balance
New Balance sneakers are a good option as well.
Our family has worn New Balance shoes to amusement parks for many years and has found that this brand is a great choice for lots of walking.
5) Hokas
Hokas are another good choice for Disney park shoes! If you are looking for something comfortable, well made and light – you've found a great option.
Hokas come in lots of different styles but you can be sure that after a full day at Magic Kingdom your feet will still be happy!
6) On Cloud
Want to feel like you are walking on a cloud? These On Cloud shoes are great for a long hot day at a Disney park! These shoes will provide the stability and support you need for a fun day!
7) Brooks Running
Brooks Running shoes are another solid choice. When you want good shoes that are well known have soft cushioning and amazing support!
8) Ryka
Looking for tennis shoes that will put a bounce in your step and fit well? Check out these Ryka sneakers. Perfect for days when you'll be walking a long time!
I hope you've found some great options for Best Shoes for Disney World! Just remember that the most important thing is that you don't wear a new pair of shoes to the park. Always, absolutely always break in your shoes for at least a month or more!
If you don't – then you are going to get blisters and your feet will be covered in this handy dandy stuff – Moleskin. Ask me how I know – yup – on a recent trip to Disney I put on some sneakers that were just 2 weeks old – basically new – and got a LOT of blisters.
Learn from my mistakes and make sure you break in those shoes long before your trip, wear great socks, and of course, always pack Moleskin – just in case!
More Disney Tips
Looking for the best shoes for kids for your Disney trip? Don't miss our recommendations here for the best Kids Shoes for Disney.
​You can find all the Ride Height Requirements for Disney World here. We've listed out every single ride and how tall you have to be to ride it!
Wondering what else to pack for your Disney Vacation? Be sure to check out our Ultimate Disney Packing List. You can grab a free printable packing list to make sure you don't forget any of the essentials!
Want to explore the best rides in the parks? You can find the Best Rides at Magic Kingdom for Adults here.
We've ranked the Best Rides at Epcot here.
And you can check out the Best Animal Kingdom rides here (and which one to skip!)
You can find the Best Disney World Tips for First-Timers here. So many things to know before your first trip!
My favorite way to learn about Disney is via YouTube. I made a list of all of my favorite Disney Vloggers here. Don't waste time on shaky video and poor content – check out the Best Disney YouTubers here.