Planning a trip to Epcot without the kids and looking for the best Epcot rides for adults?   We've got you covered!
Epcot is an amazing place to explore at any age….whether you are a kid or a kid at heart!  
Epcot just happens to be one of my favorite Disney parks. It's hard to beat Magic Kingdom, but Epcot comes in a close second for me!
I love the rides, visiting all the amazing different countries around the world showcase and of course there's always fun foods to try.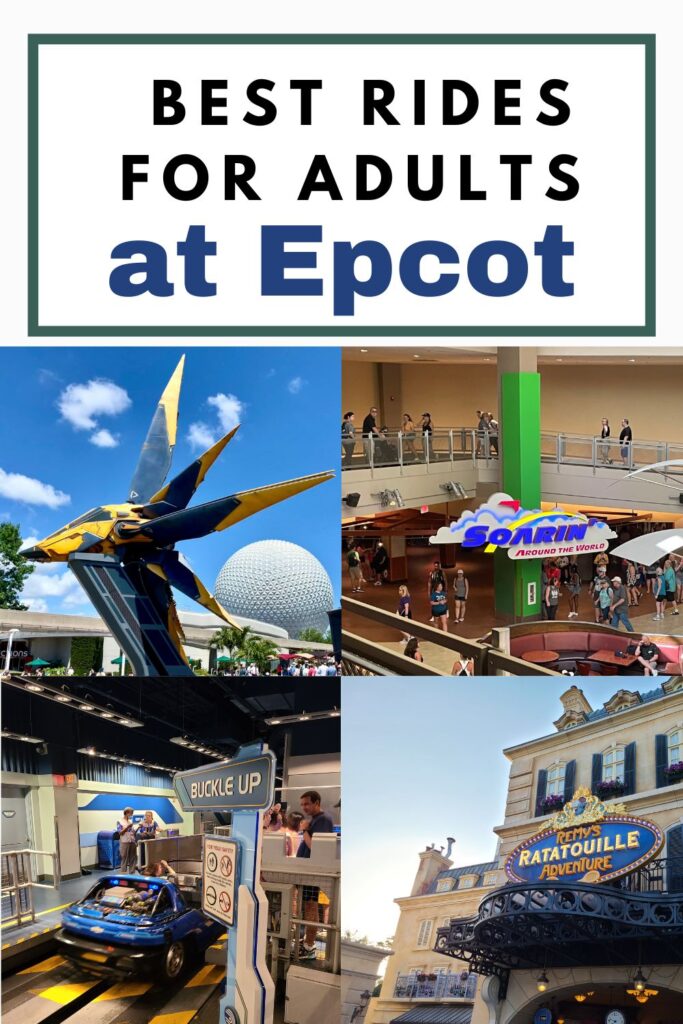 Epcot is also host to the International Food and Wine Festival as well as the International Festival of the Holidays.  
There's been a lot of fun new Epcot attractions in the past few years making it even more of an amazing theme park.  So, if you're planning a trip to Epcot, even as an adult, you're definitely in for a treat!
Here's all the best Epcot rides for adults and which ones to skip (or add to your plan B)!
1) Soarin' Around the World
At the top of our list is Soarin' Around the World. Take flight and soar above the world with this fun ride.
Guests enter a 180 degree IMAX theater and are seated on a flight simulator that mimics a hang-glider.
Each seat has a great view of the screen in front of you.
You'll fly over some of the most amazing wonders of the world including mountains, deserts, Great Wall of China, the Pyramids, the Swiss Alps, the Taj Mahal, and more.
You'll see the amazing sites, and even experience smells from the places you visit.  
It's absolutely one of the best attractions and you'll want to ride it again and again!
2) Frozen Ever After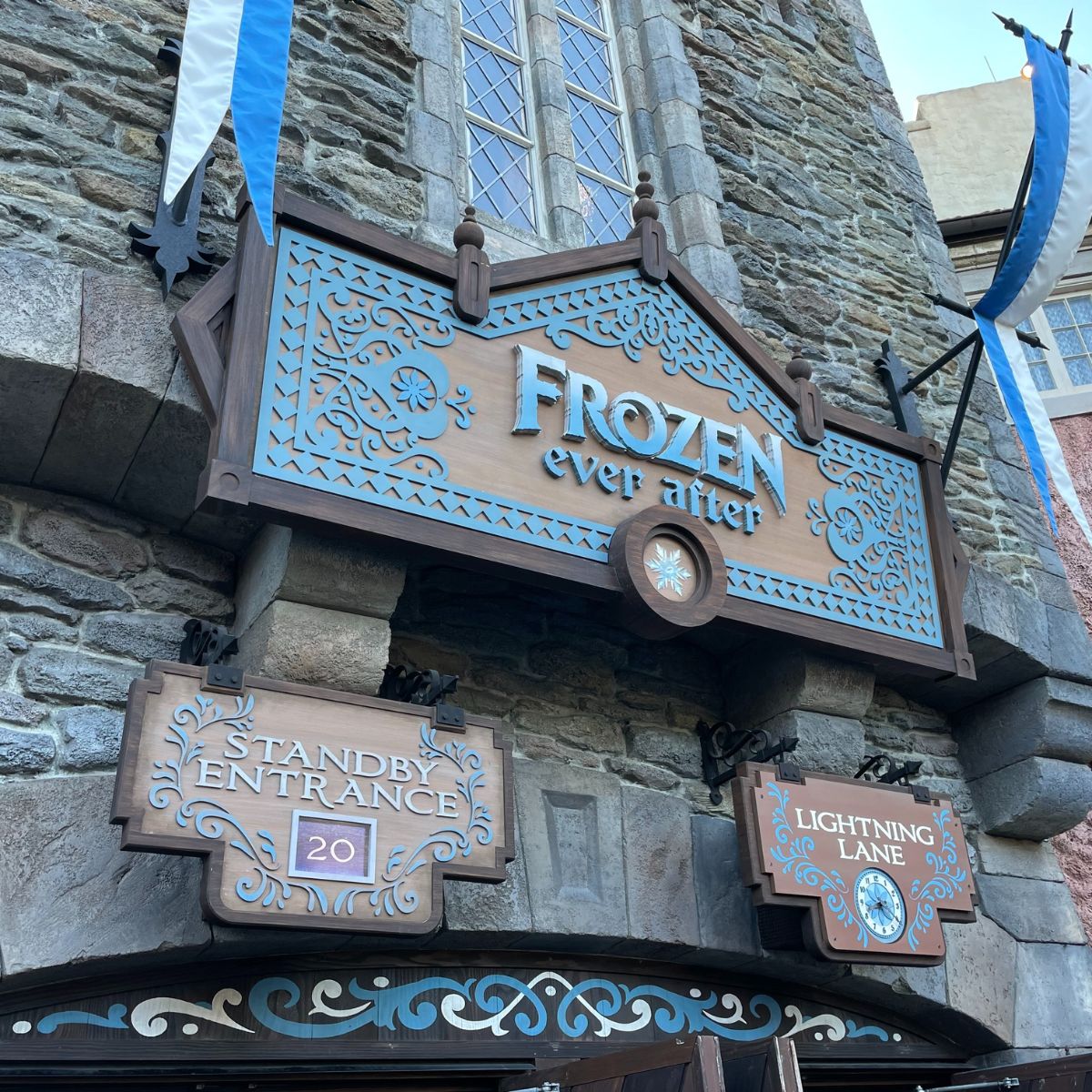 Coming in at Number 2 is Frozen Ever After. Not to be mistaken for a children's ride, Frozen Ever After is purely magical.
Yes, little kids will love this ride because of the characters from the hit movie Frozen, but for adults, this ride is incredible because it brings the Disney movie to life.  
From the moment you set foot in the queue, the theming is spot on. You'll feel as though you've arrived in Arendelle.
You'll board a boat on this dark ride and travel past scenes from the movie.  
This adventure plunges you down small waterfalls and will delight you with songs and characters around every corner from the movie.
No cheap thrills here, just top notch animatronics and pure Disney magic.
It's a family-friendly ride that you won't want to miss….regardless of whether the kids are with you!
3) Remy's Ratatouille Adventure
Remy's Ratatouille Adventure is found near the Eiffel Tower in the World Showcase. This ride is another great ride based on the Disney movie Ratatouille.
Get ready to be shrunk down to the size of a rat and enter into the world of Remy.
You'll board a trackless car and zip around a busy kitchen and the dining room of Gusteau's restaurant in Paris. This is a 4D ride experience.
You do have to wear 3-D glasses for this ride, making it a little less engaging than if you didn't, but all in all it's a really fun ride that is very well done. It will have you lining up for more!
The wait time on this one can be brutal, so be sure to check the My Disney Experience App to find the current wait times.
This is a great one to rope drop first thing in the morning from the International Gateway. Or of course, take advantage of the Lightning Lanes for this.
4) Test Track
Test Track is the fastest ride at Disney World clocking in at 65 mph.
In this ride you get to design your own car.  You get to pick everything about it from the frame, to the paint job!
Then, you take this car for a drive on the test track to see how it performs.  There's twists, turns, surprises and high speeds.
It's a must-do ride and it's so much fun you'll be lining up again and again for this thrilling ride.
Don't miss the fun exhibits after the ride – you can make a commercial for your car design. There's also a place to race your car on a mini virtual test. Plus you can take a picture with your vehicle for a fun memento of your ride.
5) Guardians of the Galaxy Cosmic Rewind
One of the newest attractions at Disney World theme parks is Guardians of the Galaxy Cosmic Rewind.
It's funny, it's fast, it's fun, and has amazing music.
If you love the Guardians of the Galaxy characters, this is a must-see attraction. This amazing coaster is like entering the Marvel world and you are placed right into the action.  
Cosmic Rewind is a reverse launch roller coaster with great storytelling within both the queue and the ride.
Be aware that this ride has gotten mixed reviews. It has caused motion sickness more often than the average ride.
It's a really smooth roller coaster meets the Spinning Tea Cups.  So if you are prone to motion sickness, you might want to be prepared for that.
Cosmic Rewind is the newest ride at Epcot currently, so it's in high demand.
To ride this one, you'll need to snag a spot on the virtual queue or snatch up one of the paid individual lightning lanes for it.
6) Living with the Land
On the other spectrum of rides is Living with the Land.  This is a slow-moving boat ride through greenhouses where you can learn about the history of farming.  
You'll cruise past greenhouses full of hydroponic plants, as well as fish farms.
And fun fact, Disney actually uses the food grown here in it's restaurants! Amazing!
Alright…..That completes the top rides at Epcot!  Now we are going to talk about the rest of the rides at Epcot….
Your Plan B Rides
The next few rides are also at Epcot but they are not the must-see rides.
They are your Plan B, if you have extra time or you're looking for a place to cool off in the air conditioning – then check out these rides!
7) Mission Space
Find out what it's like to be an astronaut! You'll experience liftoff and go on a mission in space.
There's 2 options for this ride – Orange Mission is very intense – it's for your thrill seekers.
And there's a Green Mission, which still gives you the movement, but without the spinning – which is a better choice for those who might get motion sickness.
I'd recommend you start with Green Mission and then if you feel like you can handle it, level up to Orange.   
To say it gently – This ride is known for making people vomit.
Not sure if this is a ride you want to go on? Check out our full review of Mission Space here.
8) The Seas with Nemo and Friends
Do you love those slow moving rides on the the conveyor belts at Magic Kingdom?
Here's the Nemo version!
The Seas with Nemo and Friends isn't a wow ride, it's mostly screens but you'll love seeing all the fish in the aquariums after you ride.  
You'll travel under the sea and join friends from the Disney movie Nemo.
In the same building, there's a fun interactive experience nearby with Crush called Turtle Talk, where kids can talk to Crush the turtle on a screen and he responds in real time.
Check out our full review on The Seas with Nemo and Friends here.
9) Spaceship Earth
Ever wonder what's inside the Big Golf Ball?
It's a slow moving ride in an Omnimover type of vehicle that makes an uphill climb through the big ball, while telling the story about the history of communication.
You'll make a slow ascent through history starting with cavemen drawing, you'll see hieroglyphs, the invention of the alphabet, The Gutenberg Printing Press, and more.
It's worth riding once – just so that you know what's in the big ball, but otherwise I don't recommend spending time waiting in line for this one.
In my opinion, it's a bit uncomfortable being at such a sharp angle for such a long time and the ride tends to stop a lot for loading and unloading.
10) Gran Fiesta Tour
This ride. Oh this ride.
I always say I'm not going to ride it.
It doesn't have any logical storyline.
But then, it gets hot and there's no line….so I ride it.
I will admit, I love the beginning of the ride as you make a slow boat ride past the restaurant customers. It's truly lovely….
The end is also quite pretty with the "fireworks."
But everything in between is a big no.
It needs updated.  It needs a storyline.  We have our fingers crossed that Disney makes this a priority in the coming years…but until then it's ranking quite low on our priorities of rides to visit in Epcot.
But hey, if you need to cool off…the air-conditioning can't be beat!  
11) Journey into Imagination with Figment
I don't understand the nostalgia about Figment.
It's a really old ride with a poor storyline. It needs reimagined.
We only ride this ride if it is raining and there's nowhere else to go.
On this ride, you meet Figment. He's a purple Dragon that causes chaos as you tour the sensory labs of Imagination Institute. It's musical, there's childish mayhem, but not really any Disney magic.
It's a disappointment. You leave feeling like you wasted precious park time.
The only redeeming quality is the activities for kids at the end of the ride – but even then, that's only fun if you have kids with you.
Skip it!
More Disney Planning Tips
I hope this list of Epcot Rides for Adults has been helpful!
If you are planning a Walt Disney World Vacation, be sure to check out our other articles!
You can find out how to skip the long lines here with our tips for planning your day. We'll cover every thing you need to know about rope drop, staying late, which rides to go to first, and when it makes sense to buy Genie+.
Learn all about the height requirement guidelines for all the rides at Walt Disney World here. We've got a handy chart to help you navigate each of the parks with little ones.
​If you are prone to motion sickness, don't miss our Motion Sickness Tips. Read all about the rides you might want to skip here, as well as some handy items to have with you in case motion sickness strikes.
Visiting Epcot in the Summer? Be sure to check out all the Epcot Water Rides here and where to head on a hot day.
​If you are Gluten Free, don't miss our best Gluten Free Dining Options at Epcot as well. We cover all the best gluten free options including snacks, quick service restaurants, as well as our favorite sit down restaurants.
Finally, be sure to check out our list of Best Disney Vloggers. When you want to learn Disney tips and strategies from YouTube, these are the top channels to check out.
Want to save this list for later? Pin the image below to your Disney Vacation Planning Board on Pinterest.